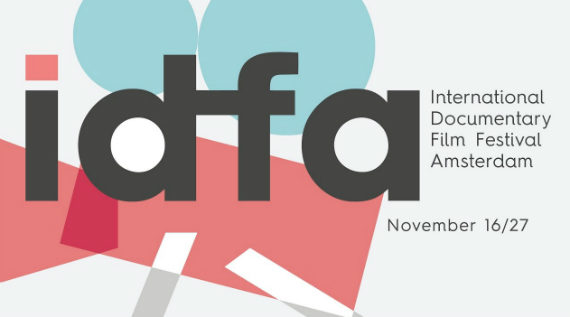 Fall festival season marches on with IDFA gearing up across the pond as DOC NYC came to a close here at home late last week. Despite being eyes deep in DOC NYC duties as the festival's director of programming, Basil Tsiokos took the time to plot out a two part introduction at What (not) To Doc to the new nonfiction offerings set to have make their debut in Amsterdam this week. He began by noting that "The world's largest nonfiction event bids farewell to founder and longtime director Ally Derks with its 30th edition, which showcases over 180 new and recent documentary features." Writing at First Showing, Alex Billington gives his introductory thoughts on his first visit to IDFA. Variety also published a pair of pieces on the festival, including Stewart Clarke on "Young Directors at Forefront of HBO Europe's Documentary Slate" and Damon Wise reporting on "The Visual Voice, a 16-film sidebar celebrating documentary's greatest films, chosen by its biggest names."
Those that couldn't attended DOC NYC or its professional conference DOC NYC PRO this year would do well to head over to its YouTube channel where plenty of screening intros, Q&As, and conference sessions can be viewed in whole. DOC NYC's trio of juries announced their award winners on Thursday, with Nicole N. Horanyi's THE STRANGER receiving the Grand Jury Prize in the Viewfinders competition, James Crump's ANTONIO LOPEZ 1970: SEX FASHION & DISCO winning the Grand Jury Prize in the Metropolis competition, and Kate Davis's TRAFFIC STOP taking home the Grand Jury Prize in the Shorts competition. Daniele Alcinii reported on the awards ceremony for Realscreen, noting, "TRAFFIC STOP now qualifies for consideration in the Documentary Short Subject category of the annual Academy Awards without the standard theatrical run, provided the film otherwise complies with the Academy rules."
Speaking of Oscars, last week at the Governors' Awards Agnès Varda received an honorary Oscar. IndieWire's Jenna Marotta recounted the morning after from the La Résidence de France in Beverly Hills where Varda was celebrated over brunch with French peers, as Sam Adams reflected at Slate on how Varda has continuously proven how documentary filmmakers can in fact be movie stars. Meanwhile at Deadline, Antonia Blyth took an early stab at the Oscar race for Best Documentary Feature. Notably absent from that list is Errol Morris's WORMWOOD. Anne Thompson reports at IndieWire that "The documentary branch executive committee deemed WORMWOOD ineligible for Best Documentary Feature, based on post-O.J.: MADE IN AMERICA rules designed to weed out episodic documentary series. Yet WORMWOOD qualifies in all other AMPAS categories covered by the general submission form: Best Picture, Best Actor, Best Director, and all the crafts."
The only new release making any critical ripples this week is Chris Smith's JIM & ANDY: THE GREAT BEYOND – FEATURING A VERY SPECIAL, CONTRACTUALLY OBLIGATED MENTION OF TONY CLIFTON. The film has garnered near universal praise, including a NYT Critics' Pick nod from Manohla Dargis, who wrote, "It slides from art to life — thoughtfully poking around in that blurred space between them…this documentary reminds you, with hard laughter and startlingly intense emotion, comedy always needs its pound of flesh." John Fink called the doc "hilarious and unexpectedly moving" in his review at The Film Stage, while Christine Champagne spoke with Smith about the project for Vanity Fair.
Other worthwhile reads this week include Carol Nahra's thorough report from this year's BFI London Film Festival at IDA, Kieran Fisher's review of NAILA AND THE UPRISING at Nonfics, Christopher Llewellyn Reed's take on THIS IS CONGO for Hammer to Nail, Catherine Pearson on REMEMBER BAGHDAD for Little White Lies, Patrick Holzapfel on the work of found footage filmmaker Jay Rosenblatt at MUBI's Notebook, and Miriam Bale on why A BETTER MAN's Attiya Khan confronted her longtime abuser on camera for Vulture. A few notable interviews consist of Jeremy Elphick chatting with Xu Bing about his genre mashing surveillance film DRAGONFLY EYES at 4:3, and Jake Nevins talking with comedian Hari Kondabolu about his new film THE PROBLEM WITH APU for The Guardian.
In doc development news, the "Sundance Institute's Art of Nonfiction Initiative welcomes four Fellows and five Grantees, as well as three Nonfiction Critics Fellows, in its third year of granting key creative and financial support to inventive nonfiction storytellers working in the field today." Those receiving fellowships include Theo Anthony, Garrett Bradley, Sierra Pettengill, and Iva Radivojevic, while the grantees are Ra'anan Alexandrowicz, Yance Ford, Betzabé Garcia, Adam and Zack Khalil, and Deborah Stratman. In the Highland Park Patch, Paige Austin reports that "Documentary filmmakers needing assistance in understanding legal issues pertaining to their projects can soon turn to a UCLA School of Law clinic focusing on a wide variety of issues, including contracts, intellectual property, licensing and the First Amendment." She continues, "The Documentary Film Legal Clinic will provide pro bono services to clients needing help with legal issues," and will open in UCLA Law's spring 2018 semester.
I leave you this week with news that Ben Joyner and Dumaine Babcock's I HAVE SOMETHING TO TELL YOU is the doc Short of the Week and Le CiNéMa Club presents Laura Israel's DON'T BLINK – ROBERT FRANK free – this week only! As always, if you have any tips or recommendations for the Memo, please contact me via email here, or on Twitter, @Rectangular_Eye.