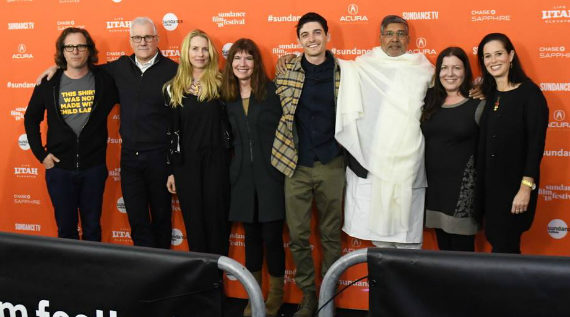 The end of award season is on the horizon! This week the Academy of Motion Picture Arts and Sciences revealed their nominations for the 2018 Academy Awards, which will take place March 4th. The nominees for Best Documentary Feature are ABACUS: SMALL ENOUGH TO JAIL by Steve James, FACES PLACES by Agnès Varda and JR, ICARUS by Bryan Fogel, LAST MEN IN ALEPPO by Firas Fayyad, and STRONG ISLAND by Yance Ford, while the nominees for Best Documentary Short are EDITH+EDDIE by Laura Checkoway, HEAVEN IS A TRAFFIC JAM ON THE 405 by Frank Stiefel (currently streaming via Short of the Week), HEROIN(E) by Elaine Mcmillion, KNIFE SKILLS by Thomas Lennon, and TRAFFIC STOP by Kate Davis.
Meanwhile, the festival fervor in Park City has subsided, with the 2018 Sundance Awards ceremony having taken place Saturday evening. Derek Doneen's KAILASH, which Daniel Fienberg of The Hollywood Reporter called "an exciting and inspirational look at the fight against child slavery," was honored with the U.S. Documentary Grand Jury Prize, while Alexandria Bombach's ON HER SHOULDERS, having received substantial praise from Bilge Ebiri in The Village Voice, Jay Weissberg of Variety, and David Ehrlich of IndieWire, received the Directing Award. Bing Liu, who received the Special Jury Award for Breakthrough Filmmaking, spoke with Tom White of the International Documentary Association about his debut MINDING THE GAP, which John Fink of The Film Stage writes is "a tour de force of documentary filmmaking…a lively, often beautifully shot film about a pit of hopelessness–from dead end jobs to drunken arguments to bad decisions. This is modern day John Cassavetes with tattoos and punk music." Rudy Valdez's THE SENTENCE, which was picked up by HBO for distribution later this year, received the Audience Award.
In the World Cinema Documentary competition, Talal Derki's IDFA debuted feature OF FATHERS AND SONS, dubbed "a vital addition to the cultural picture of the Syrian conflict" by Daniel Schindel of The Film Stage, took home the Grand Jury Prize. The Directing Award went to Sandi Tan for her debut feature SHIRKERS, which Richard Brody called "gloriously, gleefully idiosyncratic, a blend of punk energy and local documentation" in The New Yorker (along with love for Robert Greene's BISBEE '17). Though Variety's Guy Lodge called Stephen Loveridge's MATANGI / MAYA / M.I.A. "pretty standard-issue on the aesthetic front," the film received a Special Jury Award, while Alexandra Shiva's THIS IS HOME was honored with the Audience Award.
---