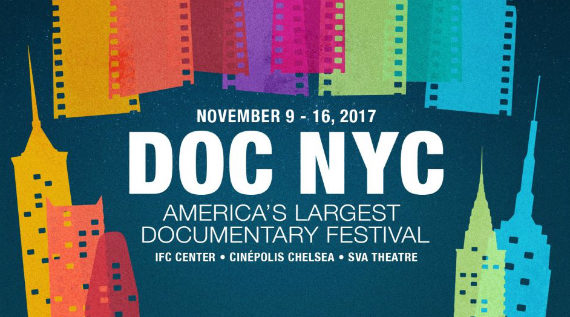 DOC NYC, the largest documentary film festival in the United States, has returned to New York for its 8th edition, having kicked off on Thursday evening with a rousing opening night speech by Thom Powers. Giving insight into the immense spread of films on offer, Jason Bailey writes his is festival recommendations at Village Voice, "the options are unsurprisingly diverse: explorations of global issues, intimate character portraits, science explainers, true-crime investigations, celebrity profiles, snapshots of New York City." Chris Barsanti of Film Journal International and Joshua Brunsting of Criterion Cast both surveyed the festival program, while at Doc Soup, Tom Roston spoke with Basil Tsiokos, the festival's Director of Programming, about how the current state of politics influenced this year's program. The IndieWire crew listed their 13 most anticipated films of the fest, while the folks at Women and Hollywood have been interviewing many of the female filmmakers in the lead up to the festival's kickoff and Soheil Rezayazdi spoke with Barbara Kopple about her new film A MURDER IN MANSFIELD for Filmmaker Magazine. If you're hoping to keep with the flood of coverage coming out of DOC NYC, you might do well to follow David Hudson at The Daily via Criterion over the next week.
Rencontres internationales du documentaire de Montréal, better known to most as RIDM, also began Thursday evening, kicking off its 20th edition with a screening of Céline Baril's 24 DAVIDS. The film was among the handful of hardy recommendations put forth by Ismaël Houdassine in his overview of the fest at Huffington Post (though you may need help from Google Translate – it's in French).  "The festival has a double mandate. It's about showing the best or most interesting international films of the year; and it's a great platform for local artists," said programming director Bruno Dequen, with executive director Mara Gourd-Mercado in T'Cha Dunlevy's feature on the fest in Montréal Gazette in which he goes on to list 10 must-sees, including Travis Wilkerson's DID YOU WONDER WHO FIRED THE GUN? and Ziad Kalthoum's TASTE OF CEMENT.
And while TIFF and NYFF may have come and gone, Eric Hynes's rundown of the festivals' best celebrity offerings via Film Comment is a must read.
Awards season rolls on this week with the 45th annual British Documentary Awards, where the Grierson Award for Best Single Documentary – International was given to Rahul Jain for MACHINES, Best Historical Documentary went to Ava DuVernay for 13TH, Best Documentary Short to Charlie Lyne for FISH STORY, and Best Cinema Documentary to Josh Kriegman and Elyse Steinberg for WEINER.
Gearing up for the Oscars, Variety's Addie Morfoot ruminated on the plain fact that "It's never easy being green, but if you're a documentary filmmaker it can have its advantages. Especially come Oscar season. In the past two decades, 12 directors have taken home the Academy Award for their very first documentary theatrical feature." Meanwhile in the Los Angeles Times, Steve Dollar put forth his own Oscar guesses, suggesting "the return of Jane Goodall, climate change and Syria among Oscar documentary hopefuls." As with all Oscar campaigns, there are people and organizations pushing these films forth. IDA's Akiva Gottlieb interviewed Carole Tomko and Jannat Gargi of Vulcan Productions about the kind of impact campaigns that have been making a difference for docs like STEP and THE IVORY GAME.
In a week in which there were a bunch of little theatrical releases, Joe Berlinger's INTENT TO DESTROY: DEATH, DENIAL & DEPICTION received the most (decidedly mixed) attention. Neither hot or cold, Ken Jaworowski's review in The New York Times declared, "While there may be no completely dispassionate way to discuss its topic — the Armenian genocide — the film's balance of emotion and composure helps make its stories even stronger." Deadline's Matthew Carey spoke with Berlinger himself about his new film and its prickly subject matter, while both Variety's Peter Debruge and RogerEbert.com's Matt Fagerholm each came away from the picture a bit lukewarm.
JANE director Brett Morgen turned up in a trio of interviews this week, with Sally Fay at Huffington Post, with Sam Fragoso of Vice, and with Thom Powers on Pure Nonfiction. Other notable coverage this week included Kristin Thompson's thorough examination of DAWSON CITY: FROZEN TIME at DavdBordwell.net, Gerald Narciso's report on CLOSING THE GAP's peak at North Korea in The New York Times, Steve Greene's take on the new 30 For 30 doc NATURE BOY at IndieWire, and Deborah Vankin's review of OBEY GIANT for the Los Angeles Times.
Looking for new streamables? Motherboard published a fascinating new short this week bluntly titled THE FIXERS WHO RECYCLED LAPTOP BATTERIES TO POWER THEIR HOMES. On a completely different wavelength over at Hyperallergic, Allison Meier reported on a new interactive documentary about everyday life in a Palestinian village called THE INVISIBLE WALLS OF OCCUPATION, "a collaboration between the human rights organization B'Tselem, where Skoblinski creates digital content, and Folklore, a Montréal-based design studio."
I'll leave you this week with Vogue's new list of the "61 Best Documentaries of All Time" and a story from The Guardian in which, "A woman has been jailed after duping filmmakers into believing she could get them behind-the-scenes access to Hillary Clinton's presidential campaign." As always, if you have any tips or recommendations for the Memo, please contact me via email here, or on Twitter, @Rectangular_Eye.