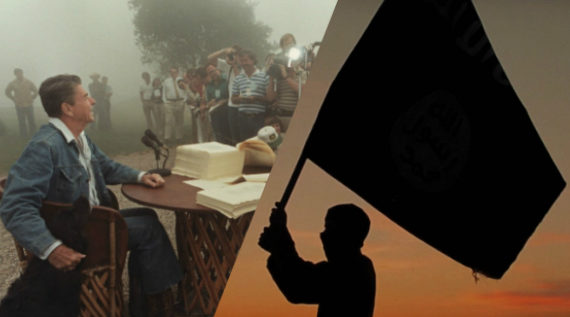 You may have noticed the lack of last week's holiday styled memo, but this week we've returned with plenty of nonfiction news to get you up to speed. Up top we've got IndieWire's Anne Thompson making her early predictions for what docs will be in the running for the 2018 Oscar for Best Documentary. Unsurprisingly, Matthew Heineman's CITY OF GHOSTS (see this week's slew of coverage on the film below), Agnès Varda's FACES, PLACES, and Laura Poitras' RISK are among the forerunners thus far.
In festival happenings, Ben Nicholson reported for Sight & Sound on this year's edition of the Sheffield Doc/Fest, the first under its new chief programmer Luke Moody. At What (not) To Doc, Basil Tsiokos put forth his usual thorough overview of new nonfiction for the 35th edition of LA's Outfest, noting a pair of centerpiece selections in Lori Kaye's KEVIN AUCOIN: BEAUTY & THE BEAST IN ME and Katherine Fairfax Wright's BEHIND THE CURTAIN: TODRICK HALL. Doc filmmakers should also take note that this coming Friday is DOC NYC's Extended Deadline for submissions for its 2017 edition.
By a long shot, Pacho Velez and Sierra Pettengill's Tribeca debuted THE REAGAN SHOW has been the most written about doc of the past week. In Artforum, Tony Pipolo proclaimed that the film "is not just an entertaining and enlightening blast from the past; it's a sobering reminder that however bad we thought things were, we had no idea how much worse they could become," as Vogue's Julia Felsenthal wrote that it "reveals how Ronald Reagan laid the groundwork for Trump." Other notable reviews of the film came in from Godfrey Cheshire at RogerEbert.com, Craig Hubert of Hyperallergic, A.O. Scott in The New York Times, Variety's Owen Gleiberman, and Andrew Karpan at Nonfics. Additionally, Emily Buder spoke with the film's trio of editors, Daniel Garber, David Barker, and Francisco Bello, about "how they crafted a narrative out of so much found footage (and how they secured the rights), the most surprising clips they unearthed, how Trump's election factored into the editing process, and more" for No Film School.
With wider distribution and Amazon Prime release on the horizon, Matthew Heineman's CITY OF GHOSTS may not have garnered as much critical attention, but it looks destined for a fairly wide audience. If you choose to only read one piece on the film this week, make it Issie Lapowsky's deep dive "The Guerrilla Journalists Defying Isis One Video At A Time" at Wired. Reviews worth a read also turned up at The New York Times via Manohla Dargis, Consequence of Sound thanks to Dominick Suzanne-Mayer, A.V. Club via Katie Rife, and IndieWire courtesy of David Ehrlich, who deemed "the latest in a long line of recent documentaries about the atrocities that are being committed in Syria," "profoundly harrowing." Also at IndieWire, Chris O'Falt interviewed the Oscar-nominated director about how he shot the film as a one-man crew on the ground in Syria.
Errol Morris' lovely new film THE B-SIDE: ELSA DORFMAN'S PORTRAIT PHOTOGRAPHY also garnered some notable coverage from Benjamin Sutton at Hyperallergic and Richard Brody in The New Yorker. Likewise, Allen Hughes' four part HBO docu-series on the partnership between Jimmy Iovine and Dr. Dre, THE DEFIANT ONES, received some critical attention from David Browne of Rolling Stone, Sarah Rodman in the Los Angeles Times, Jem Aswad of Variety, and Jon Caramanica in The New York Times. Lara Stolman's DOC NYC alum SWIM TEAM also was reviewed in The New York Times by Ben Kenigsberg.
Celebrating six year's of short form doc journalism, John Horn with Rosalie Atkinson of KPCC's The Frame spoke with executive producer Kathleen Lingo about The New York Times' Op-Docs and its continued growth. Piggybacking off of that conversation, as a taste of what CITY OF GHOSTS has to offer, The New York Times has published a new Op-Docs short titled BOMBS MAY NOT DEFEAT ISIS (BUT MAYBE THE INTERNET WILL) by Matthew Heineman and Abdalaziz Alhamza. On the topic of streaming docs, Selina Chignall's confirms at Realscreen that Hulu has inked a deal with HBO to carry all its documentary films, dramatic series and fiction movies, though "the new entertainment package will cost subscribers an additional $14 per month." Meanwhile, Christopher Campbell has posted his monthly "100 Must-See Documentaries Streaming on Netflix This Month" list over at Nonfics. Two additional films are available to stream online this week in Andreas Møl Dalsgaard and Obaidah Zytoon's STF alum THE WAR SHOW (via POV) and Ben Garfield's short WAR & CHEESE (via Short of the Week).
It was noted by Jason Sondhi of Short of the Week that National Geographic have published Kathryn Bigelow's Annapurna Pictures produced VR debut, THE PROTECTORS, which "embeds viewers amongst soldiers tasked with protecting African elephants from ivory poachers." And while on the topic of VR, Buzzfeed published an extensive piece by Doree Shafrir on "What It's Actually Like to Be a Woman in VR."
As I leave you this week, make sure to also check out Cara Buckley's multi-profile in The New York Times on citizen video journalists and Martin Delisle's in depth history of documentary production in Quebec for POV Magazine. Until next week, if you have any tips or recommendations for the Memo, please contact me via email here, or on Twitter, @Rectangular_Eye.