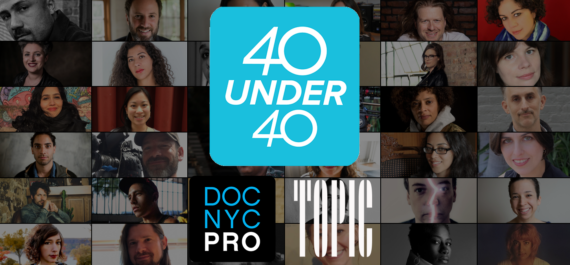 We might as well dig right in with DOC NYC's inaugural 40 Under 40 list, which intends to shine a light on 40 documentary talents under the age of 40 and includes familiar names like Khalik Allah, Sara Dosa, Garrett Bradley, and Nathan Truesdell. "Notable statistics from the list: 22 honorees are women, more than half are filmmakers of color, and the youngest person turns 28 in November. The final list was chosen by the DOC NYC team of Artistic Director Thom Powers, Director of Development Deborah Rudolph, Director of Programming Basil Tsiokos, and Shorts Programmer Opal H. Bennett."
In case you haven't noticed, we are now in the throes of award season and this past week saw two sets of nominations announced. The nominees for the the 28th Annual IFP Gotham Awards were unveiled on Thursday and BISBEE '17, HALE COUNTY THIS MORNING, THIS EVENING, MINDING THE GAP, SHIRKERS and WON'T YOU BE MY NEIGHBOR? are each up for Best Documentary. Meanwhile, the nominees for the 3rd annual Critics' Choice Documentary Awards are CRIME + PUNISHMENT, DARK MONEY, FREE SOLO, HAL, HITLER'S HOLLYWOOD, MINDING THE GAP, RBG, THREE IDENTICAL STRANGERS, WILD WILD COUNTRY, and WON'T YOU BE MY NEIGHBOR?.
We'll be closing out our 2018 Fall Season of Stranger Than Fiction tomorrow night at the IFC Center with Chris Metzler, Jeff Springer and Quinn Costello's RODENTS OF UNUSUAL SIZE, which will feature a live Q&A with co-director and cinematographer Jeff Springer himself. Tickets for our season closer are still available here.
Back in 2014, Hot Docs released its report "Learning from Documentary Audiences: A Market Research Study", which "provided empirical proof of what we, as filmmakers and festival organizers, already knew: (a) audiences were hungry for more docs, and (b) they gave value and worth to documentaries, which should help encourage those who are funding them to work a little harder and invest even more." Over the last few years Hot Docs built upon its findings and has since published "Hot Docs Documentary Audience Research 2018", a fascinating and illuminating new document that "aimed to (a) understand the current viewing habits of the documentary audience in Canada, and (b)show how they have evolved from the last survey." Writing in Realscreen's Playback Daily column, Lauren Malyk reported on Hot Docs' findings.
Though there were a handful of wonderful doc releases hitting theaters and streaming services this week, none were more hotly anticipated than the second season of MAKING A MURDERER. Unfortunately, the critical response has not been positive. Kicking off his review at Vox, Alex Abad-Santos' headline reads "MAKING A MURDERER PART 2 is more entertainment than investigation. It feels a little gross," while in Vanity Fair, Sonia Saraiya was no less harsh, writing, "The second installment of this true-crime docuseries does a disservice to everyone: its filmmakers, their viewers, the victims, and the accused." Riding that MAKING A MURDERER wave, Time published "12 True Crime Documentaries You Should Stream Right Now" by Eliana Dockterman and Buzzfeed posted Luis Del Valle's piece "14 Netflix Docs That Could Honestly Pass For Horror Movies".
As an alternative, Ken Jaworowski highly recommended the Sundance Directing Award winner ON HER SHOULDERS, dubbing it a NYT Critics' Pick while noting, "Alexandria Bombach's direction and editing are exceptional; she captures images that are both subtle and formidable." Nell Minow mostly agreed at RogerEbert.com in her three star take. Another well regarded release this past week was Nathaniel Kahn's THE PRICE OF EVERYTHING. "As a formal work of documentary, it's a bit of a mess, yet it's also brilliantly comprehensive if not directly comprehensible. It's like Kahn threw everything at the canvas and most of it stuck in a way that makes enough sense, but it's up to the viewer to determine what all it's saying about the art world and if that's positive or negative," concluded Christopher Campbell at Nonfics, while in his entertaining and narratively detailed hot take in The New York Times, A.O. Scott oddly doesn't seem to share an opinion of the film either way.
Also worth a read was Andy Crump's feature and interview in Thrillist with BISBEE '17 director Robert Greene. "'There's always two choices, right?' Greene points out. 'Don't talk about it, and hopefully it dies forever. Or do an exorcism.'"
Maybe the most important piece of the week came from Patrick Radden Keefe of The New Yorker: "Why Were a Filmmaker and a Journalist Arrested in Northern Ireland?" The investigative article explores why Trevor Birney, who recently produced the Alex Gibney directed documentary NO STONE UNTURNED, was arrested at his home in Belfast, Northern Ireland back in August. He ominously concludes, "The United Kingdom prides itself on being a liberal democracy, but, to Alex Gibney, the reaction to NO STONE UNTURNED feels dismayingly in keeping with our times: when confronted with a film that identified prime suspects in a massacre of unarmed British citizens, the authorities made no apparent effort to further question those suspects—and arrested the filmmakers instead."
As always, if you have any tips or recommendations for the Memo, please contact me via email here, or on Twitter, @Rectangular_Eye.