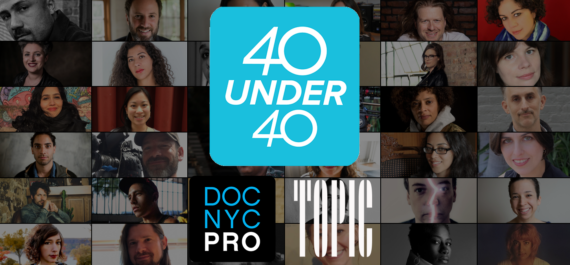 We might as well dig right in with DOC NYC's inaugural 40 Under 40 list, which intends to shine a light on 40 documentary talents under the age of 40 and includes familiar names like Khalik Allah, Sara Dosa, Garrett Bradley, and Nathan Truesdell. "Notable statistics from the list: 22 honorees are women, more than half are filmmakers of color, and the youngest person turns 28 in November. The final list was chosen by the DOC NYC team of Artistic Director Thom Powers, Director of Development Deborah Rudolph, Director of Programming Basil Tsiokos, and Shorts Programmer Opal H. Bennett."
In case you haven't noticed, we are now in the throes of award season and this past week saw two sets of nominations announced. The nominees for the the 28th Annual IFP Gotham Awards were unveiled on Thursday and BISBEE '17, HALE COUNTY THIS MORNING, THIS EVENING, MINDING THE GAP, SHIRKERS and WON'T YOU BE MY NEIGHBOR? are each up for Best Documentary. Meanwhile, the nominees for the 3rd annual Critics' Choice Documentary Awards are CRIME + PUNISHMENT, DARK MONEY, FREE SOLO, HAL, HITLER'S HOLLYWOOD, MINDING THE GAP, RBG, THREE IDENTICAL STRANGERS, WILD WILD COUNTRY, and WON'T YOU BE MY NEIGHBOR?.
We'll be closing out our 2018 Fall Season of Stranger Than Fiction tomorrow night at the IFC Center with Chris Metzler, Jeff Springer and Quinn Costello's RODENTS OF UNUSUAL SIZE, which will feature a live Q&A with co-director and cinematographer Jeff Springer himself. Tickets for our season closer are still available here.
---