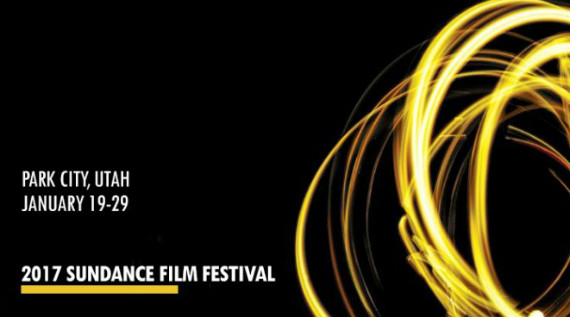 Holiday season is upon, hence why last week's memo never materialized (that and it was a surprisingly slow doc news week). This past week however has been bustling with award season breaks, winter festival announcements and a whole host of new films available for streaming online. First off, as has become tradition following the gorging of Thanksgiving weekend, the Sundance Film Festival announced its full 2017 competition lineup, including the US Documentary Competition with new work by Brian Knappenberger, Yance Ford, Matthew Heineman and Shaul Schwarz, as well as the World Cinema Documentary Competition, featuring films by Ramona Diaz, Rahul Jain, Jiu-liang Wang and more. As we move closer to the Trump administration, both Mark Olsen of The Los Angeles Times and Brooks Barnes of The New York Times predict a politically volatile Park City program, each highlighting some obvious hot spots like Sabaah Folayan and Damon Davis's WHOSE STREETS?, which explores the violence in Ferguson, Missouri that went down in the summer of 2014. More titles will be announced shortly. And while Sundance will always overshadow its rebellious younger Park City rival, the Slamdance Film Festival also listed their lineup of eight doc features, five of which are world premieres.
Now that we are officially knee deep in December, film critics around the world are getting antsy to proclaim their picks for the best films of the year. Both the New York Film Critics Circle and the National Board of Review named Ezra Edelman's mammoth O.J.: MADE IN AMERICA the Best Documentary of the Year, while at the Los Angeles Film Critics Association Raoul Peck's I AM NOT YOUR NEGRO pulled an upset over Edelman's film, which was the runner-up for Best Documentary and received a nod for Best Editing. (Side note: Edelman and Peck turned up in conversation with Bryan Stevenson and Thom Powers on race, Trump and doc making in the latest episode of Pure Nonfiction.) Sight & Sound Magazine also polled a 163 critics for their year end lists, whom collectively included FIRE AT SEA, CAMERAPERSON and O.J.: MADE IN AMERICA amongst their top 26.
It's not just critics that are naming their favorites of the year already though. The Gotham Independent Film Awards took place early last week, with O.J.: MADE IN AMERICA once again coming out on top, while across the pond the British Independent Film Awards gave their top doc prize to James Spinney and Peter Middleton's NOTES ON BLINDNESS. Looking towards this year's Oscars, The Hollywood Reporter's Gregg Kilday considered whether or not this might be the year to see a non-fiction film take home the Oscar for Best Picture. Being that an abundance of similar talk fruitlessly centered around CITIZENFOUR last year, I seriously doubt it.
As far as theatrical releases go, this past week was dominated by conversation centering around first time doc helmer Andrew Dominik's ONE MORE TIME WITH FEELING, on Nick Cave and the Bad Seeds. Simon Abrams gave the film two thumbs up at RogerEbert.com, Sean O'Neal gave it an A- at A.V. Club, Stephen Holden of The New York Times admits, "Even in the throes of grief, Mr. Cave retains his mystique as a rock shaman," while Sheri Linden called it an "exquisitely tender film" in The Los Angeles Times. Dominik also spoke with Kory Grow of Rolling Stone for an extensive feature on the film, as well as with Jessica Kiang of The Playlist.
Other films reviewed this week included Samuel D. Pollard's TWO TRAINS RUNNIN', which A.O. Scott dubbed as a NYT Critics' Pick and Odie Henderson gave the film a near perfect score at RogerEbert.com. Aisholpan Nurgaiv, the young subject of THE EAGLE HUNTRESS, spoke with Cara Buckley about her whirlwind experience on the film festival circuit in The New York Times, while Kenneth Turan warmly regarded the Steven Okazaki's loving profile MIFUNE: THE LAST SAMURAI in The Los Angeles Times. DAVID LYNCH: THE ART LIFE received a lengthy look from Justine Smith at Movie Mezzanine, and Conor Bateman considered the Hal Needham's directorial debut THE BANDIT for 4:3. On the small screen, The Atlantic's Sophie Gilbert took an expansive look at A&E's doc mini-series LEAH REMINI: SCIENTOLOGY AND THE AFTERMATH, while Tom Roston dug into First Run Features's new doc anthology TRUE NEW YORK at Doc Soup.
Those looking for something new to stream are in for a handful of gems this week. Laura Poitras and Henrik Moltke's revelatory new short PROJECT X, on the NSA's Manhattan flagship Titanpointe, was published by Field of Vision, and Alex Pasternack wrote at length about the project over at Fast Company. Amy Nicholson's award winning festival favorite PICKLE about a pet obsessed couple is now streaming over at Op-Docs. The Atlantic linked to Raquel Zaldivar's new short LA BIENVENIDA (THE HOMECOMING), on her father's long dreamed about return to Cuba. Capping off a year of celebration, Kartemquin is streaming their entire catalog for free for the entire month of December. And at Nonfics, Christopher Campbell listed his top 100 docs to watch on Netflix this month.
I'll leave you this week with Kevin Ritchie's rundown of the BFI's Five Year Plan for Brexit Diversity over at Realscreen. As always, if you have any tips or recommendations for the Memo, please contact me via email here, or on Twitter, @Rectangular_Eye.