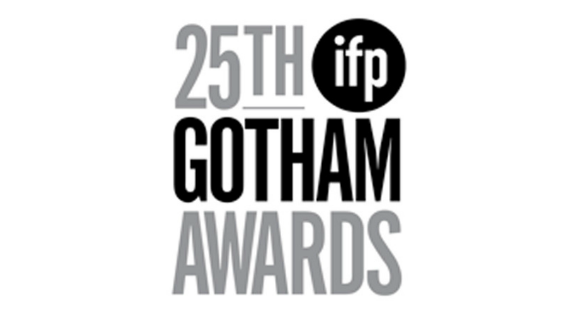 Bright and early Thursday morning Deadline's Anthony D'Alessandro, Variety's Gordon Cox and The Hollywood Reporter's Hilary Lewis each broke the news that the Gotham Independent Film Awards had named their 2015 nominees, including APPROACHING THE ELEPHANT, CARTEL LAND, HEART OF A DOG, LISTEN TO ME MARLON and THE LOOK OF SILENCE. The following day, the Academy of Motion Picture Arts and Sciences announced the full list of 124 contenders in the Oscar race for Best Documentary Feature, as reported by Steve Pond at The Wrap, indieWIRE's Zack Sharf and Dave McNary for Variety. And while we're still quite a ways away from the event scheduled on June 9th, Realscreen reports that submissions for the 2016 Realscreen Awards are now open.
With the 13th edition of DocLisboa having begun late last week, Cineuropa's Vitor Pinto previewed the Portuguese productions on offer, as Basil Tsiokos wrote up an overview of the fest at What (not) To Doc. Tsiokos also previewed the docs on offer at The American Museum of Natural History's Margaret Mead Film Festival and NYC's NewFest. At MUBI's Notebook, Boris Nelepo reflected on the career of the Serbian filmmaker Želimir Žilnik, who is receiving first complete international retrospective as part of DocLisboa. As IDFA draws near, indieWIRE's Tambay A. Obenson took the time to highlight a trio of films of African diaspora, while Jorn Rossing Jensen reported on the many Norwegian productions that will be making their way to Amsterdam for Cineuropa.
The Montreal International Documentary Festival revealed the programming schedule for their annual industry conference, Doc Circuit Montréal (DCM) reports Daniele Alcinii of Realscreen. Likewise, Cineuropa's Vladan Petkovic covered the Jihlava International Documentary Film Festival's announcement of the program for its Inspiration Forum, "a platform intended to facilitate the search for new themes and their interpretations." Scheduled speakers include Julian Assange (via Skype) and Maria Alyokhina (Masha) of Pussy Riot.
This week Stranger Than Fiction continues with a special screening of AN OMAR BROADWAY FILM, showing prison life through the eyes of the prisoners – the violence, the boredom, what everyone inside the prison, both inmates and guards, do to survive. The film's director, Douglas Tirola, will be in attendance for a post-screening Q&A. Tickets are still available here.
Our own Thom Powers and Raphaela Neihausen selected Laurie Anderson's dreamy elegy to her late pet, HEART OF A DOG, as WNYC's Documentary of the Week. A trio of reviews this week are in agreeance, with Artforum's Melissa Anderson citing Anderson's "talent for voluble free-association," Criterion Cast's Joshua Brunsting calling it a "one of a kind film from a one of a kind artist…simply a film you can't afford to miss," and RogerEbert.com's Brian Tallerico concluding that "it is one of the most invigorating and alive films of the year."
Film Comment named Patricio Guzmán's THE PEARL BUTTON their film of the week, publishing a feature on the film by Jonathan Romney, as well as an in-depth interview with the filmmaker by Eric Hynes. Writing for MUBI's Notebook, Amir Ganjavie published an additional interview with Guzmán, discussing his 65th Berlinale Silver Bear winner.
Little White Lies posted a handful of reviews for films opening in the UK this week, including David Jenkins' thoughts on THE BLACK PANTHERS: VANGUARD OF THE REVOLUTION and BRAND: A SECOND COMING, as well as Adam Woodward's piece on LISTEN TO ME MARLON. Peter Bradshaw also wrote a review of Stanley Nelson's Black Panthers doc for The Guardian, while Mark Kermode submitted a capsule on LISTEN TO ME MARLON for the same outlet. Also writing for The Guardian, Denise Hassanzade Ajiri published a piece outlining the dangers the Iranian filmmaker Emad Tayefen faced while working on his film PUBLIC ENEMIES.
Other reviews published this past week included a pair on Colin Hanks' ALL THINGS MUST PASS by Sean Burns at Movie Mezzanine and Patrick Brice at The Talkhouse. Flavorwire's Jason Bailey wrote a rave of Kent Jones' HITCHCOCK/TRUFFAUT, The Los Angeles Times' Susan King reviewed A BALLERINA'S TALE and a feature on Tab Hunter and the new doc about him, TAB HUNTER CONFIDENTIAL. At Variety, Alissa Simon reviewed ALICE CARES and NO LAND'S SONG, while Justin Chang covered INDIA'S DAUGHTER. Additionally, a pair of interviews cropped, one with director Alex Gibney in The Los Angeles Times by Patt Morrison on GOING CLEAR and STEVE JOBS: THE MAN IN THE MACHINE, the other with director David Sington in Variety by Damon Wise discussing THE FEAR OF 13.
On the development side of doc making, Film School Rejects published an essay by Allison Loring outlining how to employ music successfully in documentaries. indieWIRE posted a piece by Kate Erbland allowing Chicken & Egg Productions founders Julie Parker Benello, Wendy Ettinger and Judith Helfand to share ten films that inspired them to pursue their goal "to provide both help and a home for women non-fiction filmmakers in need of that extra push to make their projects a reality." And at the International Documentary Association blog, Annie Roney published a piece titled "Know Your Distribution Rights Opportunities," hoping to spread the good word of the various digital platforms available to filmmakers to get their film out into the world and warn of the tricky legal waters of global rights sales.
I'll sign off with the latest short from Field of Vision, Heloisa Passos' KAROLLYNE, and don't miss Glenn Greenwald's must read companion piece to the film at The Intercept as well! Until next week, if you have any tips or recommendations for the Memo, please contact me via email here, or on Twitter, @Rectangular_Eye. I look forward to hearing from you!