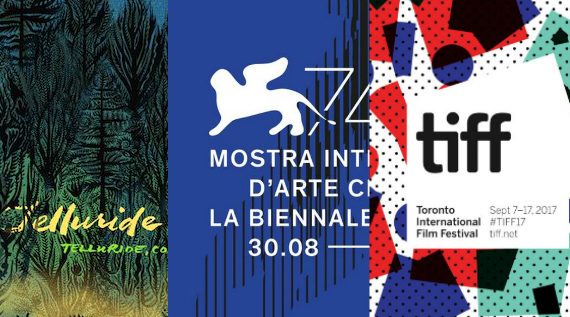 During the summer, much of the doc world goes relatively quiet, but this week it kicks into overdrive as the fall film festival season goes from 0 to 60 in one week flat. The 74th edition of the Venice Film Festival began on Wednesday with "just over 30 documentary features among its more than 100 feature offerings," as Basil Tsiokos noted in his nonfiction overview of the fest at What (not) To Doc. In his own festival preview in The New York Times, Nicolas Rapold singled out a few docs – Lucien Castaing-Taylor and Verena Paravel's CANIBA, Frederick Wiseman's EX LIBRIS, Chris Smith's JIM & ANDY – that are set to also screen next week at the Toronto International Film Festival, while others – HUMAN FLOW by Ai Weiwei (which received a glowing review from IndieWire's David Ehrlich) and the hybrid series WORMWOOD by Errol Morris (who spoke with Brent Lang of Variety and picked up praise from IndieWire via Eric Kohn and The Guardian's Xan Brooks) – had their debuts this weekend at the exclusive Telluride Film Festival. Following Telluride's lineup unveiling, Adam Benzine and the fine folks over at Nonfics pointed out that the festival launched last year's Oscar doc shorts winner and posed the possibility of the same happening with this year's HEROIN(E) and LONG SHOT. At Variety, Kristopher Tapley discussed the fate of Sydney Pollack's long embattled Aretha Franklin film AMAZING GRACE, which has been slated for a Telluride debut for years.
Closer to home, TIFF takes over Toronto this Thursday and the Toronto Star's Peter Howell already broke the news this past week that long time director and CEO Piers Handling has announced his departure after nearly 25 years at the helm. "The urbane Handling, 68, has a lot planned for his post-TIFF life, including a book — something film-related but not personal memoirs — and more of the world travel and mountain climbing that have long been among his other passions. In all, the former film professor will have been at TIFF for 36 years, nearly half his life."
Giving an exclusive preview of the TIFF Docs offerings, programmer Thom Powers and his colleague Dorota Lech outlined each of the films in a pair of episodes of the Pure Nonfiction podcast. The CinemaScope crew have already begun combing through the more experimental docs making their domestic debut at the fest, with reviews of GOOD LUCK via Phil Coldiron, MRS. FANG via Daniel Kasman, TA PEAU SI LISSE via Adam Nayman, and FACES PLACES by Jordan Cronk. And at Entertainment Weekly, Joey Nolfi spoke with Lady Gaga and director Chris Moukarbel about GAGA: FIVE FOOT TWO, which is set to have its world premiere at the fest this coming Friday.
Jordan Cronk also looked back at this year's edition of the Locarno Film Festival for Film Comment. In doing, he singled out the work of Wang Bing and his Golden Leopard winner, "Befitting its intimate subject matter, MRS. FANG is a smaller film than some of Wang's more panoramic studies of contemporary China, but there's a potency to its scale and an undeniable power to its directness. A major festival win for one of the world's great documentary filmmakers was long overdue."
Just as the BFI London Film Festival, Boston's GlobeDocs Film Festival and the IDA Documentary Screening Series each announced their 2017 lineups, the New York Film Festival unveiled this year's special events, including a quartet of major new docs: "Susan Lacy's SPIELBERG, which chronicles the cinema titan's remarkable career; Jennifer Lebeau's TROUBLE NO MORE, a concert film that punctuates rare, recently rediscovered footage from Bob Dylan's '79-'80 tour with a beautiful performance by Michael Shannon; and Susan Froemke's THE OPERA HOUSE, a history of the Metropolitan Opera and a love letter to the art form that will have a special screening in the Metropolitan Opera House at Lincoln Center. Claude Lanzmann returns to NYFF with the World Premiere of his four-film series FOUR SISTERS, created from interviews conducted in the 1970s with four Eastern European women who impossibly survived the Holocaust."
Just a couple weeks out from its primetime premiere on PBS, Ken Burns and Lynn Novick's sprawling THE VIETNAM WAR has already been gleaning plenty of coverage, having been the lead in Neil Genzlinger's overview of the fall doc debuts in The New York Times, as well as the feature topic in Ian Parker's profile of Burns in The New Yorker, though Genzlinger has doubts about the series' success – THE VIETNAM WAR will have a harder time becoming a national phenomenon than its predecessor did. For one thing, the stylistic signatures of THE CIVIL WAR — the panning and zooming into or out of still photographs, and having actors read from the letters of individuals caught up in the war — are now standard operating procedure." Regardless, Burns and Novick have been out promoting the project, turning up in interviews with Phil Klay at Mother Jones, Andrew Lam at Salon, and Ryan Bort of Newsweek.
Theatrically, the most noteworthy release this week is Peter Bratt's timely DOLORES, about Dolores Huerta whose known as the co-founder of the National Farmworkers Association, along with Cesar Chavez. At RogerEbert.com, Matt Zoller Seitz argues that despite a few cinematic faults, "Huerta is such a commanding figure, and the array of historical footage marshaled on behalf of her story is so impressive, that the film makes a strong impression." Along the same line, Chris Campbell importantly notes at Nonfics, "While Huerta is an essential figure to learn about, and DOLORES can be part of that teaching for many years to come, the film is sort-of coincidentally important in this moment as both Arpaio and the Mexican-American studies ban are back in the news, the latter having just been shot down by a federal judge for being racist and motivated by a political agenda." Helping to get the word out about the film, Dolores Huerta herself spoke with Amy Goodman at Democracy Now! about her political activism and much more.
Looking at newly streamable docs, IndieWire's Zack Sharf listed overlooked nonfiction films currently on Netflix, while Nonfics' Christopher Campbell named his 100 must-see docs on Netflix during September with Errol Morris' THE B-SIDE landing at in the top spot. Matthew Salton's RICHARD TWICE, which screened this year at Slamdance, Sheffield Doc/Fest and elsewhere, was featured over at Short of the Week, just as Kim Kelly of Noisy shared a new short on Thou's FRIENDSHIP TOUR 2017, and Allison Meier featured Tiffany Hsiung's NFB produced interactive online doc THE SPACE WE HOLD over at Hyperallergic.
Signing off this week I'll leave you with Alissa Wilkinson's preview at Vox of "eight terrific documentaries that have recently screened at festivals around the world are finally releasing to the public, some in theaters and some via streaming platforms." I'll be at TIFF all next week, so I'll catch y'all when I return! In the meantime, if you have any tips or recommendations for the Memo as we wait for the impending apocalypse, please contact me via email here, or on Twitter, @Rectangular_Eye.