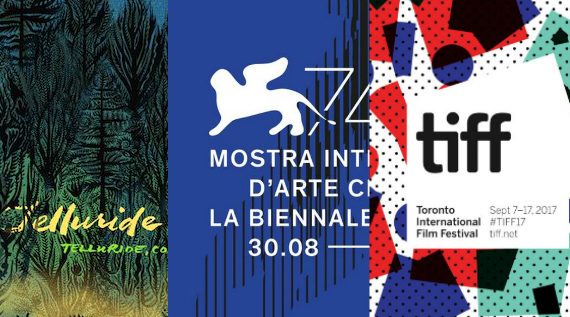 During the summer, much of the doc world goes relatively quiet, but this week it kicks into overdrive as the fall film festival season goes from 0 to 60 in one week flat. The 74th edition of the Venice Film Festival began on Wednesday with "just over 30 documentary features among its more than 100 feature offerings," as Basil Tsiokos noted in his nonfiction overview of the fest at What (not) To Doc. In his own festival preview in The New York Times, Nicolas Rapold singled out a few docs – Lucien Castaing-Taylor and Verena Paravel's CANIBA, Frederick Wiseman's EX LIBRIS, Chris Smith's JIM & ANDY – that are set to also screen next week at the Toronto International Film Festival, while others – HUMAN FLOW by Ai Weiwei (which received a glowing review from IndieWire's David Ehrlich) and the hybrid series WORMWOOD by Errol Morris (who spoke with Brent Lang of Variety and picked up praise from IndieWire via Eric Kohn and The Guardian's Xan Brooks) – had their debuts this weekend at the exclusive Telluride Film Festival. Following Telluride's lineup unveiling, Adam Benzine and the fine folks over at Nonfics pointed out that the festival launched last year's Oscar doc shorts winner and posed the possibility of the same happening with this year's HEROIN(E) and LONG SHOT. At Variety, Kristopher Tapley discussed the fate of Sydney Pollack's long embattled Aretha Franklin film AMAZING GRACE, which has been slated for a Telluride debut for years.
Closer to home, TIFF takes over Toronto this Thursday and the Toronto Star's Peter Howell already broke the news this past week that long time director and CEO Piers Handling has announced his departure after nearly 25 years at the helm. "The urbane Handling, 68, has a lot planned for his post-TIFF life, including a book — something film-related but not personal memoirs — and more of the world travel and mountain climbing that have long been among his other passions. In all, the former film professor will have been at TIFF for 36 years, nearly half his life."
Giving an exclusive preview of the TIFF Docs offerings, programmer Thom Powers and his colleague Dorota Lech outlined each of the films in a pair of episodes of the Pure Nonfiction podcast. The CinemaScope crew have already begun combing through the more experimental docs making their domestic debut at the fest, with reviews of GOOD LUCK via Phil Coldiron, MRS. FANG via Daniel Kasman, TA PEAU SI LISSE via Adam Nayman, and FACES PLACES by Jordan Cronk. And at Entertainment Weekly, Joey Nolfi spoke with Lady Gaga and director Chris Moukarbel about GAGA: FIVE FOOT TWO, which is set to have its world premiere at the fest this coming Friday.
---