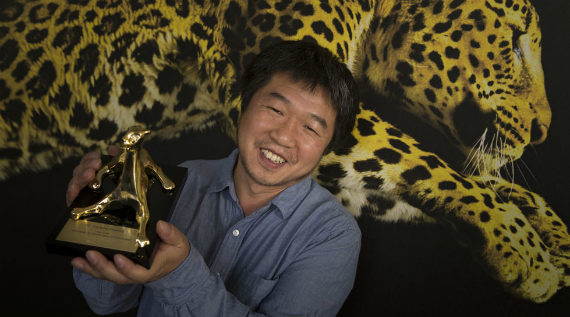 After last week's jam packed memo, this week's feels a bit light, especially when weighed against the many mainstream headlines fueling my nightmares the past few nights, but nonetheless there is plenty of juicy nonfiction film news to go around. Kicking it off is Jay Weissberg's break at Variety that "a jury that included high profile directors Olivier Assayas and Miguel Gomes has awarded Wang Bing's unblinkered documentary MRS FANG the Golden Leopard at the 70th anniversary edition of the Locarno Festival." At MUBI's Notebook, Daniel Kasman, in seeming agreement, intimated that "MRS FANG's modestly scaled, minutely attentive and intimate focus on the last living days of this grandmother on her deathbed has unusual force."
Midway through Locarno, Jordan Raup revealed the 55th New York Film Festival main slate via FilmLinc, which includes Agnès Varda & JR's L'Oeil d'or winning VISAGES VILLAGES. The festival's Spotlight on Documentary program will be announced in the coming weeks. The Toronto International Film Festival also added a few titles to their doc lineup with its unveiling of its Canadian titles, including world premieres of Alan Zweig's THERE IS A HOUSE HERE, Matt Embry's LIVING PROOF, Sean Menard's THE CARTER EFFECT and Alanis Obomsawin's OUR PEOPLE WILL BE HEALED. Selina Chignall covered the announcement for Realscreen, and went so far as to interview a handful of the filmmakers to get their opinions on the matter. And last, but not least on the topic of festivals, is Basil Tsiokos' doc overview of the 23rd Sarajevo Film Festival, which runs August 11th-18th.
Last week the Australian Academy of Cinema & Television Arts announced the five films nominated for Best Feature Length Documentary. The nominees include CASTING JONBENÉT by Kitty Green, DAVID STRATTON: A CINEMATIC LIFE by Jo-anne McGowan, DEEP WATER: THE REAL STORY by Darren Dale, WHITELEY by James Bogle, and ZACH'S CEREMONY by Aaron Petersen. The winner will be announced at the AACTA Awards ceremony on December 6th.
Everyone loves a good list, so it is with obvious pleasure that the staff over at Paste have put together a pretty wonderful compilation of 15 films in their piece on the Best Documentary Films of 2017 (So Far), just as Christopher Campbell updated his own worthy list of the same name, topping out at 20 films, over at Thrillist.
A couple notable films hit theaters this week, the first of which was Sabaah Folayan and Damon Davis' WHOSE STREETS?, in which, Adam Gabbatt of The Guardian explains, the directors "spent more than a year in Ferguson after the death of Michael Brown, bearing witness to the protests that followed." Matt Zoller Seitz declared at RogerEbert.com that it was "a movie that doesn't merely tell a gripping, important story, but reminds us that the storyteller and the storytelling matter just as much." At Rolling Stone, David Fear called it a "powerful you-are-there portrait of how a community raged in the aftermath of tragedy – and reacted with activism – [that] could not be more vital."
The other new release was Rahul Jain's divisive Sundance Cinematography Award winner MACHINES, "a spare and unflinching documentary about the true cost of cheap textiles," according to IndieWire's David Ehrlich. In his review for The New York Times, Ben Kenigsberg writes with uncertainty of its outcome that the film "casts an unflinching eye on dire poverty, trafficking in the disjunction between surreal, aesthetically striking images and sounds and the squalor those images depict." At RogerEbert.com, Godfrey Cheshire derided the film as "so obedient to current academic fashions in both politics and cinema aesthetics that it ends up feeling both contrived and a bit dishonest."
Amanda Lipitz's STEP continued to glean coverage this week with features in Bustle (by Angelica Florio) and The New York Times (via Gia Kourlas), as well as a review from Peter Bradshaw in The Guardian. Over at Salon, Tom Roston featured the Warhol inspired HBO doc BRILLO BOX (3¢ OFF), which was selected by our own Thom Powers and Raphaela Neihausen as WNYC Radio's Documentary of the Week. Additionally, Andy Webster deemed Emer Reynolds' space doc THE FARTHEST a NYT Critics' Pick, meanwhile in The Guardian, Luke Buckmaster, while ruminating on YOU ARE HERE, asked if "we overlooking Australia's most vital documentary series in years?"
Those looking for new docs to watch should rejoice in the fact that there is a new tool to help you finding docs to stream (and any other kind of film) – Cinesift. The site lets you search by genre, streaming service, rating by various critic aggregators and more. Not found within that vast array of films, however, is the BFI's newly released catalog of over a hundred films, India On Film: 1899-1947, all of which are now available on YouTube and on the BFI Player (split between the two channels). A short by David Bushell titled JIM CARREY: I NEEDED COLOR went viral this past week, as it highlights Carrey's blooming interest (and surprising talent) in large scale painting. Jacob Lamendola's ANOSMIA, a film that had its debut at Cannes back in 2012, was featured over at Short of the Week. And lastly, though not available online, the Criterion Collection announced its biggest release yet (and possibly the biggest nonfiction home video release ever), with 100 Years of Olympic Films, "a landmark box set that documents the history of the Olympic Games through the lenses of an international array of filmmakers, including some of the world's most acclaimed masters." The set features "53 newly restored films from 41 editions of the Olympic Games, presented together for the first time," and will be released on December 5th.
I leave you this week with the announcement (via John Hopewell at Variety) that Todd Haynes will be directing a documentary (his first) on The Velvet Underground. Reacting to the news, David Ehrlich made a fun list of five music docs that should be made by various top directors over at IndieWire. And it is with humbled gratitude that I share that the fine folks over at Documentary Site have included Stranger Than Fiction and the Monday Memo in their list of "11 Sites about Documentary You Should be Reading." I wholly agree – doc fans should bookmark each of these sites.
If you have any tips or recommendations for the Memo as we wait for the impending apocalypse, please contact me via email here, or on Twitter, @Rectangular_Eye.