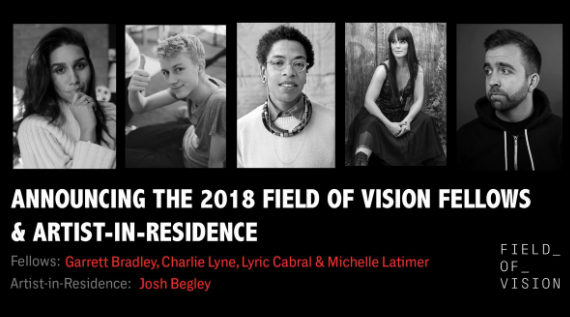 As I will soon be heading back to Columbia, MO for the True/False Film Festival, I would be lying if I didn't share my excitement about this week's unveiling of the festival's 2018 lineup, with highlights ranging from a selection of films by this year's True Vision Award winner Dieudo Hamadi, through hints about their hush-hush secret screenings and complete details about the return of their Neither/Nor series. The festival is set to run March 1st through the 4th. Riding that same wavelength, the Tribeca Film Festival announced that its 17th edition will open on April 18th with the world premiere of Lisa D'Apolito's LOVE, GILDA, "which opens a window into the world of celebrated Emmy and Grammy award-winning comedian Gilda Radner, who became a cultural icon the moment audiences first laughed with her on the debut episode of Saturday Night Live."
Back in 2016, we hosted the fine folks of Field of Vision for a special screening of their online series THE JOURNEY. This past week, Field of Vision announced a new fellowship, featuring a quartet of filmmakers in Garrett Bradley, Michelle Latimer, Charlie Lyne and Lyric Cabral, and its first-ever artist-in-residence, Josh Begley. The announcement continues, "The first year of fellows were selected from filmmakers who had worked with Field of Vision over the last three years. In addition to creating a framework for idea development, creative support, and a grant, Field of Vision will conduct workshops throughout the year in the areas of digital security, research, and legal issues. Fellows will also be invited to participate in Field of Vision's editorial process, from identifying urgent stories to offering filmmaker feedback and guidance."
Here at Stranger Than Fiction, our Winter 2018 season continues as we meditate on the 15th anniversary of America going to war in Iraq with a special screening of Oscar-nominated director Jehane Noujaim's terrific CONTROL ROOM, with both film subject Josh Rushing and producer Rosadel Varela in attendance for a live Q&A. Tickets to the event are available here.
As we near Oscar night, it is of note that all of the short subject nominees are now showing theatrically, picking up press along the way from Ben Kenigsberg of The New York Times, Kathy A. McDonald of Variety, Jude Dry of Indiewire, and Christopher Campbell of Nonfics, who ranked his favorites accordingly. Alissa Wilkinson tackled the feature doc nominees for Vox, pointedly writing "While none of this year's nominees except STRONG ISLAND push the nonfiction form forward, they're all focused on stories of individuals with huge social implications." At Variety, Addie Morfoot looked at the nominees from the perspective of age vs. experience. Morfoot notes, "Shockingly, two of this year's nominees — veteran filmmakers Steve James and Agnès Varda — have never received a nomination in the category." I would be remiss not to mention that current Oscar nominee EDITH+EDDIE is now streaming free via Short of the Week.
Other notable coverage for new releases this past week included Valentina I. Valentini's look at JANE's use of archival footage at Variety, Godfrey Cheshire's warm review of ERIC CLAPTON: LIFE IN 12 BARS at RogerEbert.com, Glenn Kenny's NYT Critics' Pick take on THE PEACEMAKER, Bridget Read's feature on SEEING ALLRED in Vogue, and Simran Hans' review of MAKALA for The Guardian.
In production news, Hot Docs revealed its five 2018 Ted Rogers Fund recipients, which include Peter Mishara's THE ARTISTS, Rama Rau's THE DAUGHTER TREE, Maureen Judge's GIRLS ON THE BUS, Maya Gallus' THE HEAT: A KITCHEN REVOLUTION, and Michèle Stephenson's HISPANIOLA. Realscreen covered the announcement, reporting on the Hot Docs-Blue Ice Fund and the CrossCurrents Doc Fund recipients as well. Additionally, Raising Films, an advocacy group that "aims to address one of the issues that prevents many female filmmakers from pursuing their careers, to enable filmmakers with families to keep working and feel supported during demanding times in their personal lives, and to challenge at a structural level the demands the film industry makes of all of us," is currently raising funds in hopes of securing organisational running costs for the next two years. To donate, head over to their Crowdfunder page.
In addition to EDITH+EDDIE, Margaret Byrne's RAISING BERTIE is now streaming via POV, and Emma Cott and Andrew Michael Ellis' HOW AN ALT-RIGHT LEADER LIED TO CLIMB THE RANKS is now streaming via The New York Times.
As always, if you have any tips or recommendations for the Memo, please contact me via email here, or on Twitter, @Rectangular_Eye.