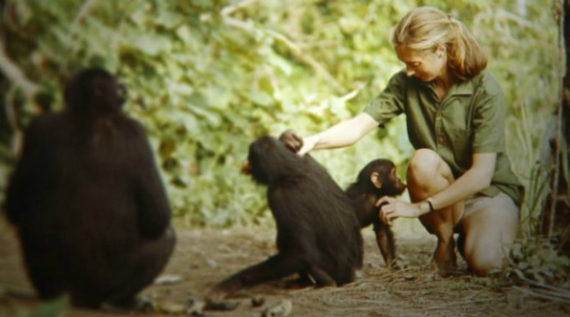 Award season rolls on! Thursday evening saw the Broadcast Film Critics Association and the Broadcast Television Journalists Association announce the winners of the second annual Critics' Choice Documentary Awards with Brett Morgen's JANE being named Best Documentary, while Evgeny Afineevsky and Frederick Wiseman were co-honored with Best Director for CRIES FOR SYRIA and EX LIBRIS: THE NEW YORK PUBLIC LIBRARY, respectively. Ceyda Torun's debut feature KEDI won Best First Documentary, as Ken Burns and Lynn Novick's THE VIETNAM WAR took home Best Documentary Series.
In tandem with the Critics' Choice Doc Awards, the International Documentary Association named its nominations for the 2017 IDA Awards, with Matthew Heineman's CITY OF GHOSTS, Antonio Santini and Dan Sickles's DINA, Agnès Varda and JR's FACES PLACES, Dan Lindsay and TJ Martin's LA 92, and Yance Ford's STRONG ISLAND all up for Best Documentary. The British Independent Film Awards also unveiled their own nominations this past week. Those up for Best Documentary include Aaron Brookner's UNCLE HOWARD, Carol Salter's ALMOST HEAVEN, Lucy Cohen's KINGDOM OF US, Morgan Matthews's WILLAMS, and Daisy-May Hudson's HALF WAY.
DOC NYC is nearing, and to celebrate they've been running flash sales on tickets at 5 for $5 for select films. The current sale runs through noon today. On Wednesday, the festival announced its 2017 jury members, featuring the likes of filmmakers Doug Block and Andrew Rossi, as well as Vox film critic Alissa Wilkinson, Women Make Movies's Debra Zimmerman and more.
In other festival news, DOK Leipzig's festival director Leena Pasanen announced, "For the film selection of 2018 and 2019 the head of the selection committee Ralph Eue and I have decided to put a quota in our German Competition Long Documentary and Animated Film for female filmmakers," reports Steen Müller of Filmkommentaren. Despite his current ongoing intensive overview of the DOC NYC offerings, Basil Tsiokos previewed this year's DOK Leipzig's program over at What (not) To Doc, while the fine folks at The D-Word have been live blogging from as the festival played out.
Following the avalanche of accusations of sexual abuse that have rocked film industry this past month, Brooks Barnes of The New York Times reports that Canadian filmmaker Barry Avrich plans to rework his 2011 film UNAUTHORIZED: THE HARVEY WEINSTEIN PROJECT, stating, "I have a moral obligation to edit and expand my film, and not just by tacking on an 11-minute ending about him as a sexual predator." Meanwhile, The Guardian's Rory Carroll reflected on how these allegations have sparked new interest in Amy Berg's previously disregarded AN OPEN SECRET, a film that "uncovered damning evidence of the sexual abuse of teenage boys by figures in the film industry." "In light of the long awaited revelations of sexual abuse in Hollywood finally being reported Esponda Productions presents AN OPEN SECRET for free for a limited time" via Vimeo.
A slew of new releases hit NY and LA this week, including GILBERT, "Neil Berkeley's fabulous documentary about comedian Gilbert Gottfried recasts the "obnoxious" performer as a family man with a wife and two kids," says Gary M. Kramer in his feature interview with the comedian at Salon. In The New York Times, Ken Jaworowski called Mark Grieco's A RIVER BELOW "a bold and urgent documentary…[that] centers on the pink river dolphin and two men trying to save the species from extinction," as Michael Rechtshaffen concurs in the Los Angeles Times, "A RIVER BELOW skillfully — and quite compellingly — navigates the murky complexities of contemporary reality filmmaking." Sporting a sixteen person directorial team that includes the likes of Yung Chang, Vikram Gandhi, and Alma Har'el, the heartbreaking election doc 11/8/16 also received a theatrical release. Jaworowski probably summed it best, "Considering all that's been written and said over the last year, there's not much new to learn from "11/8/16." But the film remains engaging for its stories, and is likely to be more instructive in the future, when passions have cooled. Judging by most people here, that won't be soon."
Other notable doc coverage included Lucy Jones's review in The Telegraph of the newly released BBC production QUEEN: ROCK THE WORLD, which features concert footage previously thought lost, Sheri Linden's take on EVERYBODY KNOWS…ELIZABETH MURRAY in the Los Angeles Times, David Ehrlich's coverage of the Werner Herzog produced A GRAY STATE for IndieWire, Patrick Howard's review of BILL NYE: SCIENCE GUY at Hammer to Nail, and Jessica Ellicott's thoughts on RAT FILM at 4:3. Must read interviews this week include Kate Erbland's conversation with Rachel Grady and Heidi Ewing about their new film ONE OF US at IndieWire, the second part of Nicolas Rapold's interview with Errol Morris at Film Comment, and a Q&A between Realscreen's Barry Walsh and Chief programming executive and General Manager of PBS, Beth Hoppe.
What should you be watching online this week besides AN OPEN SECRET? Head over to Christopher Campbell's top 100 docs to watch on Netflix in November at Nonfics, or check out MONSTER FACTORY by Tucker Bliss or The Atlantic's THE FIRST LADY OF ISIS, both newly available.
As always, if you have any tips or recommendations for the Memo, please contact me via email here, or on Twitter, @Rectangular_Eye.