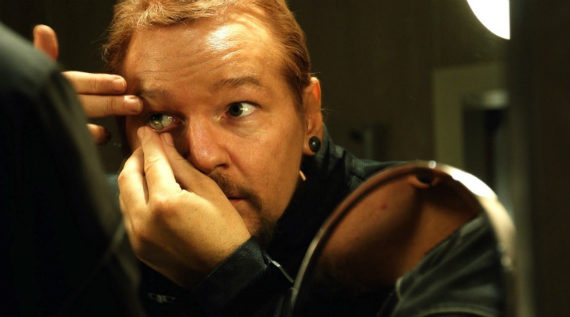 Please forgive my tardiness – it's been a bit of a busy week for me, trekking from Hot Docs to Rochester's Nitrate Picture Show at the George Eastman Museum, one of the few venues in the world still able to screen nitrate film prints (now in its third year, the festival showed four docs this year, including Georges Franju's controversial 1949 short BLOOD OF THE BEASTS). As I type this week's memo, I'm currently riding shotgun down the interstate on the way to pick up my dog, who had a week long getaway at my mom's out in rural western New York. Thus, on to doc news!
As Hot Docs began to wind down, this year's award winners were revealed. Charles Officer's UNARMED VERSES won Best Canadian Feature, Pau Ortiz's THE OTHER SIDE OF THE WALL was named Best International Feature, Catherine Bainbridge and Alfonso Maiorana's RUMBLE: THE INDIANS WHO ROCKED THE WORLD took home the Audience Award, Asaf Sudry and Tali Shemesh's DEATH IN THE TERMINAL won Best Mid-Length Doc, and Best Short went to Tamta Gabrichidze for SOVDAGARI. At Doc Soup, Tom Roston outilned his festival finds and the Hot Docs Pitch Forum, while Eli Brown live blogged this year's pitches at The D-Word and Selina Chignall reported on the ins and outs of Hot Docs funding applications for Realscreen.
Tonight we here at Stranger Than Fiction return to the IFC Center with the latest film from HOOP DREAMS director Steve James, ABACUS: SMALL ENOUGH TO JAIL, which tells the incredible saga of the Chinese immigrant Sung family, owners of Abacus Federal Savings of Chinatown, New York, the only U.S. bank to face criminal charges in the wake of the 2008 financial crisis. Jill Sung, Vera Sung and Chanterelle Sung, several of the subjects featured in the film, will appear for a live Q&A following the film. Tickets for the event can be purchased here.
In addition to all the Hot Docs happenings, this past week saw the announcement of both this year's Cannes Classics lineup, which features a quintet of docs on film history, and the lineup of the upcoming Sheffield Doc/Fest. Georgia Korossi ran down the wealth of offerings this year at Sheffield for the BFI. And at What (not) To Doc, Basil Tsiokos looked at the new non-fiction to be found at Vancouver's DOXA documentary film festival.
The hot topic this past week was the long awaited theatrical release of Laura Poitras' Julian Assange doc RISK, which originally had its debut last year at Cannes, but has since gone through a thorough reworking. The film has garnered a generally warm reception from critics, with David Sims of The Atlantic summing it up astutely: "RISK is an incredibly gripping work, one made with an unprecedented level of access to Assange, but for all its intimacy, it still struggles to nail down its target. Instead, it's more a story of Poitras herself." Solid, if not wholly positive takes on the film also came in from Ed Rampell of The Progressive, A.O. Scott at The New York Times, Fred Kaplan of Slate, Ignatiy Vishnevetsky at A.V. Club and Steven Zeitchik of The Los Angeles Times. Anne Thompson looked at how the film has changed since its original premiere for IndieWire, as Poitras herself turned up in conversation with Genevieve Jacobson at Nonfics and on the Los Angeles Review of Books podcast.
Two new doc podcast episodes turned up this week. On Pure Nonfiction, Thom Powers shared a conversation between he, the late Jonathan Demme and Renée Shafransky, in which they discuss Spalding Gray and SWIMMING TO CAMBODIA. And on the latest episode of the True/False Podcast, MANAKAMANA co-director Stephanie Spray discusses her new project.
I'll leave you this week with Paste's list of their Top 10 Docs of 2017 so far. Until next week, if you have any tips or recommendations for the Memo, please contact me via email here, or on Twitter, @Rectangular_Eye.