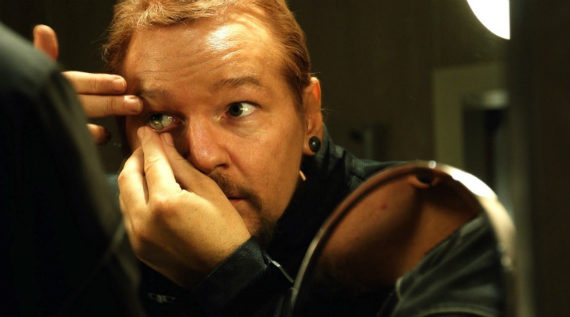 Please forgive my tardiness – it's been a bit of a busy week for me, trekking from Hot Docs to Rochester's Nitrate Picture Show at the George Eastman Museum, one of the few venues in the world still able to screen nitrate film prints (now in its third year, the festival showed four docs this year, including Georges Franju's controversial 1949 short BLOOD OF THE BEASTS). As I type this week's memo, I'm currently riding shotgun down the interstate on the way to pick up my dog, who had a week long getaway at my mom's out in rural western New York. Thus, on to doc news!
As Hot Docs began to wind down, this year's award winners were revealed. Charles Officer's UNARMED VERSES won Best Canadian Feature, Pau Ortiz's THE OTHER SIDE OF THE WALL was named Best International Feature, Catherine Bainbridge and Alfonso Maiorana's RUMBLE: THE INDIANS WHO ROCKED THE WORLD took home the Audience Award, Asaf Sudry and Tali Shemesh's DEATH IN THE TERMINAL won Best Mid-Length Doc, and Best Short went to Tamta Gabrichidze for SOVDAGARI. At Doc Soup, Tom Roston outilned his festival finds and the Hot Docs Pitch Forum, while Eli Brown live blogged this year's pitches at The D-Word and Selina Chignall reported on the ins and outs of Hot Docs funding applications for Realscreen.
Tonight we here at Stranger Than Fiction return to the IFC Center with the latest film from HOOP DREAMS director Steve James, ABACUS: SMALL ENOUGH TO JAIL, which tells the incredible saga of the Chinese immigrant Sung family, owners of Abacus Federal Savings of Chinatown, New York, the only U.S. bank to face criminal charges in the wake of the 2008 financial crisis. Jill Sung, Vera Sung and Chanterelle Sung, several of the subjects featured in the film, will appear for a live Q&A following the film. Tickets for the event can be purchased here.
---