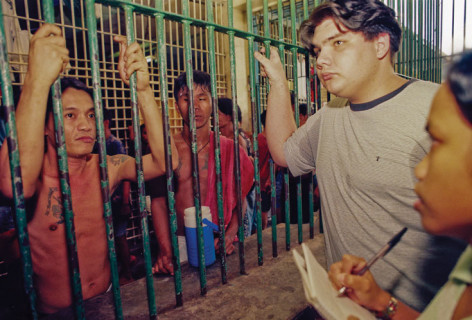 The National Academy of Television Arts and Sciences this week announced the nominations for this year's news and documentary awards. Barry Walsh covered the announcement at Realscreen. ITVS's Beyond the Box blog noted that it's films had garnered eight nominations, while the POV blog announced it had show work snagging nine nominations.
The Sundance Institute also announced the 29 projects that would be recipients of its documentary grants this year. Nick Dawson covered the announcement for Filmmaker Magazine.
Joshua Oppenheimer's doc THE ACT OF KILLING continues to draw attention in advance of its July 19 New York City release. At Guernica Mag, Caroline Cooper wrote a great piece on the underground network used for showing the film in Indonesia. The New York Times' Larry Rohter also wrote a piece on the making of the film, while Errol Morris penned a piece on the film and the history of mass killings in Indonesia for Slate. The New Statesman even hosted a piece from Slavoj Zizek on the film.
Kelly Anderson of Realscreen reported that the New York Times would launch a pitch competition for its Op-Docs showcase to take place at the Camden International Film Festival, and that it would host theatrical screenings of its Op-Doc pieces. Clint Holloway of Indiewire also had the news, as did Justin Ellis of the Nieman Journalism Lab website.
POV's blog this week hosted a chat with filmmaker Elizabeth Mims, one-half of the directorial team behind the film ONLY THE YOUNG, which screens on POV this evening. Mims also wrote a piece for the blog taking readers through their adventures as first time filmmakers. The other half of the team, Jason Tippet, was featured on Ondi Timoner's Bring Your Own Doc interview show.
POV also hosted a piece from Matthew Seife on what mistakes teen filmmakers should avoid. Morgan Wilcock also contributed some advice in a separate post.
And in a piece that generated a lot of discussion, Tom Roston wrote a piece on the POV blog about a new trend in documentary which he termed "New Doc Vague," sparked by the film OXYANA. On a somewhat related note, Alec Macgillis of The New Republic wrote that West Virginia locals had reacted warily to the release of OXYANA on Vimeo.
Michael Ciepley of The New York Times reported that SeaWorld and the team behind the film BLACKFISH had traded accusations about the veracity of the film, which investigates the practice of keeping orcas captive. Adrian Charlie of The Next Projection website interviewed BLACKFISH director Gabriela Cowperthwaite. And Scott Weinberg wrote a review of the film for FEARnet's site.
In distro news, Brett Lang of Reuters reported that Sony Pictures Classics had bought North American rights to JODOROWSKY'S DUNE from director Frank Pavitch. Indiewire's Nigel M. Smith also reported on the deal.
The Guardian's Steve Rose had a piece on Alex Gibney's WE STEAL SECRETS: THE STORY OF WIKILEAKS that focused on the friction that arose between Gibney and Julian Assange. Gibney was also featured in Interview Magazine, along with journalist Jeremy Scahill, whose work is the subject of the recent film DIRTY WARS.
Greg Campbell has launched a Kickstarter campaign for his doc HONDROS: A LIFE IN FRAMES on photojournalist Chris Hondros, who died while covering the revolution in Libya. For more information on the project or to donate please go here.
In his weekly Docutopia post at the SundanceNOW blog, Anthony Kaufman took a look at some docs investigating the steady erosion of privacy in the digital era. And in a separate post at Indiewire's Reel Politik feature he noted that the filmmakers behind CITIZEN KOCH had turned to Kickstarter to help fund their project.
Basil Tsiokos had two festival overviews at his What (Not) to Doc blog, with one post focusing on the Latinbeat cinema showcase, and another on Outfest.
The Sheffield Doc/Fest won a little coverage this week, despite having concluded in mid-June. Christopher Small recapped his festival experience for Mubi.com, while Sophie Brown, Ashley Clark and Simran Hans gathered some of the fest's greatest hits in a post at the British Film Institute website.
There was the usual slew of director interviews this week. At Moviefone, Jason Gorber interviewed 20 FEET FROM STARDOM director Morgan Neville. John Anderson of Indiewire spoke with Jehane Noujaim about changes to her film THE SQUARE given the recent political developments in Egypt. At Mother Jones, Jeremy Lybarger interviewed director Roger Ross Williams about his film GOD LOVES UGANDA. And back at Indiewire Anne Thompson chatted with Lucy Walker about her new film THE CRASH REEL.
There was good news concerning Chinese journalist/filmmaker Du Bin; Andrew Jones of the New York Times reported that he was released after being in jail for more than a month.
The public radio show The Takeaway last week trained its attention on HERMAN'S HOUSE, the film from director Angad Singh Bhalla.
Barry Walsh of Realscreen reported on award-winning films at this year's Karlovy Vary film festival in the Czech Republic.
Filmmaker Dinesh Sabu wrote about the motivations behind his desire to work on a "personal doc" in a piece on the website for his film-in-progress UNBROKEN GLASS.
Docs in Progress drew attention on Twitter to some of the videos its summer campers have made this year. You can check them out at DIP's YouTube channel here.
Lauren Cardillo covered the transmutation of Silver Docs into AFI Docs in a piece for the International Documentary Association's website.
Christopher Campbell had some highlights from this week's theatrical releases in a post at the Documentary Channel blog. Campbell and Daniel Walber also posted the latest iteration of The Realness podcast, which assessed 20 FEET FROM STARDOM
At No Film School, Oakley Anderson-Moore shared a tongue-in-cheek flowchart developed to help filmmakers decide whether to apply for a MacArthur Foundation grant.
The Cinema Eye Honors announced that it would create a new category for nonfiction films designed to be aired on television.
At the Community Supported Film website, a piece by Aggie Ebrahimi Bazaz that examines some recent short documentaries from Afghan filmmakers was republished.
Anime nerds rejoiced at the news that a doc on famed Studio Ghibli and filmmaker Hayao Miyazaki was under way. Jack Cunliffe covered the news for The Film Stage.
POV announced the projects participating in its fourth Hackathon. You can find info on them by going here.
Emma Desau also wrote a useful piece examining some of the cloud computing tools available to filmmakers interested in collaborative work.
At The Verge, Jacob Kastrenakes wrote a piece on the well-hyped autofocus feature on the new Canon 70D.
That's it for this week. Just a note that the Memo will be on hiatus until August 5 for a summer vacation. You can still e-mail tips and recommendations here, or send them via Twitter to @GuerrillaFace. Have a great week all!