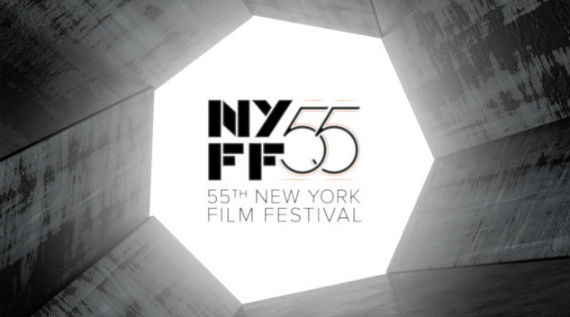 Just as The Associated Press proclaimed, last Thursday the curtain went up on a documentary-rich New York Film Festival and much has been written thus far to celebrate. Richard Brody notes in The New Yorker, Travis Wilkerson's new standalone feature version of DID YOU WONDER WHO FIRED THE GUN? as a festival highlight, along with Varda and JR's FACES PLACES. In Manohla Dargis's preview of this year's edition for The New York Times she notes, "One program to explore is the Spotlight on Documentary, which features several worthwhile offerings, including ARTHUR MILLER: WRITER and JOAN DIDION: THE CENTER WILL NOT HOLD, two views from the inside." Questioning the merits and future possibilities of literary docs like these at LitHub, Craig Hubert writes with fervor, "A writer's work, or the work of a publication, especially over a long career, is slippery and often contradictory, and demands a portrait that challenges this ambivalence. What we get usually is something that acts as a visual Wikipedia page, a series of bullet-point facts presented without a critical eye." As has become customary, Basil Tsiokos gave a thorough preview of the new nonfiction offerings at the fest via What (not) To Doc, while at Criterion Cast, Joshua Brunsting listed five recommendations to catch, including a trio of docs that top the list.
Just two days after Esquire published Nick Schager's list of the best documentaries of 2017 so far, DOC NYC announced its 15-film Short List of Oscar contenders along with its TIFF debuted opening-night selection, THE FINAL YEAR. Breaking the news at IndieWire, Anne Thompson pointed out that "Historically, most DOC NYC picks do land on the Academy's official 15-film Oscar Short List. For the past four years, the Short List had nine to 10 titles overlap, with four or five titles going on to Oscar nominations. For the last six years, DOC NYC screened the documentary that went on to win the Oscar."
On the other side of the Atlantic, Malmö's Nordisk Panorama wrapped up on Tuesday, concluding its festivities by naming Feras Fayyad's LAST MEN IN ALEPPO the Best Nordic Documentary, Jonna Kina's ARR. FOR A SCENE the Best Short, Jessica Karlsson and Annika Karlsson's LOVING LORNA the Best New Nordic Voice, as Nils Petter Löfstedt's THE CELESTIAL DARKROOM won the Nordisk Panorama Audience Award.
Looking at the recently revealed nominations for this year's International Emmy Awards, Realscreen's Selina Chignall reports that Tatiana Huezo's feature doc TEMPESTAD has been nominated alongside a trio of television series in the Documentary category, while Kaku Arakawa's NEVER-ENDING MAN: HAYAO MIYAZAKI and Simone de Vries's ROBIN'S ROAD TRIP received nods in the Arts Programming category.
In doc production news, the Sundance Institute announced on Tuesday, "A diverse range of projects and artists on the frontlines of nonfiction storytelling received nearly $2 million in grants from Sundance Institute…The projects have been funded at various stages, including 16 in development, 16 in production, 21 in post-production and five for Audience Engagement, designed to develop a project's marketing, publicity, and distribution campaigns." Some exciting projects that have received funding that you may want to keep an eye out for include Robert Greene's BISBEE '17, Brett Story's THE HOTTEST SUMMER, Petra Costa's IMPEACHMENT, Marc Silver's TO END A WAR, and Bing Liu's MINDING THE GAP.
Of the various films that have hit theaters this week, Nanfu Wang's incredible I AM ANOTHER YOU received the most press, with a quartet of reviews that have seemingly flown under the radar from Jared Mobarak of The Film Stage, Alan Scherstuhl of Village Voice, Ben Kenigsberg of The New York Times, and RogerEbert.com's Godfrey Cheshire whom wrote, "One of the most striking and enthralling nonfiction films this reviewer has seen in years, I AM ANOTHER YOU almost seems designed to prove that great documentaries require large measures of both talent and luck." I'm in complete agreement on this one – it's an underrated gem to be sure.
Other notable theatrical coverage included Tom Charity's review of EX LIBRIS for Cinema Scope, Julia Felsenthal's thorough feature on BOBBI JENE for Vogue, Gary Goldstein's take on Jeff Malmberg and Chris Shellen's follow-up to MARWENCOL in SPETTACOLO for the Los Angeles Times, Jeremy Elphick's interview with Wang Bing about his new film MRS. FANG for 4:3, as well as Andrew Karpan's review of COPWATCH and Farah Cheded's review of OF SHEEP AND MEN, both at Nonfics. Additionally, Hammer to Nail published Christopher Llewellyn Reed's two part interview with director Peter Bratt and his subject in DOLORES, Dolores C. Huerta, and Jezebel posted Ellie Shechet's thorough take-down of the anti-vaccination doc THE PATHOLOGICAL OPTIMIST.
THE VIETNAM WAR has now aired in full, but it's continued to dominate critical conversation this past week. Matt Zoller Seitz called it "A Staggering Documentary Achievement" in his long take at Vulture. Comparing the film to Burns's reputation making project, Mark Lawson writes at The Guardian, "THE VIETNAM WAR…has the advantage over THE CIVIL WAR of being able to feature personal testimony and TV news footage but otherwise repeats the virtues of his earlier series: authoritative commentary, exhaustive research and scrupulous negotiation of disputed facts." Vanity Fair's David Kamp interviewed John Musgrave, one of the recurring subjects in the series. Writing for Huffington Post, Rick Ayers reflects both politically and personally, "The series is hard to watch. Partly because of all the horrible things it shows. Partly because of the irritating Burns/Novick take on these things." He's not alone in his criticism of the series. Nick Turse, the author of 'Kill Anything That Moves: The Real American War in Vietnam,' validly claims at The Intercept that the film "glosses over the devastating civilian toll." Similarly, writing for in The New York Times, Gregory Daddis concluded, "Eighteen hours is hardly enough time to fully embrace the complexities of the multiple wars, both home and abroad, that engulfed Southeast Asia and the United States for much of the Cold War era." And at Public Books, Jerry Lemcke outlines what he perceives as factual distortions by recommending books that correct errors found in the film. Maybe more fruitful would be PBS's official recommended VIETNAM WAR reading list.
If you're looking for non-war related new short films to stream, consider ATA KAK – TIME BOMB by Nathan Corbin and Tony Lowe, about Ghanaian musician Ata Kak, and DISCWOMAN by Scott Perry, the latest entry into SoundCloud's Next Wave doc series. With his regular update at Nonfics, Christopher Campbell also published his top 100 docs to check out on Netflix in October.
I'll sign off this week with Nayantara Roy's outline at IDA of "How Journalistic Documentaries Check Their Facts," Anieze Osakwe's feature at ABC News in which HBO's Sheila Nevins discusses how she conquered the world of documentary film, and a report from MSN in which "Two documentary filmmakers (Drew and Jennifer Burbridge) are suing the city of St. Louis and three officers after the filmmakers were arrested at a protest following the acquittal of a white former police officer in the death of a black man."
Until next week, if you have any tips or recommendations for the Memo, please contact me via email here, or on Twitter, @Rectangular_Eye.