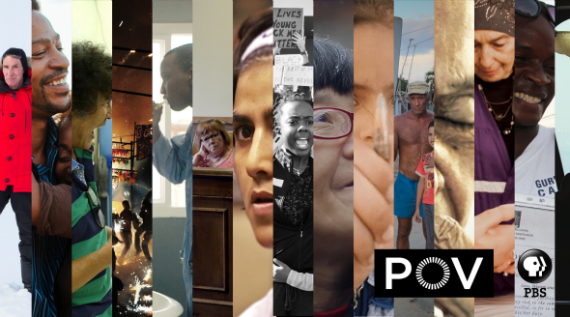 Whenever PBS's long running documentary series POV announces its annual lineup, just about everything has to take a back seat (even Cannes). Its 31st season kicks off this Wednesday with a special Earth Day showing of David Alvarado and Jason Sussberg's BILL NYE: SCIENCE GUY and continues with its official opening on June 18th with Jonathan Olshefski's QUEST. The season continues with Viktor Jakovleski's BRIMESTONE & GLORY, Sabaah Folayan and Damon Davis's WHOSE STREETS? and more.
The Cannes Film Festival also revealed its own prestigious lineup, though as usual the nonfiction offerings are limited at best. Those due to make their debut alongside the glitz and glam (and Netflix controversy) include DEAD SOULS, the latest epic from Wang Bing, Wim Wenders's high profile POPE FRANCIS – A MAN OF HIS WORD, Romain Goupil's mosaic of France in LA TRAVERSÉE, and Michel Toesca's refugee tale TO THE FOUR WINDS, all programmed out-of-competition as Special Screenings.
Our own 2018 Spring Season is set to begin tomorrow night at IFC Center with a very special sneak preview screening of BOOM FOR REAL: THE TEENAGE YEARS OF JEAN-MICHEL BASQUIAT with director Sara Driver on hand for a live post-screening Q&A. Tickets for the event are still available here.
On Tuesday, the Peabody Awards Board of Jurors nominated 19 documentary films for Best Documentary Storytelling of 2017 in the 77th Annual Peabody Awards. Contenders include heavy hitters STONG ISLAND, ABACUS: SMALL ENOUGH TO JAIL, CITY OF GHOSTS and LAST MEN IN ALEPPO, as well as relative outliers THE DEFIANT ONES, THE BAD KIDS, MOTHERLAND and TIME: THE KALIEF BROWDER STORY. The documentary award winner will be announced tomorrow, on April 17th.
As reported by Sonia Kil in Variety, "Jung Yoon-suk's documentary, BAMSEOM PIRATES SEOUL INFERNO was named Grand Prize winner at South Korea's Wildflower Awards on Thursday. The film cast light on a college punk duo and their struggles with government censorship. BAMSEOM PIRATES is the first documentary to win Grand Prize."
Writing in Artforum, Leo Goldsmith covered the 40th edition of Cinéma du Réel, "an ideal vantage point from which to survey the landscape of contemporary documentary." He continued, "The focus of this Cinéma du Réel was squarely on the future of documentary's many forms and strategies—from works dedicated to patient observation to those that sought to bridge distances via direct participation with their subjects."
Two major HBO celebrity bio-docs premiered over the weekend in Thom Zimny's two part ELVIS: PRESLEY: THE SEARCHER and Jason Hehir's ANDRE THE GIANT. At Vulture, Matt Zoller Seitz asked what else is left to say about Elvis, while others like Jon Pareles of The New York Times and Sheila O'Malley of RogerEbert.com raved about Zimny's meticulous examination of the rock'n roll legend, noting its tunnel vision on his musical talent and verve for performance. Meanwhile at A.V. Club, Noel Murray praised Hehir's wrestling profile for its moving "celebration of a one-of-a-kind talent," as Matt Bonesteel explores how Bill Simmons left ESPN to work with HBO to produce larger-than-life sports docs such as this in The Washington Post.
Other notable releases this week include Sophie Fiennes's GRACE JONES: BLOODLIGHT AND BAMI, lovingly covered by Wesley Morris in The New York Times and chosen as the Film of the Week by Jonathan Romney for Film Comment, Hugh Gibson's THE STAIRS, which was featured in Reverse Shot by Josh Cabrita in conjunction with the film's screening at the Museum of the Moving Image over the weekend. Additionally, NPR's Linda Holmes reported on THE SIMPSONS's tepid response to Hari Kondabolu's THE PROBLEM WITH APU.
On the topic of funding, the Academy Foundation of the Academy of Motion Picture Arts and Sciences announced the recipients of its 2018 FilmCraft and FilmWatch grants, while Firelight Media's Documentary Lab announced an open call for submissions from underrepresented communities. Lastly, Realscreen's Kelly Anderson reported that the International Documentary Association (IDA) has appointed Amy Halpin as its deputy director. "Previously the director of filmmaker services, Halpin has been with the organization since 2006, where she helped develop and oversee funds, such as the Pare Loretnz Documentary Fund, the IDA Enterprise Documentary Fund, and the Fiscal Sponsorship Program. Halpin has also had a hand in the DocuClub work-in-progress screening series, and Getting Real, IDA's bi-annual conference. She also co-led the Documentary Core Application Project."
Looking for new docs to watch? Check out PLAYER ZERO by Sherien Barsoum, while follows an NBA hopeful who is determined to transform his character for a chance at making it to the big leagues, and THE HANGING by Geoffrey Feinberg, which tails 19 year old who garners the nickname "Russian Spiderman" after hanging out on the rooftops in Moscow, both at Short of the Week, and the surf doc A PORTRAIT OF LAURIE TOWNER by Gary Parker, a new Staff Pick at Vimeo. Or for doc related listening, check out the latest episode of Fog of Truth, featuring THE FORCE and DO NOT RESIST.
I leave you this week with a pair of must reads: the latest issue of Cléo featuring a dossier on Agnès Varda, and a feature by Franklin Foer in The Atlantic on the digital manipulation of video and its future potential to completely turn the term "fake news" on its head. As always, if you have any tips or recommendations for the Memo, please contact me via email here, or on Twitter, @Rectangular_Eye.