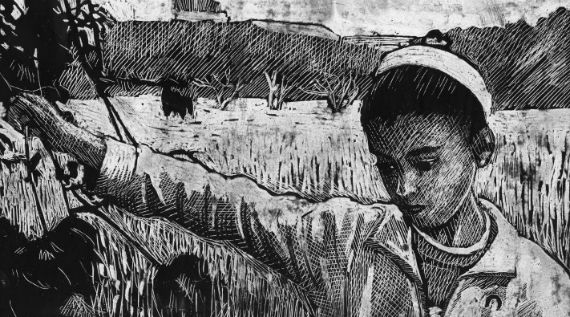 The curtains have closed on this year's Cannes Film Festival, and though no mention of the festival's premiere documentary prize is not mentioned anywhere on its official awards page, according to Pat Mullen at POV Magazine, the jury awarded Stefano Savona's SAMOUNI ROAD this year's L'Œil d'or for best documentary. Mullen continues, "SAMOUNI ROAD offers a story of celebration in a rural community in the outskirts of Gaza City as a family prepares for a wedding and finds a moment to heal and move forward after the war. The film won out of 17 documentaries in competition. Honourable mentions went to Mark Cousins' THE EYES OF ORSON WELLES and Michel Toesca's LIBRE."
Deborah Young of The Hollywood Reporter wrote that Savona's film "is devastating and yet oddly distanced, leaving the viewer with sorrow, indignation but also space for reflection on the cruelty and injustice of Israel's tactics in its war against Palestine", while Jay Weissberg of Variety said it is "destined to become a touchstone in the cinematic representation of the [Gaza] Strip". Meanwhile, Peter Bradshaw relayed in The Guardian that THE EYES OF ORSON WELLES is a "whimsical but heartfelt love letter to Welles", as Damon Wise spoke with Mark Cousin about the film for Deadline. And back at The Hollywood Reporter, Jordan Mintzer put forth a lukewarm take on Michel Toesca's doc on farmer-turned-activist Cedric Herrou.
This week at the IFC Center, our 2018 Spring Season of Stranger Than Fiction continues with a pair of screenings in Liz Garbus's THE FOURTH ESTATE tomorrow night and Parvez Sharma's A JIHAD FOR LOVE on Thursday evening, both featuring live Q&As with their respective filmmakers. Tickets for each are still available here.
The Film Society of Lincoln Center's annual Art of the Real series concluded earlier this month (though you can currently check out a handful of this year's selection on MUBI). In their overview of this year's edition for IndieWire, David Ehrlich and Jude Dry say that it "has already established itself as one of the world's most essential showcases for game-changing, rule-breaking, genre-busting new cinema", and note Corneliu Porumboiu's INFINITE FOOTBALL, Gustavo Vinagre's I REMEMBER THE CROWS, and Julien Faraut's JOHN MCENROE: IN THE REALM OF PERFECTION as high points.
Though Cannes and Art of the Real have now come and gone, Basil Tsiokos reminds us that there is always more festival goodness to look forward to. At What (not) To Doc he wrote up previews of the new nonfiction offerings at the 44th Seattle International Film Festival, the 20th edition of Docaviv, and the 25th New York African Film Festival. Additionally, AFI Docs has named director Steve James as its Charles Guggenheim Symposium honoree for 2018.
A pair of theatrical releases attracted the most critical attention this past week: Göran Hugo Olsson's THAT SUMMER and Wim Wenders's POPE FRANCIS – A MAN OF HIS WORD. Amy Nicholson had a moderately positive feature on THAT SUMMER published in The Guardian, as Peter Sobczynski of RogerEbert.com and Glenn Kenny of The New York Times held it in fairly warm regard. At the same time, Vox published a feature by Alissa Wilkinson on the new Wenders doc, as Nick Allen of RogerEbert.com and Anne Thompson of IndieWire warmly reviewed the film.
Other notable doc coverage this past week included Robert Greene's interview with Sam Green on A THOUSAND THOUGHTS and live documentary as a medium for Sight & Sound, Daniel Dylan Wray's piece on Bing Liu and MINDING THE GAP at Huck Magazine, Thomas Hobbs's take on FILMWORKER in Little White Lies, and David Bordwell on Abbas Kiarostami's final film 24 FRAMES. There were also a bunch of great interviews that cropped up in Miss Rosen's conversation with Sara Driver about BOOM FOR REAL at Vice, Annabel Brady-Brown's discussion with Wang Bing about DEAD SOULS at MUBI's Notebook, and Christopher Llewellyn Reed's interviews with Jeremy Workman and Matt Green about THE WORLD BEFORE YOUR FEET and Gabrielle Brady on ISLAND OF THE HUNGRY GHOSTS, both at Hammer To Nail.
On Friday, Sundance Institute announced that 23 projects from 12 countries have been selected for its latest round of Documentary Film Fund grants. Among the filmmaking grantees are Penny Lane (NUTS!), Kelly Duane de la Vega (BETTER THIS WORLD, THE RETURN), and Maya Newell (GAYBY BABY). While on the topic of production grants, Oakley Anderson-Moore has published "A Massive List of Summer 2018 Grants All Filmmakers Should Know About" over at No Film School. Filmmakers looking to up their documentary game should also consider the upcoming Documentary Fundamentals weekend workshop to be held at UnionDocs on June 22-24 and led by Lana Wilson, director of the Independent Spirit Award nominated doc THE DEPARTURE.
I'll leave you this week with a quartet of wonderful and random pieces – filmmaker Ali Kazimi on the discovery and restoration of a rare cache of vintage footage at the POV Blog, the lastest episode of The Documentary Life podcast on archival storytelling featuring Peabody and Emmy Award winner Tom Jennings, the Short of the Week, CAN'T NOBODY ELSE LOVE YOU by Ivan Olita, and Peter Libbey's news break in The New York Times that the case behind Sarah Koenig's beloved original Serial series is to become a 4 hour HBO documentary series by Amy Berg to be titled THE CASE AGAINST ADNAN SYED. Until next week, if you have any tips or recommendations for the Memo, please contact me via email here, or on Twitter, @Rectangular_Eye.