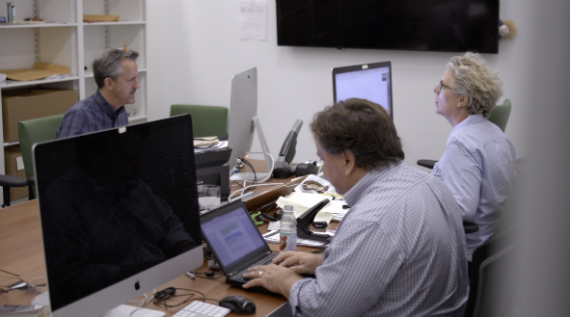 September was a busy, hectic and exciting month for me. I made my annual pilgrimage to the Toronto International Film Festival, I visited Cincinnati for the first time for a friend's wedding, and I bought my very first house, which, it turns out, is not easy to do while traveling around and trying to get work done. So, I had to take the month away from the Memo to get my life back in order, but with the coming of fall I'm back and ready to round up the best in documentary reporting once again!
At the top of the list is Ann Hornaday's controversial claim in The Washington Post that argues against NBC's Chuck Todd assertion that, "We have to consider [documentaries] journalism," with her headline reading, "Documentaries aren't journalism, and there's nothing wrong with that." Meanwhile at IndieWire, Chris O'Falt reported on "How Showtime Made a Secret Documentary About the New York Times' Big Story on Trump's Tax Evasion," which centers around Jenny Carchman's short THE FAMILY BUSINESS: TRUMP AND TAXES and "The Times story by Russ Buettner, Susanne Craig and David Barstow calls into question President Trump's image as a self-made billionaire, revealing that he received the equivalent today of $413 million from his father." The Intercept, which published Jon Schwarz's extensive feature on DARK MONEY this week, seems to make quite an argument for the importance of journalism in documentary filmmaking. Isn't there room for both non-journalistic and journalistic documentaries?
This week at Stranger Than Fiction, we are showing another investigative film in Oscar winner Alex Gibney's NO STONE UNTURNED, which sees him turn his gaze to the "1994 Loughinisland massacre, a cold case that remains an open wound in the Irish peace process." Gibney himself will be in attendance for a live Q&A at tomorrow's screening at IFC Center.
In award news, the 39th Annual News & Documentary Emmy winners were announced last week. Selina Chignall of Realscreen noted that Maya Zinshtein's FOREVER PURE, Keith Maitland's TOWER, Kristi Jacobson's SOLITARY: INSIDE THE RED ONION STATE PRISON, Roger Ross Williams' LIFE, ANIMATED, and Jeff Orlowski's CHASING CORAL each picked up awards. Additionally, Christopher Campbell reported at Nonfics that "The Broadcast Film Critics Association and Broadcast Television Journalists Association have announced Michael Moore will be recognized at this year's Critics' Choice Documentary Awards held in Brooklyn on November 10th."
New Yorkers and traveling doc professionals can rejoice in the fact that DOC NYC unveiled the program lineup for its eight-day DOC NYC PRO conference. "The PRO lineup features over 200 speakers including notable filmmakers Rashida Jones, Susan Lacy, Michael Moore, Morgan Neville and Wim Wenders who will all appear on panels related to the festival's Short List (Nov. 9)."
In general release coverage, Ashley Rodriguez noted at Quartz that FREE SOLO "generated the highest per-screen average for any movie released in the US so far this year, when it opened in four locations over the weekend. The film brought in $72,551 per theater on average." In The New York Times, Ben Kenigsberg found Joseph Dorman and Toby Perl Freilich's MOYNIHAN  to be "a conventional but entertaining rundown of the greatest hits of the life of Daniel Patrick Moynihan." Writing at RogerEbert.com, Odie Henderson found Matt Tyrnauer's STUDIO 54 is "a bit too tame" to live up to the raucous legend, while Ivan Ramljak's HOME OF THE RESISTANCE received some love from CCagle at FilmDocumentary.com. On the anniversary of Chantel Akerman's passing, Scott Macaulay posted remembrance of her life and work at Filmmaker Magazine, as Alice Blackhurst wrote on "the seduction of normalcy" in Akerman's final film NO HOME MOVIE at Another Gaze.
There was an abundance of great interviews to be found this week in Maxwell Strachan's conversation with Ken Burns at HuffPost about his latest film THE MAYO CLINIC, Becca Voelcker's talk with Sky Hopinka in Film Comment on his new short FAINTING SPELLS, Christopher Llewellyn Reed's interview with HEARTBOUND directors Janus Metz and Sine Plambech at for Hammer To Nail, Jill Blackmore Evans' conversation with Bill Morrison about DAWSON CITY: FROZEN TIME at MUBI's Notebook, and Frederick Wiseman's appearance on The Close-up to talk about MONROVIA, INDIANA.
Two new docs are available to stream for free, including Charlie Tyrell's Sundance premiered MY DEAD DAD'S PORNO TAPES and Chris Delforce's DOMINION, which will be free starting Wednesday.
I leave you this week with a pair of wonderful little lists: Ana David's "Five shades of masculinity in new British documentaries" at BFI and Documentary Site's 11 Lessons in Smartphone Filmmaking. As always, if you have any tips or recommendations for the Memo, please contact me via email here, or on Twitter, @Rectangular_Eye.