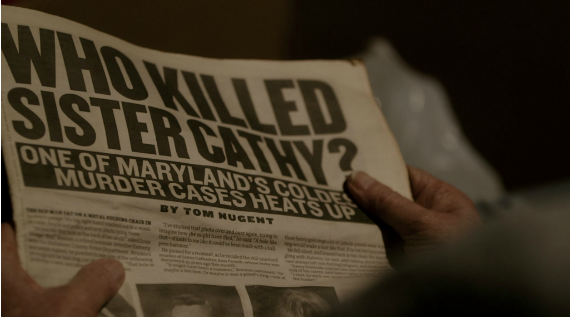 Few weeks come with so many surprising, exciting and, well, BIG announcements in the realm of documentary production. Just as Cannes was kicking off, news broke that Oscar winner Morgan Neville would be heading a new feature length doc for Netflix on the final 15 years of Orson Welles and his long in the works final project, THE OTHER SIDE OF THE WIND. The announcement comes in the wake of other exciting Welles related news, as earlier this year Netflix announced its commitment to funding the final completion of THE OTHER SIDE OF THE WIND, and just a month later a collection of "letters, postcards, diaries and doodles from a teenage Orson Welles, along with unpublished scripts of his many incomplete projects from the '50s and '60" were acquired by the University of Michigan from his youngest daughter, Beatrice Welles, for its extensive Screen Arts Mavericks & Makers collection.
The following day, The Hollywood Reporter's Tatiana Siegel broke the news that Michael Moore and Harvey Weinstein have reteamed to bring the world FAHRENHEIT 11/9, "a palindromic bookend" to their Palme d'Or winning, top-grossing documentary of all time, FAHRENHEIT 9/11. A day later, just as Chelsea Manning was finally to be released from a maximum-security U.S. military prison, IndieWire's Kate Erbland reported that Tim Travers Hawkins would be teaming up with Pulse Films, as well as executive producers Laura Poitras and Charlotte Cook, to direct CHELSEA XY, a feature length doc on "the journey of her fight for survival and dignity, and her transition from prisoner to a free woman".
For the second week in a row, we here at Stranger Than Fiction have a double header on our hands this week. Tomorrow at IFC Center, director Errol Morris and subject Elsa Dorfman will be on hand for a Q&A following a screening of their film THE B-SIDE: ELSA DORFMAN'S PORTRAIT PHOTOGRAPHY, while on the following day we return for a Wednesday Night special screening of COMPANY TOWN, with directors Deborah Kaufman and Alan Snitow in attendance for another live Q&A.
While production announcements made headlines from the Croisette, Basil Tsiokos and our own Thom Powers, who is a jury member this year for the L'Oeil d'or documentary award, reminded us that there are plenty of docs debuting in Cannes. None was more prominently reported on this past week than Agnès Varda and street-artist JR's road trip doc VISAGES VILLAGES, which received nearly ecstatic reviews from Jordan Hoffman of The Guardian, Alissa Wilkinson of Vox, Allan Hunter of Screen Daily, and David Jenkins of Little White Lies, while at Variety, Leo Barraclough spoke with the filmmakers about crowdfunding the project and what they hope viewers get from the film.
On the domestic theatrical front, STF alum ABACUS: SMALL ENOUGH TO JAIL made a splash in limited release, gleaning positive coverage from Alessandra Codinha in Vogue and Ben Kenigsberg in The New York Times, while at RogerEbert.com Matt Zoller Seitz gushed in his 4 star review, "What happened to the Sungs seems horribly unfair, but this film is a silver lining. Everyone needs to see it." Not to mention the fact that director Steve James turned up on Pure Nonfiction to talk ABACUS and HOOP DREAMS. But it was the seven part Netflix exclusive series from director Ryan White (THE CASE AGAINST 8) that was the talk of the net this past week. Garnering mirrored headlines "Netflix's new true-crime doc, THE KEEPERS, isn't MAKING A MURDERER. It's far more haunting," from Alex Abad-Santos of Vox and "Netflix's new true-crime series, THE KEEPERS, is no MAKING A MURDERER, it's better," from Lorraine Ali in the Los Angeles Times, word of mouth is spreading quick. Other glowing reviews of THE KEEPERS came in from Amelia McDonell-Parry at Rolling Stone, Maureen Ryan of Variety, Julia Raeside in The Guardian, and Mike Hale of The New York Times.
Doc filmmakers may want to consider attending Manhattan Edit Workshop's one-day Sight, Sound & Story summit which is scheduled to take place on June 10th in NYC's NYIT Auditorium. "Panels include the art and processes of editing documentary film and episodic television, and behind the scenes of cinematic VR." Full event schedule and details can be found here.
After last week's announcement that Fandor would be shutting down its vital Keyframe blog and film news curator David Hudson would be out of a job, it is with great relief and excitement that it seems Criterion has swooped in to save the day, giving Hudson a new home for his beloved film news highlights at The Daily.
I'll leave you this week with a trio of singular pieces: Jade Budowski's take on "How Female Directors Dominate The Documentary World" at Decider; Ryan Devereaux and Trevor Aaronson's bizarro "Story Behind the FBI's Fake Documentary About the Bundy Family" at The Intercept; and Stephen McConnachie's look at big data and how it revolutionized the BFI's Film Archive. As always, if you have any tips or recommendations for the Memo, please contact me via email here, or on Twitter, @Rectangular_Eye.