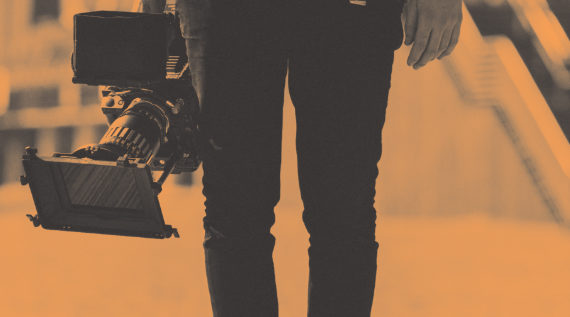 Last Tuesday saw the Toronto International Film Festival reveal its 2017 TIFF Docs lineup, programmed by our very own Thom Powers. The 22-film program centers around world premieres of new works by Brett Morgan, Heidi Ewing and Rachel Grady, Morgan Spurlock, Sam Pollard, Sophie Fiennes, Matt Tyrnauer and "goes deep into the lives of boundary-pushing characters — Grace Jones, Jim Carrey, Jane Goodall, and Eric Clapton, to name only a few of the most famous." In his overview of the selections at Doc Soup, Tom Roston notes that there are 20% less films on this year's slate than last year, but notes that it "is so power packed that it may well provide the tipping point for awards season." Anne Thompson also weighed in on the selections at IndieWire, picking out ten films that already have the potential to shake up this year's Oscars, pointing out that "the race always begins at Sundance, but…this year, without clear frontrunners, TIFF's influence will be greater than ever." Meanwhile at Realscreen, Meagan Kashty spoke with Thom Powers himself about this year's selections.
In other festival news, according to Brian Steinberg of Variety, NBC's 'Meet the Press' and the American Film Institute have teamed up "for a film festival to be held in November in Washington D.C….The 'Meet the Press' film festival will feature contemporary documentaries of 40 minutes in length or less that focus on untold stories of American politics." As always, Basil Tsiokos has given a trio of overviews of the non-fiction offerings at festivals currently running around the globe, including Kosovo's Dokufest, Switzerland's Locarno Film Festival, and Australia's Melbourne International Film Festival, the latter of which was covered by the fine folks over at 4:3, whom listed their favorites from the fest so far.
In a collaborative effort between the National Endowment for the Arts (NEA) and the International Documentary Association (IDA), a new report titled "State of the Field: A Report from the Documentary Sustainability Summit" was made public this week. The work begins, "Comprised of voices from the field, the following report represents a reflection of the day-today realities of maintaining a documentary career in an ever-changing cultural and business marketplace. Accompanied by recommendations throughout, these reflections are aimed to empower the documentary community (and related stakeholders) to assert agency in shaping a forward-thinking future that re-envisions current systems." Additionally, the NEA will offer four free webinars that provide opportunities for the public to engage with experts in the field, beginning with a Report Overview on Thursday, August 10th. Complete webinar schedule and details can be found here.
Trailing that same vein, IndieWire's Michael Schneider reported on PBS president and CEO Paula Kerger's recent update regarding the future funding situation public broadcasting and PBS: "'If that money goes away, it's an existential crisis for those stations," she said. "If 50, 40, 30 percent of your funding is pulled away there's no way you can make up that money.' What's the back-up strategy if that happens? 'There isn't a Plan B for that,' Kerger warned. 'In parts of the country if we do care that you have access to information it is important to keep this funding strong.'" According to David Ng in the Los Angeles Times, even Netflix may have a future of financial woes after accumulating "a hefty $20.54 billion in long-term debt and obligations in its effort to produce more original content," like the hit nostalgia machine STRANGER THINGS or prestige docs like Ava DuVernay's 13TH.
Tuesday saw Cinema Eye announce its 2018 Broadcast Nonfiction Shortlist, a list of ten films which included Ava Duvernay's 13TH, Tracy Droz Tragos' ABORTION: STORIES WOMEN TELL, Fisher Stevens and Alexis Bloom's BRIGHT LIGHTS: CARRIE FISHER AND DEBBIE REYNOLDS, Laurent Bouzereau's FIVE CAME BACK, Werner Herzog's INTO THE INFERNO, Ryan White's THE KEEPERS, Dan Lindsay and T.J. Martin's LA 92, Greg Whiteley and Adam Ridley's LAST CHANCE U, Heidi Ewing and Rachel Grady's NORMAN LEAR: ANOTHER VERSION OF YOU, and Kristi Jacobson's SOLITARY: INSIDE RED ONION STATE PRISON. Daniele Alcinii unpacked the announcement over at Realscreen.
Theatrically, this week's big release was Amanda Lipitz's Sundance award winner (and STF alum!) STEP, which Kenneth Turan aptly summarized in the Los Angeles Times as "heartening and unashamedly emotional, it's a certified crowd pleaser that doesn't care who knows it." Turan's colleague Tre'vell Anderson wrote an extensive feature on the film and how it shows a different side of Baltimore that you don't often see captured in the media. At RogerEbert.com, Susan Wloszczyna deemed it much more than your standard competition doc, deeming it instead "a soul-stirring, foot-stomping and inspirational step beyond most in that its final showdown is only the beginning of a path towards a brighter future for the participants." Writing for Essence, Feminista Jones importantly notes that "black girls are often silenced by tropes that deem them too loud, too fast, too much. But STEP allows them to tell their stories authentically." Other pieces of note include reviews by Glenn Kenny in The New York Times and Ignatiy Vishnevetsky at A.V. Club, as well as an interviews with director Amanda Lipitz by Nell Minow of Huffington Post and Kate Erbland of IndieWire.
Last Friday, Netflix unleashed another Sundance hit in Bryan Fogel's doping sports doc, ICARUS, and as has surprisingly became the norm with Netflix releases, it has dominated the critical conversation this last week. As Sophie Gilbert explains in The Atlantic, "ICARUS, initially intended as a SUPER SIZE ME–style effort to poke holes in the anti-doping system, ended up capturing the maelstrom of one of the biggest scandals in sporting history." Unsurprisingly, ESPN ran a pair of stories on the film by Carl Carchia and Bonnie D. Ford, who notes the editorial changes since its Sundance debut, it "had more of [Bryan] Fogel's cycling odyssey and less of [Grigory] Rodchenkov's more perilous journey. Edits have made it more accessible to a wider swath of people." Brian Tallerico of RogerEbert.com warmed to the film, "It's an imperfect film…but the pacing of the final 3/4s of ICARUS is remarkable, as we watch a man's life and safety circle the drain." Anne Thompson's piece at IndieWire and Glenn Whipp's in the Los Angeles Times, as well as a pair published in The New York Times by Glenn Kenny and Ken Jaworowski are all worthy reads on the film.
Other notable doc release pieces came in from Richard Brody in The New Yorker on Georges Rouquier's early experiments in hybrid films FARREBIQUE and BIQUEFARRE, Andrew Karpan's review of Lisanne Skyler's short art doc BRILLO BOX (3¢ OFF) at Nonfics, Mike Opal's overview of the works of Peter Nestler at MUBI's Notebook, Simi Horwitz's extensive look at Middle Eastern filmmakers defying danger to capture the region's turmoil at Film Journal, and Simon Schatzberg's interview with THE MODERN JUNGLE's director, Charles Fairbanks, in the Los Angeles Review of Books.
Nonfiction filmmakers should take note that the open call for the 2018 Karen Schmeer Film Editing Fellowship has opened. The application deadline is September 29th. Additionally, UnionDocs is holding a series of workshops this fall, beginning with a three-day (September 8-10th) intensive on the Essay Film hosted by filmmaker Lynne Sachs, with guest instructors Alan Berliner, Akosua Adoma Owusu and Roger Beebe, with scholars Timothy Corrigan and Nora M. Alter, co-authors of the book "Essays on the Essay Film".
Homebodies rejoice (if you live in New York State)! Jen Carlson reported in Gothamist that "anyone with a library card can now stream thousands of feature films, including the Criterion Collection" via Kanopy's streaming service! Don't have a library card? Get one here – free – and check out classics like SALESMAN or DONT LOOK BACK today. Plus, a pair of new shorts appeared online this past week: Lori Malépart-Traversy's delightfully animated festival favorite LE CLITORIS, and the last in Field of Vision's "Our 100 Days" series, Adele Free Pham's STATE OF OREGON.
I'll leave you this week with a piece by Ani Mercedes at Firelight Media that reminds us, "Documentaries can challenge, investigate, reveal, inspire — but can't change the world — only people can. A documentary does not absolve the personal responsibility of taking action. People change the world." Until next week, if you have any tips or recommendations for the Memo, please contact me via email here, or on Twitter, @Rectangular_Eye.