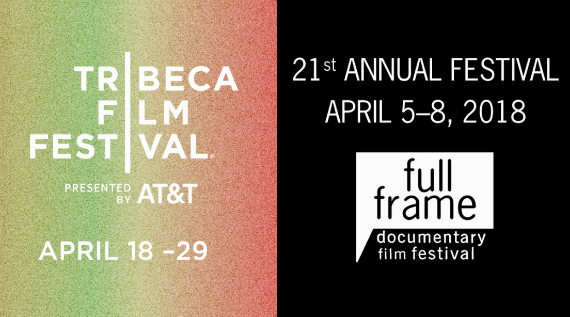 Sensible filmgoers might hope that with ICARUS and HEAVEN IS A TRAFFIC JAM ON THE 405 winning big last week at the Oscars (read Brian Newman's piece on breaking the "rules" to win an Oscar for Short Doc at Sub-Genre Media) and awards season coming to its logical conclusion, we could all take a collective sigh of relief and maybe a ever so short cinematic reprieve, but instead film festivals across the land have either just wrapped, are currently in motion, or are just gearing up. Just last week, Columbia, Missouri's True/False Film Festival took over the modest college town for its 15th edition, garnering universal praise from Daniel Kasman at MUBI's Notebook, Ben Godar at Nonfics, and Vikram Murthi of RogerEbert.com (my own coverage of the festival will soon be found over at Senses of Cinema). Looking further back, Dan Sullivan covered this year's edition of the Berlinale for Film Comment, singling out Corneliu Porumboiu's INFINITE FOOTBALL and Kristina Konrad's epic ONE OR TWO QUESTIONS, as Eric Hynes dissected a pair of my favorites from this year's Sundance in Bing Liu's MINDING THE GAP and Sandi Tan's SHIRKERS. As I write, four fests around the globe are taking place, each of which Basil Tsiokos wrote previews for at What (not) To Doc: Miami Film Festival, SXSW, Ambulante, and Tempo Documentary Festival.
Meanwhile, both the Tribeca Film Festival and the Full Frame Documentary Film Festivals announced their full 2018 lineups. Tribeca is holding the world premieres of 12 new nonfiction films in its documentary competition, in addition to its closing night film, THE FOURTH ESTATE by Liz Garbus, about how the challenges of journalism in the age of Trump, while Full Frame has 14 world premieres on its docket, including David Schalliol's THE AREA, Katie Galloway and Dawn Valadez's THE PUSHOUTS, and Anne de Mare's CAPTURING THE FLAG.
Tonight night, Stranger Than Fiction continues at IFC Center with a rare opportunity to preview the first two episodes of one of the most anticipated documentary series of the year – Maclain and Chapman Way's WILD WILD COUNTRY, featuring a live Q&A with the directors and Executive Producer Mark Duplass. Tickets are still available here.
"The photographer-filmmaker William Klein, a New Yorker who became Parisian without hesitation, is a living legend," wrote Steve Macfarlane in his piece for Hyperallergic on the Klein retrospective currently taking place at Quad Cinema, "The Eyes of Williams Klein." In Artforum, Amy Taubin notes, "Klein's documentaries are not entirely unknown in the US, but his name never appears alongside those of documentarians such as the Maysles brothers, D.A. Pennebaker and Chris Hegedus, and Frederick Wiseman in the cinema verité canon. Perhaps it is because of his defiant pluralities still photographer and filmmaker; American and French citizen; fine and commercial artist. Regardless of where he gets categorized, he has created a formidable and illuminating body of work." And in The Village Voice, Abbey Bender singled out his incredible fashion films, "In letting himself be both in and out, Klein has created portraits of fashion that endure and that, while distinct products of their times, also display a more eternal inventiveness of sensibility."
Looking toward the future, the Karen Schmeer Film Editing Fellowship has revealed that OBIT editor Kristin Bye will be its 2018 fellow. "The yearlong fellowship is designed to foster development of an emerging documentary film editor by offering opportunities for creative growth and professional community building and includes mentorship, passes to film festivals and screening series, a $1000 cash award, and a collection of Schmeer's films," reports Dave McNary at Variety.
The IDA and the Murray Center for Documentary Journalism have put together a document called Mapping the Documentary-Journalism Landscape, a "guide is designed to help filmmakers find information and make decisions that journalists make every day. Whether it be questions of what rights the First Amendment guarantees, what rights to privacy people can expect or what ethical decisions must be made when telling the stories of someone else's life, this guide lays out a way to find that information." Alan Goforth broke down the document in detail at IDA. Another contributor to the project was the National Endowment for the Arts, who also published a study by the U.S. Bureau of Economic Analysis and the National Endowment for the Arts this week that found "the arts contribute $763.6 billion to the U.S. economy, more than agriculture, transportation, or warehousing." Not too shabby. Last but not least, "American Documentary (AmDoc) announced the launch of the Knight-AmDoc Patron fund, a $100,000 program supported by the John S. and James L. Knight Foundation that will use Kickstarter to advance nonfiction film and media projects and help filmmakers promote their work in the 26 cities where Knight invests."
I'll leave you this week with a quartet of recommendations: CALIPHATE, the first nonfiction podcast by The New York Times, a list of 13 documentaries on Netflix that will make you smarter about politics by Michal Kranz at Business Insider, IndieWire's rundown of the 25 Best Music Documentaries of the 21st Century, and Vimeo's A Decade of Staff Picks (tons of awesome doc shorts to check out). Until next week, if you have any tips or recommendations for the Memo, please contact me via email here, or on Twitter, @Rectangular_Eye.