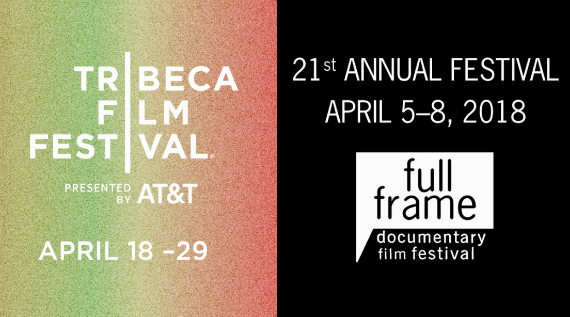 Sensible filmgoers might hope that with ICARUS and HEAVEN IS A TRAFFIC JAM ON THE 405 winning big last week at the Oscars (read Brian Newman's piece on breaking the "rules" to win an Oscar for Short Doc at Sub-Genre Media) and awards season coming to its logical conclusion, we could all take a collective sigh of relief and maybe a ever so short cinematic reprieve, but instead film festivals across the land have either just wrapped, are currently in motion, or are just gearing up. Just last week, Columbia, Missouri's True/False Film Festival took over the modest college town for its 15th edition, garnering universal praise from Daniel Kasman at MUBI's Notebook, Ben Godar at Nonfics, and Vikram Murthi of RogerEbert.com (my own coverage of the festival will soon be found over at Senses of Cinema). Looking further back, Dan Sullivan covered this year's edition of the Berlinale for Film Comment, singling out Corneliu Porumboiu's INFINITE FOOTBALL and Kristina Konrad's epic ONE OR TWO QUESTIONS, as Eric Hynes dissected a pair of my favorites from this year's Sundance in Bing Liu's MINDING THE GAP and Sandi Tan's SHIRKERS. As I write, four fests around the globe are taking place, each of which Basil Tsiokos wrote previews for at What (not) To Doc: Miami Film Festival, SXSW, Ambulante, and Tempo Documentary Festival.
Meanwhile, both the Tribeca Film Festival and the Full Frame Documentary Film Festivals announced their full 2018 lineups. Tribeca is holding the world premieres of 12 new nonfiction films in its documentary competition, in addition to its closing night film, THE FOURTH ESTATE by Liz Garbus, about how the challenges of journalism in the age of Trump, while Full Frame has 14 world premieres on its docket, including David Schalliol's THE AREA, Katie Galloway and Dawn Valadez's THE PUSHOUTS, and Anne de Mare's CAPTURING THE FLAG.
Tonight night, Stranger Than Fiction continues at IFC Center with a rare opportunity to preview the first two episodes of one of the most anticipated documentary series of the year – Maclain and Chapman Way's WILD WILD COUNTRY, featuring a live Q&A with the directors and Executive Producer Mark Duplass. Tickets are still available here.
---