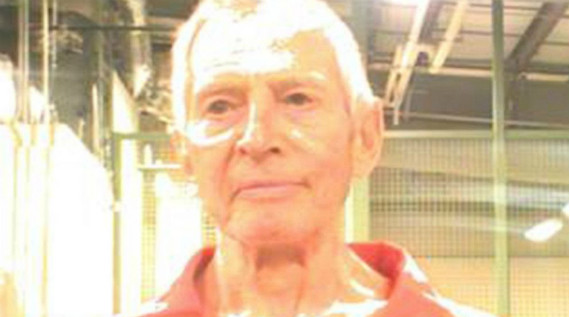 Months back when news broke that HBO was to premiere Andrew Jarecki's long awaited return to non-fiction in the form of a six part serial mini-series on Robert Durst, I don't think anyone could have predicted this: Jon Herskovitz of Reuters, Emily Shapiro of ABC News, Ashley Southall and Charles V. Bagli of The New York Times and the staff at Variety have reported that Saturday the son of the one of New York City's largest real estate barons was arrested in New Orleans on a murder warrant issued by police in Los Angeles related to the death of his friend, Susan Berman. After the fifth episode of Jarecki's THE JINX: THE LIFE AND DEATHS OF ROBERT DURST aired last Sunday, revealing the discovering of new evidence in Berman's murder case, The New York Times ran an article by Charles V. Bagli that dropped the bomb that the district attorney in Los Angeles had recently reopened an investigation into Berman's death. The Guardian also ran a piece on Saturday in which Andrew Gumbel outlines the possibility of Jarecki and his team actually solving the murder case through the medium of investigative documentary filmmaking. The series concluded its shocking six episode run on HBO last night in which Durst unknowingly admitted, "Killed them all, of course". Late last night, Charles V. Bagli and Vivian Yee reported on the horrifying reveal for The New York Times, as did Ben Williams for Vulture and Jessica Contrera and Peter Holley for The Washington Post.
Jarecki is a Stranger Than Fiction alumnus, with his doc classic CAPTURING THE FRIEDMANS having screened as part of our Fall 2013 season. Our current season continues tomorrow with a special screening of TO TELL THE TRUTH: A HISTORY OF DOCUMENTARY FILM (1928-1946) dedicated to Ali Pomeroy, who produced the film and tragically passed away February 27, 2015 after a 2 1/2-year struggle with cancer. Both David Van Taylor and Cal Skaggs, the film's co-directors, will be on hand for a post-screening Q&A.
Last week True/False Fest wrapped up, though due to the condensed nature of the event, it wasn't until this past week that most reflections on the non-fiction celebration found their way to the net. The Dissolve's Scott Tobias put forth a wrap-up that pinpointed the critical issue inherent to activist documentaries, while Jim Brunzell says he's swimming in the True/False Kool-Aid in his overview at Hammer to Nail. Ben Godar also put posted a festival wrap-up at Nonfics, as did Indiewire's Ashley Clark, while I posted an overview of my final day over at IONCINEMA. Jason Hoffman of KBIA Mid-Missouri Public Radio also spoke with festival co-director David Wilson about his feelings on this year's event and the future of the fest.
While True/False raged on, the University of Missouri hosted their fourth Based On A True Story (BOATS) documentary filmmaking and journalism conference at which, among other things, filmmaker Joshua Oppenheimer and Slate's Dana Stevens spoke as a panel on the non-fiction form. Adroitly broken down in an excellent article by Sam Adams at Indiewire, Oppenheimer's proclamations came across with the force and precision of a documentary manifesto.
Just as True/False concluded, filmmakers and journalists alike flocked to Austin, TX for this year's SXSW. Both Basil Tsiokos, writing at What (not) To Doc, and Kevin Ritchie, writing for Realscreen, put together overviews of this year's high profile non-fiction fare. Though Russell Brand, the subject of Ondi Timoner's opening night doc BRAND: A SECOND COMING, cancelled his appearance and reportedly tried to block the film from screening prior to its debut on Thursday evening, the film ran anyway, gleaning reviews from Eric Kohn at Indiewire, Variety's Dennis Harvey, and Realscreen's Kevin Ritchie. Alexander Dunn's drum machine documentary, 808, was also reviewed by Andrew Barker for Variety, while Alex Gibney's STEVE JOBS: THE MAN IN THE MACHINE was reviewed by Variety's Justin Chang and John DeFore at The Hollywood Reporter. Gibney's previous film, GOING CLEAR: SCIENTOLOGY AND THE PRISON OF BELIEF, continues to take fire from Scientology itself, as reported by ABC News.
Also on the festival front, Billy Corben's DAWG FIGHT debuted at the Miami International Film Festival and was reviewed by Rene Rodriguez in the Miami Herald. Full Frame Documentary Film Festival announced their 2015 program which includes 25 documentaries receiving world or North American premieres including Anna Kipervaser's CAIRO IN ONE BREATH, Sharon Shattuck's FROM THIS DAY FORWARD, and Chad A. Stevens's OVERBURDEN. Realscreen's Manori Ravindran gave an overview of the lineup. And better late than never, Giovanni Vimercati reflected on this year's Rotterdam Film Festival and, more specifically, Adam Curtis's BITTER LAKE for Film Comment.
This past week also saw an outpouring of love for the late documentary legend Albert Maysles, who passed at 88 the week prior. Writing for Sight & Sound, Robert Greene reflected on his time with the filmmaker who helped start the direct-cinema movement, while Errol Morris spoke about his appreciation for Maysles with Q at CBC Radio. As reported by Sound on Sight's Brian Welk, IRIS, one of Maysles's last films, also received a trailer this past week. In honor of Albert's passing, Brian Brooks of the Film Society at the Lincoln Center posted the IRIS Press Conference from last year's New York Film Festival.
A variety of doc related interviews was found strewn about the internet this week, including a trio by Pamela Cohn from the latest edition of Desist film in which she speaks to Veronika Lisková, Jan Soldat and Stine Marie Jacobsen on documentary form translating taboo subject matter. Prior to the SXSW screening of WESTERN, Fandor's Samuel Fragoso posted his conversation with Bill and Turner Ross which originally took place in Park City earlier this year. And posted by Yvonne Ashley Kouadjo at the POV Blog, Jonathan Oppenheim, editor of such films as THE OATH and HIGH TECH, LOW LIFE was interviewed by 2014 Karen Schmeer Film Editing Fellow, Colin Nusbaum.
Theatrically, Ethan Hawke's deeply humanistic doc debut SEYMOUR: AN INTRODUCTION was the talk of the town this week, having received numerous reviews from the likes of Richard Brody in The New Yorker, Randy Russell at The Talkhouse, Keith Phipps at The Dissolve, and Joshua Brunsting at Criterion Cast. Hawke spoke with Sam Fragoso about the film over at The Dissolve. Christopher Campbell wrote a piece on Gabe Polsky's RED ARMY over at Nonfics. And though no longer in theaters, AJ Schnack's WE ALWAYS LIE TO STRANGERS received some love from The Dissolve's Nathan Rabin, while Sound On Sight's Brian Welk reflected on Abbas Kiarostami's rule bending CLOSE-UP.
As far as development goes, Hot Docs announced this year's Forum selection, including Frederick Wiseman's IN JACKSON HEIGHTS and Yoav Shamir's THE NEW MISSIONARIES. Writing for Realscreen, Barry Walsh reported on the projects selected. At Cineuropa, Barbora Holková covered the announcement of the five projects awarded grants at this year's East Doc Platform. And finally, Michael Roffman of Consequence of Sound wrote a profile of The Orchard, a relatively new distributor who have recently picked up projects like KUNG-FU ELLIOT and FINDER'S KEEPER.
I'll leave you this week with a pair of varying, but fascinating articles. The first, a Hammer to Nail editorial by Lauren Wissot, looks at LIFE ITSELF and film industry conflict of interests in the digital age, while the second, a piece by Tom Roston on the POV Blog, calls attention to the controversy surrounding INDIA'S DAUGHTER and the importance of social-issue documentaries.
I will be getting married this coming weekend and will be honeymooning over the following couple weeks, so I'll be taking the next couple weeks off. That said, if you have any tips or recommendations for the Memo in the meantime, please feel free to contact me via email here, or on Twitter, @Rectangular_Eye. I'll be back in a few weeks!