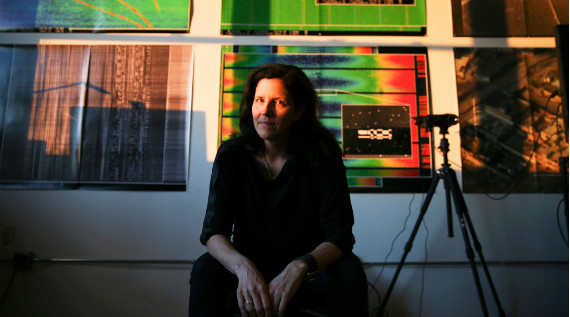 In the wake of Sundance fever, it was Laura Poitras' newly opened exhibition at the Whitney Museum of American Art in New York City, ASTRO NOISE, that had the documentary world's attention this past week. The co-founder of Field of Vision and CITIZENFOUR director's personally revealing show on her own life experiences of FBI surveillence and beyond was the talk of the town, receiving features in The New York Times from Holland Cotter, Wired by Andy Greenberg, Vogue via Sara Corbett, and Russell Brandom of The Verge. At the POV Blog, Tom Roston said that experiencing the project is "like walking through a documentary…It's a remarkable work, even more so when you consider, although Poitras once studied the visual arts, she's primarily a feature documentary filmmaker." The Guardian published a pair of pieces on the exhibition, one from Jason Farago, the other by Dominic Rushe. Artinfo's Noelle Bodick wrote a piece outlining why the Whitney might be nervous about serving as a platform for Poitras and her repurposing of leaked classified images into politically charged works of art. While in Artforum, Stephen Squibb beautifully sums up the exhibition, "For Poitras, installation is a technology capable of staging a self-conscious relationship to method itself. She uses venerable tropes of cinema—which constitute a common language, a lingua franca of perceptible gestures—to bypass the contemporary tension between documentary and fantasy, credible and incredible, which today inheres in imperceptible and clandestine information as much as in visual or sensory phenomena."
Though cinema tinged surveillance should now once again lingering in the mind, Sundance is itself still being processed. At Nonfics, Jason Gorber listed his favorite documentaries of the festival, while Eric Kohn and Kate Erbland debated how this year's best Sundance features might factor in next year's Oscar Race at indieWIRE. Focusing in on the increasingly prevalent diversity debate, Paste published Shannon M. Houston's '10 Black Directors to Watch in 2016,' featuring Dawn Porter and Rita Coburn Whack, and NPR posted Monica Castillo in conversation on where Sundance fits in with Hollywood's diversity controversy. Navigating within the same vein, Liz Garbus appeared this week on indieWIRE's Women and Hollywood podcast to discuss her film WHAT HAPPENED, MISS SIMONE?, as Melissa Silverstein points out, "the sole woman-helmed documentary in the running for this year's Best Documentary Feature at the Academy Awards."
This week at the IFC Center, the 2016 Winter Season of Stranger Than Fiction continues with a 10th Anniversary screening of Chris Sheridan and Patty Kim's North Korean conspiracy doc ABDUCTION: THE MEGUMI YOKOTA STORY. Special guest Robert Boynton, author of "The Invitation-Only Zone: The True Story of North Korea's Abduction Project," will be on hand for a post-screening Q&A and book signing. Tickets for the event are still available here.
In other festival news, the International Film Festival Rotterdam finished up yesterday, naming Kaweh Modiri's hybrid BODKIN RAS the FIPRESCI Award winner and Frank Scheffer's DE WAARNEMING the winner of the KNF Award for best Dutch production or a co-production with a world premiere at IFFR. In MUBI's Notebook, Daniel Kasman outlined some of the non-fiction offerings at the festival, including Jung Sung-il's NIGHT AND FOG IN THE ZONA, Thom Andersen's JUKE: PASSAGES FROM THE FILMS OF SPENCER WILLIAMS and Andrés Duque's OLEG Y LAS RARAS ARTES. Looking forward, SXSW revealed the majority of their lineup, including their main documentary competition, spotlight and musically focused sidebar, while the American Documentary Film Festival announced that Joe Berlinger's "new documentary about internationally-renowned life and business strategist" TONY ROBBINS: I AM NOT YOUR GURU will open the festival on March 31st. True/False Film Fest has also been teasing at this year's program, announcing that this year's Neither/Nor sidebar would be curated by Nick Pinkerton and would be exploring "Mondo (or so-called "shockumentary") cinema and its offshoots."
Spike Lee's MICHAEL JACKSON'S JOURNEY FROM MOTOWN TO OFF THE WALL, which made its primetime premiere on Showtime last Friday, was this week's most written about doc, having been selected as WNYC's Documentary of the Week and gleaning praise from Mike Hale in The New York Times, Guy Lodge in Variety, Sheila O'Malley at RogerEbert.com, Robert Lloyd of The Los Angeles Times and Noel Murray of A.V. Club. Lee also spoke with NPR's Mandalit Del Barco about his latest doc project on the late King of Pop. Having also hit primetime last Monday night in PBS's Independent Lens and is subsequently now available to stream online for free until February 22nd, Renee Tajima-Peña's NO MÁS BÉBES was also covered by Hale, as well as in The Nation by Dani McClain. Other films like Sundance holdover AUTHOR: THE JT LEROY STORY were reviewed by Mark Bell at Hammer to Nail, and the HBO doc JIM: THE JAMES FOLEY STORY, which was highly recommended Neil Genzlinger of The New York Times and Daniel Walber of Nonfics. Walber also reviewed CAMERAPERSON, while Amy Kaufman wrote a thorough feature in The Los Angeles Times on Josh Fox and his latest, lengthily titled project, HOW TO LET GO OF THE WORLD AND LOVE ALL THE THINGS CLIMATE CAN'T CHANGE.
Doc filmmakers should consider submitting their fledgling projects to the 2016 IFP Filmmaker Labs and the DOC Institute's Breakthrough Program, both of which are now taking submissions. On the other side of the coin, doc programmers should consider applying to be Chicken & Egg Pictures' new Program Coordinator, as they are currently seeking someone to fill the vacant position. Filmmaker Arwen Curry has launched a Kickstarter campaign to fund a doc on the revered science fiction and fantasy author Ursula K. Le Guin, raising far beyond the $80,000 goal in just a matter of days and garnering coverage from Alison Flood of The Guardian and Michael Schaub of The Los Angeles Times in the meantime.
Those looking for something new to stream might want to turn to the Doc Alliance where they have a selection of films that played last year's edition of International Film Festival Rotterdam available in HD until February 14th. At Nonfics, Daniel Walber wrote a feature outlining the copious offerings.
And lastly, there was no more fascinating find online this week than Alisa Lebow's expansive "nonlinear meta-documentary" project FILMING REVOLUTION, which utilizes the work of 30 Egyptian filmmakers, artists and activists to outline the Arab Spring and its lasting effects, completely online. Writing for Sight & Sound, Sophie Mayer dove head-first into the massive, wildly inventive undertaking. Until next time, if you have any tips or recommendations for the Memo, please contact me via email here, or on Twitter, @Rectangular_Eye.