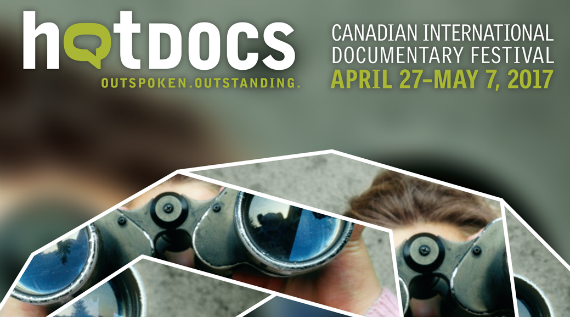 After last week's politically charged dispatch of stories on Trump's proposed budget cuts and the controversy over Jason Pollock's STRANGER FRUIT, this week, thankfully, seems a bit subdued. The most notable news of the week is the dual lineup announcements of Toronto's massive Hot Docs Canadian International Documentary Festival and the Film Society of Lincoln Center's more focused Art of the Real. At Realscreen, Daniele Alcinii spoke with Hot Docs' Director of Programming Shane Smith and several filmmakers about this year's lineup. The complete Hot Docs program and schedule can be found in PDF form here.
Now in its second year, Chicago's DOC10 film festival kicks off later this week. Leading up to the proceedings, the festival has been posting brief interviews with the filmmakers behind each of the ten films programmed on their website, while over at RogerEbert.com, Matt Fagerholm has given a thorough overview of the festival's offerings, highlighting RAT FILM, WHOSE STREETS? and THE CINEMA TRAVELERS, among others. Also in motion this week is the Paris based doc fest Cinéma du Réel, which Basil Tsiokos previewed at What (not) To Doc.
Here at Stranger Than Fiction, we're closing out our winter season tomorrow at the IFC Center with Amanda Micheli's VEGAS BABY, with Micheli herself in attendance for a live post-screening Q&A. Tickets are still available.
Looking back at this year's SXSW, IndieWire polled critics on the best documentaries of the festival, with Gethin Aldous and Jairus McLeary's Grand Jury Prize winner THE WORK coming in on top. CPH:DOX wrapped up last night and wonderful reviews of formally experimental docs keep rolling in over at desistfilm. And for Sight & Sound, Jordan Cronk put forth a rundown of his favorite five films he caught at True/False, his favorite of the bunch being Travis Wilkerson's DID YOU WONDER WHO FIRED THE GUN?.
It's been a relatively quiet week in theatrical doc releases, with recent STF alum I CALLED HIM MORGAN gleaning a trio of warm reviews from A.O. Scott in The New York Times, David Ehrlich at IndieWire, and RogerEbert.com's Glenn Kenny, as well as being selected as WNYC's Doc of the Week.. Tyler Hubby's TONY CONRAD: COMPLETELY IN THE PRESENT received some love in a luxurious feature on filmmaker and musician Tony Conrad in The New York Times via William Robin. Additionally, Wendy Ide caught up with Clay Tweel's heartbreaker GLEASON for The Guardian, while Eric Kohn lovingly profiled TICKLING GIANTS subject Bassem Youssef for IndieWire.
A handful of small screen docs collected some coverage this past week, beginning with Lorraine Ali and Neil Genzlinger's pieces on Alison Ellwood's Showtime doc AMERICAN JIHAD in the Los Angeles Times and The New York Times, respectively. Meanwhile, Alissa Wilkinson picked the Netflix short EXTREMIS as Vox's movie of the week.
As noted by Billy Steele at Engadget, Spotify makes good on its promise to produce new musically related non-fiction with its Landmark documentaries series, this time in the form of a set of shorts on Green Day titled GREEN DAY: THE EARLY YEARS. Currently, it's only available "via Spotify's iOS and Android apps as well as on the desktop from the 'Video Series' page." At the other end of the musical spectrum, XXL's Sidney Madden has shared the news that National Geographic has released a short on THE SECRET HISTORY OF GRILLZ.
We have a trio of excellent new podcast episodes this week. Pure Nonfiction shared their 41st episode which consists of an interview with P.S. JERUSALEM director Danae Elon, the True/False Podcast  which features conversation with Eric Hynes, film critic and a programmer at the Museum of the Moving Image, and most surprisingly, The Talkhouse posted a conversation between comedian Tim Heidecker and doc director Adam Curtis.
Not to leave you on a worrisome note, but I'm signing off this week with three somewhat troubling articles: IndieWire's complete list of the indie film organizations that could lose money if The National Endowment for the Arts' funding is cut, Patrick Frater's report at Variety on Malaysia fining human rights activist Lena Hendry for hosting an illegal screening of NO FIRE ZONE: THE KILLING FIELDS OF SRI LANKA, a documentary about genocide in Sri Lanka that did not have Censorship Board (LPF) approval, and lastly, at Doc Soup, Tom Roston posted his a piece he titled "Who Watches Documentaries? Who Doesn't? Festival Directors Evaluate Their Audience in the Trump Era." Until next week, if you have any tips or recommendations for the Memo, please contact me via email here, or on Twitter, @Rectangular_Eye.