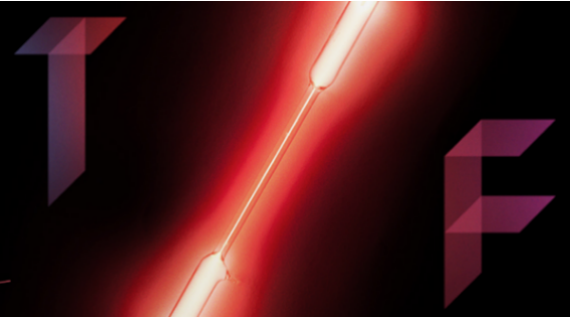 I've returned after a week away from the cold, movies, the internet and headlines feeling mentally rejuvenated and ready to get back into the swing of things. A bit of ocean air seems to have done me well. And being that next month I'll be heading to Columbia, Missouri once again for this year's edition of the True/False Film Festival, it is exciting to find that they've revealed not only their 2017 lineup and schedule, but that they will be launching a new bi-weekly podcast – the True/False Podcast – on which "True/False programmers will sit down with filmmakers and tackle a new topic each episode." The first episode is scheduled to go live two weeks before the festival begins, on February 23.
Speaking of podcasts, last week's episode of Pure Nonfiction featured a conversation between our own Thom Powers and John Heilemann, co-creator of TRUMPED: INSIDE THE GREATEST POLITICAL UPSET OF ALL TIME, which aired on Showtime last week after its Sundance premiere.
Tomorrow, we here at Stranger Than Fiction are celebrating Valentine's Day with a very special screening of THE LOVING STORY, which tells the dramatic story of Richard and Mildred Loving, an interracial couple living in Virginia in the 1950s, and their landmark Supreme Court Case, Loving v. Virginia, that changed history. Director Nancy Buirski will be on hand for a live post-screening Q&A. Tickets and season passes are still available here.
While True/False has been the festival most on my mind as of late, the 67th Berlinale is the festival that most have their eyes on currently, as the festival kicked off last Thursday. The ever meticulous Basil Tsiokos has previewed the wealth of non-fiction offerings at the Berlin International Film Festival over at What (not) To Doc, including Jeremy S. Levine and Landon Van Soest's FOR AHKEEM and Catherine Gund and Daresha Kyi's CHAVELA, which have already received rave reviews from IndieWire's David Ehrlich and Jonathan Romney at Screen Daily, respectively.
In Toronto, the Hot Docs Ted Rogers Cinema announced that they would be hosting a three days film series entitled Ban This Series, in which they will "present a documentary from each nation whose citizens were denied entry into the U.S. due to a presidential executive order issued on January 27, 2017. By amplifying their stories, we celebrate the humanity and strength in each one of us," running March 6–8. Films range from Andreas Møl Dalsgaard and Obaidah Zytoon's THE WAR SHOW, which opened our winter season last week, to Laura Poitras's MY COUNTRY, MY COUNTRY and beyond. Tickets – free to the public – can be claimed here. Inquisitive about this inspired programming, Gilbert Ngabo of the Toronto Metro News spoke with Hot Docs managing director Alan Black about series.
On that same wavelength, IndieWire took a critic poll this past week asking, "Which Documentaries Help Make Sense of the World Today?" Obvious choices like I AM NOT YOUR NEGRO and 13TH (which was named Best Documentary at the British Academy Film Awards just yesterday) rose to the top, but it was Jordan Hoffman of The Guardian's simple response that took the cake: "KOYAANISQATSI takes its name from the Hopi language term for 'life out of balance,' which sure as heck sums up how I feel right now."
As we near Oscar night, everyone is clamoring to catch up with the nominees they've missed, so it should come as a relief that the Oscar shorts are now playing in theaters across the country. A.O. Scott of The New York Times and Robert Abele of the Los Angeles Times each shared their love of the doc shorts on offer, while Slant's Ed Gonzalez published his predictions for the doc short winner. Jeremy Fuster of The Wrap posted a live conversation between the filmmakers of all five of the nominees, while Cara Buckley noted in The New York Times that the Oscars have traditionally been a pivotal mouthpiece for doc filmmakers, and will likely be even more so this year with immigration being such a hot button issue both in the news and on film. And in light of its recent nomination, JOE'S VIOLIN, which was produced by our own Raphaela Neihausen, was featured over at Variety by Cynthia Littleton.
Having been released theatrically over the weekend, Ceyda Torun's feline starred KEDI has garnered raves from all over, including Emma Stefansky at Vanity Fair, Eric Kohn of IndieWire, Todd VanDerWerff at Vox, and even Darrell Hartman via The Paris Review. Glenny Kenny named the film a NYT Critics' Pick, while Daniel Walber of Nonfics and Sheila O'Malley of RogerEbert.com both posted glowing reviews as well.
In the Los Angeles Times, Katie Walsh deemed Mary Mazzio's I AM JANE DOE "a whirlwind primer on the case of Backpage, a classified ads website with a serious problem: the exploitation and trafficking of minors conducted in the escorting and adult section of the site," with in The New York Times, Jeannette Catsoulis had a similar opinion, as did Julia Felsenthal in Vogue and Ann Hornaday in The Washington Post.
Barbara Kopple's new film THIS IS EVERYTHING: GIGI GORGEOUS debuted online via YouTube's new subscription streaming service YouTube Red, gleaning a handful of positive press, mostly in the form of interviews with Allyson Koerner at Bustle, Michael Humphrey at Forbes, Katy Steinmetz of Time, and Kevin Fallon at The Daily Beast.
This past week had a wealth of new docs to catch online, from Barak Goodman's Sundance debuted OKLAHOMA CITY now currently available via PBS, through Maximilien Van Aertryck and Axel Danielson's simple and hysterical TEN METER TOWER over at Op-Docs, to Kathleen Dowdey's mid-length piece JOHN LEWIS: GET IN THE WAY, also at PBS. Speaking on the film's release, Dowdey was interviewed by Jennifer Rainey Marquez of Atlanta Magazine the project.
I'll leave you this week with the D-Word's archived webinar on how to build a powerful network for your film, now free to watch here, and The Onion's wonderful poke at lengthy films from last week. As always, if you have any tips or recommendations for the Memo, please contact me via email here, or on Twitter, @Rectangular_Eye.