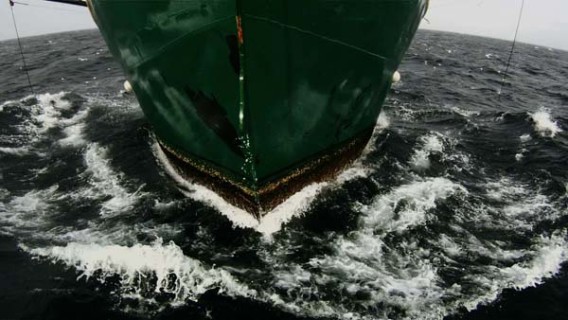 This week the True/False Film Fest, set to run Feb. 28 – March 3 in Columbia, Missouri, announced the lineup for this year's incarnation of the festival. Adam Benzine of Realscreen reported the news. The festival this week also announced that directors Lucien Castaing-Taylor and Verena Paravel would receive the True Vision Award for their body of work. The festival also said its True Life Fund would recognize Sebastian Junger's doc WHICH WAY IS THE FRONT LINE FROM HERE? THE LIFE & TIME OF TIM HETHERINGTON.
Across the Atlantic, the Berlin International Film Festival kicked off on Feb. 7 and is slated to conclude on Feb. 17. On his What (Not) to Doc blog, Basil Tsiokos provided an overview of the docs screening at the Berlinale this year. Adam Dawtrey of Variety took a look at the business side of the festival. And Tom Christie, writing for Indiewire, had a review of THE ACT OF KILLING from director Joshua Oppenheimer.
This week Sean Farnel sparked a lot of discussion with a piece in Indiewire that called on film festivals to share 35% of their earned revenues with filmmakers who were screening work. A lively back and forth in the comments section of the article resulted, which are a worthy read for anyone interested in the subject.
In Oscar news, Christopher Campbell, writing for Moviefone, broke down the five films that were nominated for the best documentary award. Peter Knegt of Indiewire shared his prediction for which feature documentary director would be taking home a gold statuette. Michael Moore spoke with the New Yorker's Richard Brody on the recent Oscar doc rule changes, which Moore had a substantial hand in shaping. And those in New York City should keep in mind that the Paley Center's DocuDay, during which all Oscar nominated documentary features and shorts will be screened, will be held Feb. 23-24.
At the Daily Beast, writer Alyssa Rosenberg examined the potential political ramifications Kirby Dick's Oscar-nominated film THE INVISIBLE WAR might have on the largely ignored phenomenon of sexual assault in the military. Robin Bronk of The Hill this week also had an interview with Dick on his film.
Christopher Campbell, this time writing for Movies.com, penned a piece about the continuing relevance of "talking head" docs, using Dror Moreh's Oscar-nominated film THE GATEKEEPERS as his case study. Ian Buckwalter of The Atlantic had similar praise for both talking heads and Moreh's film.
This week Stranger Than Fiction is hosting a screening on Tuesday, Feb. 12 at 8pm at the IFC Center of Jehane Noujaim and Mona Eldaief's RAFEA: SOLAR MAMA, about the Bedouin woman Rafea who travels to India to become a solar engineer. Both Noujaim and Eldaief will be in attendance following the screening for a Q&A with the audience. You can find out more information and purchase tickets by clicking here.
Sales continued unabated this past week. Cameron Sinz of Indiewire reported that Oscilloscope Laboratories had acquired THESE BIRDS WALK by Bassam Tariq and Omar Mullick. Danielle Ng-See-Quan of Realscreen reported that Cinedigm had picked up U.S. rights to the Yung Chang-helmed film FRUIT HUNTERS, while colleague Adam Benzine had the news that Samuel Goldwyn had snagged North American rights for the film SOMM. And Kevin Ritchie, also of Realscreen, reported that Dartmouth Films would give David France's HOW TO SURVIVE A PLAGUE a run in the U.K.
The prolific Alex Gibney had no less than three interviews in the press this week. He spoke with The A.V. Club's Todd VanDerWerff on his film MEA MAXIMA CULPA: SILENCE IN THE HOUSE OF GOD. Alison Willmore of Indiewire also spoke with Gibney on MEA MAXIMA CULPA, while Christopher Campbell, writing for the Documentary Channel blog, interviewed the director on his film THE LAST GLADIATORS, about professional hockey enforcers, but also touched on his upcoming Lance Armstrong film.
Realscreen's Adam Benzine had a great piece on the contentious issues surrounding fair use by documentary filmmakers. Benzine's piece provides a good reason for filmmakers to go back and read this July 2012 interview by Stephanie Hubbard with fair use expert Pat Aufderheide of the American University's Center for Social Media. And on a related note, the International Documentary Association this week reported that it, along with several other documentary organizations and filmmakers, had submitted comments to the U.S. Copyright Office regarding documentarian's use of "orphan works," in which the original copyright holder cannot be contacted. Legal wonks can check out the actual comments by clicking here.
About.com's Jennifer Merin had the news that the British Academy of Film and Television Arts (BAFTA) on Feb. 10 handed its best documentary award to SEARCHING FOR SUGAR MAN by director Malik Bendjalloul and producer Simon Chinn. And Adam Benzine of Realscreen reported that SEARCHING FOR SUGAR MAN had also won the Director's Guild of America's Outstanding Directorial Achievement in a Documentary award.
On the POV blog, Shannon Carroll wrote a piece about the creation of the BizVizz app, a corporate accountability tool that grew out of the Brad Lichtenstein film AS GOES JANESVILLE. Also at POV, Tom Roston took a look at the app and spoke with Lichtenstein about its potential uses. The ITVS blog also had an interview with Lichtenstein in which he explained how the app can make consumers smarter in their purchases.
There were a pair of pieces this week that examined the practice of self-distribution. First, Indiewire's Bryce J. Renninger took a look at how Topspin Media approached the digital distribution of the Stacey Peralta doc BONES BRIGADE, while colleague Jon Fougner gleaned tips from director Ava DuVernay on the distribution of her fictional film MIDDLE OF NOWHERE.
In case you missed it last week, a reminder that MOMA has announced the program for its always well-regarded Documentary Fortnight program, which runs at the museum from Feb. 15 – March 4. Highlights include a tribute to the work of Marlon Riggs, and a celebration of POV's 25th anniversary.
In his Docutopia post, Anthony Kaufman wrote about the use of archival material in fictional films such as JFK, ARGO, ZERO DARK THIRTY and NO to push viewers further into a state of suspended disbelief.
Brandon Harris of Filmmaker Magazine interviewed Matt Boyd about his hybrid film A RUBBERBAND IS AN UNLIKELY INSTRUMENT.
Adam Benzine of Realscreen reported that Hot Docs this year would honor filmmaker Les Blank with an outstanding achievement award.
The Chicago Reader's Ben Sachs considered the litany of documentary films made by directors better known for their fictional work, as well as the blurred line between doc and fiction.
Realscreen's Kelly Anderson reported that Canada's National Film Board (NFB) had named Ravida Din as the new director general of its English division. Din replaces Cindy Witten, who had stepped down from the role last September.
Rob Williams of The Independent had the news that an academic was criticizing nature documentarian David Attenborough for ignoring animals with gay relationships in his films.
At PopMatters, Bill Gibron served up a list of the top 10 "performance-oriented" rock documentaries,
Writing again for the Documentary Channel blog, Christopher Campbell noted that the Pare Lorentz film THE RIVER was celebrating its 75th anniversary, and available for viewing online. Campbell also had this week's theatrical releases, which basically consists of the film FERLINGHETTI: A REBIRTH OF WONDER.
That's it for this week. Please email your tips and recommendations here, or send them via Twitter to @GuerrillaFace. Have a great week everyone!