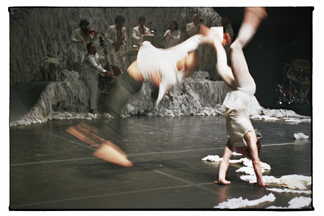 Dance on Camera, the venerable festival hosted by the Film Society at Lincoln Center, kicked off last week with an array of treats and discoveries. Director Sophie Fiennes was on hand for the New York debut of VSPRS Show and Tell, participating in a Q&A moderated by programmer Joanna Ney. Fiennes will be sticking around New York for the opening of her collaboration with Slavoj Zizek The Perverts Guide to Cinema for a week-long run at the IFC Center starting on Jan 16.
Traditionalists might be hesitant to call choreographer Alain Platel's namesake piece "dance." Fiennes captures a chaotic and emotionally exhaustive and sexually frenetic exploration of movement. It physically embodies and emotionally derives from those struggling with schizophrenia and other mental disorders.
Filmed in 2006 at a French Dance Festival, Fiennes was asked to film the performance with only 3 weeks to prepare. She manages to evoke effective, straight-forward, cinema verite style of Albert Maysles' concert documentaries, Fiennes cuts between the recorded performance with the dancers more intimate moments backstage. Chit-chat from dancers sharing frustration over audience reaction about "not getting it" or "it's not my thing" and simple enjoyments of a day off at the beach exacerbate the strangeness of the performance, creating a dialogue of contrasts.
Dance On Camera 2009 continues at Film Society of Lincoln Center's Walter Reade Theater, Jan 16 & 17.