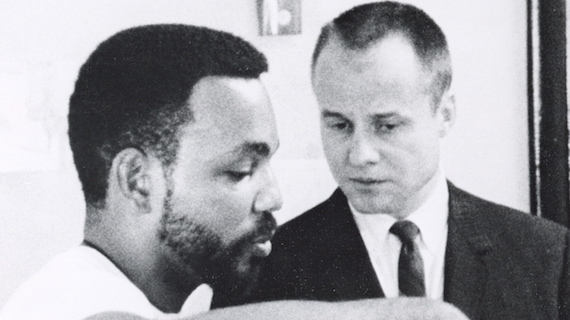 Stranger Than Fiction packs the spring season of its 13th year with sneak previews, classics and bonus screenings. The season begins on April 18 with the Oscar-nominated "A Time for Burning" (1966), exploring a clash over racial integration in a Midwestern church during the peak of the civil rights movement. The film will screen on a 35 mm print, courtesy of the Academy Film Archive, followed by a Q&A with filmmaker Bill Jersey.
"This season's line-up has a rich mix of documentary past and future," said STF Artistic Director Thom Powers. "Audiences will be treated to the latest work from Steve James, Errol Morris as well as a tribute to Agnes Varda for her 89 th birthday on May 30th." The regular season includes TOKYO IDOLS (Apr. 25) about Japanese girl singers; GET ME ROGER STONE (May 2) on Trump's controversial adviser; ABACUS: TOO SMALL TO JAIL (May 9) on a family run bank in Chinatown defending itself from prosecution; STEP (May 16) on high school step dancers in Baltimore; THE B SIDE (May 23), Errol Morris' portrait of photographer Elsa Dorfman; THE GLEANERS & I (May 30), Agnes Varda's film essay on scavengers; and CHASING CORAL (June 6) on the environmental threats to coral reefs. The season includes two Wednesday night bonus screenings: ONE OCTOBER (May 17) on New Yorkers after the 2008 financial crash; and COMPANY TOWN (May 24) on the gentrification battle over tech newcomers in San Francisco. The spring season is co-presented by New York Film Academy.
The regular STF spring season takes place at the IFC Center every Tuesday nights at 7:00pm for eight weeks, starting April 18. Each event includes a discussion with the filmmaker or special guests, followed by a gathering at a nearby bar. Full season schedule appears below. For more information, visit http://STFdocs.com or ifccenter.com.
Stranger Than Fiction: Spring 2017 Season 7:00pm Tuesdays at IFC Center, April 18 – June 6
Each show features a Q&A with the director or other special guests
Apr 18 – Opening Night: A TIME FOR BURNING (1966, 58 min) Q&A w/ director Bill Jersey
Apr 25: TOKYO IDOLS (2017, 90 min) Q&A w/ director Kyoko Miyake
May 2: GET ME ROGER STONE (2017, 92 min) Q&A w/ directors Morgan Pehme, Dylan Bank and Daniel DiMauro
May 9: ABACUS: SMALL ENOUGH TO JAIL (2016, 90 min) Q&A w/ film subjects
May 16: STEP (2017, 83 min) Q&A w/ director Amanda Lipitz
May 17: WED. SPECIAL: ONE OCTOBER (2017, 57 min) Q&A w/ director Rachel Shulman; subject Clay Pigeon
May 23: THE B-SIDE: ELSA DORFMAN'S PORTRAIT PHOTOGRAPHY (2016, 76 min) Q&A TBA
May 24: WED. SPECIAL: COMPANY TOWN (2016, 77 min) Q&A w/ directors Deborah Kaufman & Alan Snitow
May 30: THE GLEANERS &  I (2000, 82 min) Q&A w/ Agnes Varda fan & filmmaker Kirsten Johnson
June 6 – Closing Night: CHASING CORAL (2017, 93 min) Q&A w/ director Jeff Orlowski
Tickets for Stranger Than Fiction screenings are $17 for the general public and $14 for IFC Center members. A Season Pass, good for admission to all 10 evenings, is available for $99 ($80 for IFC members)
Related Film