Tonight's screening falls on the birthday of STF founder Thom Powers. He'll lead a post-show discussion on the work of D.A. Pennebaker & Chris Hegedus with frequent STF guest and filmmaker John Walter. Afterwards, join us for birthday drinks at Karavas Tavern at the corner of West 4th St & Cornelia St.
65 REVISITED (2007, 60 min)
"The great relief of D. A. Pennebaker's "65 Revisited" — which pulls together never-released footage shot for his documentary "Don't Look Back" — is that this time you can hear the songs in their entirety. Because Mr. Pennebaker wanted "Don't Look Back" to be about Bob Dylan, not his 1965 British concert tour, he made the somewhat maddening decision to cut down the songs in that first film to tantalizing bits and pieces. The problem of course being that the songs were as much a part of this youthquaking sensation as his pipe-cleaner-skinny legs, his fuzzy 'fro, bobbing head, sly smile, riffs, rants, puns and playful, otherworldly genius." – Manohla Dargis, The New York Times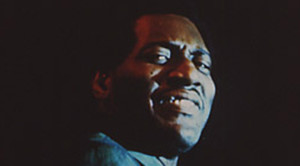 SHAKE – OTIS AT MONTEREY (1986, 30 min)
Otis Redding's complete, electrifying performance at the historic Monterey Pop Festival in 1967. The Monterey concert reflects Redding at the peak of his career, only months before a fatal plane crash took his life.
"Well-shot vintage soul performances are as scarce as chitlins on Wall Street, and though these 20,000 white protobohemians weren't exactly Redding's hippest audience, he was definitely out to prove something to 'the love crowd.' Clad in a memorable forest-green suit, the most country of the great soul men trundled his oversized body all over the stage in a condensed set of surefire material. The glaring spotlight effects that spoiled Redding's segment of the original film are mostly gone; except for the girls-of-Monterey montage accompanying 'Try a Little Tenderness,' Pennebaker honors the visual facts, most notably Redding's big-hearted face. In the best verite tradition, Pennebaker is drawn to interesting faces–even his tribute to the ladies doesn't settle for pretty." – Robert Christgau, The Village Voice
---