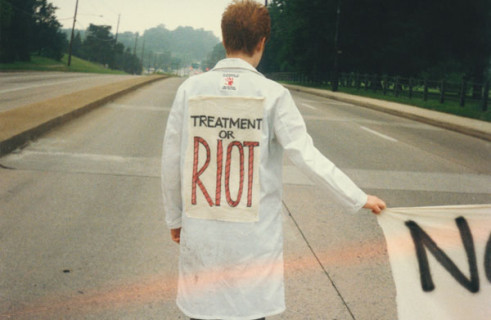 This week the nominees for the 35th Annual News & Documentary Emmy Awards were announced. Kevin Ritchie of Realscreen provided coverage of the news, as did Christopher Campbell of Nonfics.com. The ITVS blog made note of its nominated films, as did the POV blog.
Also this week, the Sundance Institute named the recipients of grants from its documentary film program. Writing for Realscreen, Manori Ravinran had some details on the topic.
In a series of posts at The Collaborative, Orly Ravid and Sheri Candler wrote a series of posts on preparing for independent distribution: you can find part one here, part two here and part three here.
Back at Realscreen, Adam Benzine reported on the closing of Microsoft's Xbox studios, which was intended to create original programming, including docs. Colleague Manori Ravindran had the details on the docs receiving money from the Fledgling Fund.
At Kartemquin Film's website, Nehemiah Stark recapped the nonprofit's position on fair use in documentary.
In distro news, Brandon Latham of Indiewire reported that The Orchard had picked up U.S. and U.K. theatrical and digital rights for HARMONTOWN from director Neil Berkeley. And Realscreen's Kevin Ritchie reported that ADVANCED STYLE from director Lina Plioplyte had been picked up for U.S. distro by Bond/360.
At Rolling Stone, Stacey Anderson had the news that Ron Howard was directing a doc on The Beatles. Kevin Ritchie of Realscreen also covered the story.
Also at Realscreen, Adam Benzine reported that Michael Moore would deliver the keynote at this year's Toronto International Film Festival (TIFF).
Writing for Canada's POV Magazine, Mark Dillon touched on the delicate relationship established between filmmaker and subject, citing Alex Gibney's recent work on THE ARMSTRONG LIE as an example. Over at Movie Mezzanine, Charles Bramesco also talked about the relationship between filmmaker and subject, and the ethical complications of such dynamics.
Also at POV Magazine, Barri Cohen remembered the late film scholar Peter Harcourt, while Marc Glassman reviewed BURT'S BUZZ from director Jody Shapiro.
Ryan Lattanzio at Indiewire's Thompson on Hollywood blog reported that the New York Times was planning its first live pitch competition for Op-Docs.
At the Los Angeles Times, Carolina Miranda called for a deeper delve by video game focused documentaries.
The Center for Media and Social Impact is looking for stories about film subjects attacking filmmakers as part of a research project; those with information to share can go here.
Writing for the Underground Film Journal, Mike Everleth reviewed AMERICAN ARAB from director Usama Alshaibi.
At TheNextWeb, Kaylene Hong detailed efforts by BitTorrent to monetize multimedia torrent files known as "bundles" behind paywalls, a move that has implications for film marketing and distribution techniques.
Christopher Campbell of Nonfics.com wrote a piece remarking on the practice of documentary directors interviewing themselves in their films.
At the Guardian, writer Andrew Anthony spoke with some close to late director Malik Bendjelloul in an attempt to make sense of his death.
Back at Nonfics.com, Christopher Campbell turned out a list of the best 10 docs about the internet.
Writing for the New Yorker, Calum Marsh took a look at "day and date" releases, and the implications of VOD on the film business.
At Fandor, Kevin B. Lee examined the way the late Roger Ebert's "voice" was shaped in the film LIFE ITSELF from director Steve James.
Tom Putnam and Brenna Sanchez shared nine lessons about self-distribution gleaned from their experience with their film BURN in a piece for Filmmaker Magazine.
POV's new hire Brian Chirls wrote a piece previewing his work as the Knight Technology Fellow.
At the International Documentary Association website, Darianna Cardilli spoke with Shannon High-Bassalik about Al Jazeera America's programming and approach to docs.
POV is hosting a live chat with DANCE FOR ME filmmaker Katrine Philp and subject Egor on Tuesday, July 22 at 1 p.m. EST. For more information please go here.
ITVS is hosting a series of webinars on "Writing the ITVS Treatment" starting this week; you can find details here.
Please send any tips or recommendations for the Memo via e-mail here, or by Twitter to @GuerrillaFace. Thanks and have a great week all.