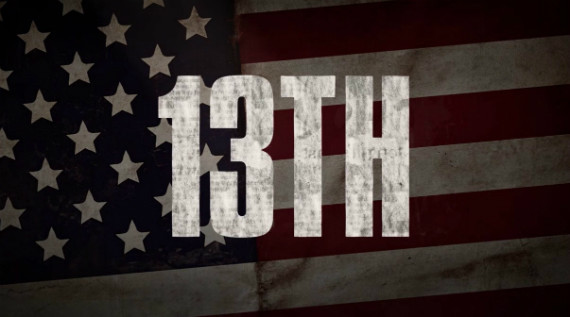 Maybe for the first time since taking over the Monday Memo (over 80 weeks ago now!), the conversation reverberating from the critical community on documentary film this week is overwhelmingly centered around films newly available via streaming platforms (13TH, AMANDA KNOX, AUDRIE & DAISY, and the soon to be released Adam Curtis project HYPERNORMALISATION). Following its world premiere of Ava DuVernay's 13TH at the New York Film Festival on September 30th, the film became available worldwide via Netflix just a just a week later, igniting a firestorm of white hot responses in the press. In reference to 13TH, both Scott Feinberg of The Hollywood Reporter and Kristopher Tapley of Variety asked the question, "Why Not a Documentary for Best Picture?," while others like the Washington Post's Bethonie Butler and Deadline's Pete Hammond lauded the film as "powerful" and "masterful," respectively. Opinions have essentially been unanimously extolling among critics like Nonfics' Daniel Walber, Kenneth Turan of the Los Angeles Times, and The Guardian's Wendy Ide and Charlie Lyne.
As part of the New York Film Festival, 13TH subjects Kevin Gannon, Khalil Gibran Muhammad, Jelani Cobb, Ashley Clark, and Malkia Cyril took part in a panel moderated by Eugene Hernandez, the result of which is now available on the latest episode of The Close-up podcast. the DuVernay herself made the rounds, appearing in conversation with Cara Buckley of The New York Times, Esquire's Corey Atad, Film Comment's Ashley Clark and Juleyka Lantigua-Williams of The Atlantic. Just as DuVernay takes on the US prison system, Sam Barsanti of A.V. Club reports that Jay-Z is producing a six-part documentary series for Spike TV titled TIME: THE KALIEF BROWDER STORY, about the 16-year-old high school kid from New York who was arrested in 2010 for allegedly stealing a backpack and New York's broken criminal justice system. And in the same vein, Anne Thompson list four docs that define the Black Lives Matter movement at IndieWire, while actor and activist Danny Glover shared his six favorite racially conscious documentaries currently streaming with Christopher Campbell of Nonfics.
Stranger Than Fiction, however, remains on the big screen at IFC Center. This week our six film retrospective of the documentary work of Jonathan Demme co-presented by the New York Film Academy continues with THE AGRONOMIST, about the Haitian radio journalist Jean Dominique. Director Jonathan Demme and Radio Haiti-Inter journalist Michele Montas with both be on hand to present the film and participate in a post-screening Q&A. Tickets for the event are available here.
Back on the topic of streaming titles, AMANDA KNOX continues to see its audience grow as its directors, Rod Blackhurst and Brian McGinn, appeared on the latest episode of Pure Nonfiction in conversation with our own Thom Powers. At IndieWire, Anne Thompson delved into the factual particulars of the film, while Variety's Iain Blair parsed out the aural details by speaking with the production's audio team. Michelle Dean, on the other hand, looks at the doc indicts the media, yet "falls into the same ethical quandaries as SERIAL and MAKING A MURDERER" for New Republic. Bonni Cohen, co-director of the Netflix doc AUDRIE AND DAISY, spoke with Christopher Llewellyn Reed for Hammer to Nail, while Tim Adams previewed Adam Curtis' new film HYPERNORMALISATION will have its premiere on BBC iPlayer at 9 pm on October 16th. Gothamist contributor David Colon composed a list of best political docs currently streaming.
Streaming titles may have been the hot topic this week, but there was still a trickle of festival news flowing through over at IDA's blog in the form of Marc Glassman's realization that TIFF had a record number of docs in their lineup this year – 57 titles in total. A handful of reviews of TIFF titles made it to press this past week as well, including Matthew Eng's take on ABACUS: SMALL ENOUGH TO JAIL at Little White Lies, Stuart Klawans' rumination on FIRE AT SEA in Film Comment, my review of JT + THE TENNESSEE KIDS at IONCINEMA, and Liz Nord's feature on THE CINEMA TRAVELLERS over at No Film School. VOYAGE OF TIME also turned up at Doc Soup via Tom Roston and RogerEbert.com thanks to Simon Abrams. And while TIFF is still lingering in the air and NYFF is wrapping up, Basil Tsiokos previewed the doc offerings at the the 24th edition of the Hamptons International Film Festival and the 60th BFI London Film Festival over at What (not) To Doc, while Max Carpenter reflected on this year's Camden International Film Festival at Hyperallergic and Pat Aufderheide pondered the takeaways from Getting Real '16 via the Center For Media & Social Impact.
Surprisingly, the only theatrically released doc to gain any kind of critical traction this past week was Kim A. Snyder's devastating NEWTOWN, having gleaned positive coverage from IndieWire's Matt Brennan, Neil Genzlinger of The New York Times and RogerEbert.com's Matt Zoller Seitz.
Filmmakers still have a chance to sign up for UnionDocs' Images, Sound and Rhythm in Documentary masterclass with David Teague, T. Griffin and Nathan Halpern currently scheduled for Saturday, October 22nd, as well as submit an application to Chicken & Egg Pics' 2017 Accelerator Lab, which opens for submissions tomorrow. And those still trying to sort out the best means of distribution for your projects might want to read Anthony Kaufman's new piece on digital distribution at Filmmaker Magazine.
Signing off this week, I'll leave you with Nick Pinkerton's incisive Film Comment article on the state of film criticism in the era of social media, and its complimentary Film Comment podcast discussion. Until next week, if you have any tips or recommendations for the Memo in the meantime, please contact me via email here, or on Twitter, @Rectangular_Eye.