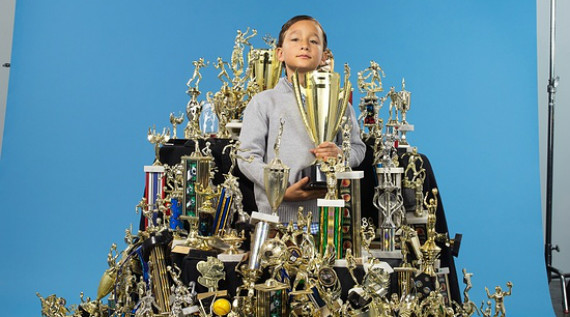 Light on general doc commentary and festival news, this week was instead overflowing with awards season announcements. First, the IDA Documentary Awards named their long list of nominees, with 13TH, FIRE AT SEA, O.J.: MADE IN AMERICA, CAMERAPERSON, I AM NOT YOUR NEGRO and WEINER listed in the running for Best Feature. The following day, the Cinema Eye Honors, now in their 10th year, released their own list of nominees, with the same films up for Outstanding Achievement in Nonfiction Feature Filmmaking, minus 13TH. On Thursday evening, Ezra Edelman and Ava DuVerney came away the big winners at the inaugural Critics' Choice Documentary Awards, as O.J.: MADE IN AMERICA came away with 4 awards, including Best Documentary (Theatrical Feature) and Best Director (Theatrical Feature), and 13TH with 3 awards, including Best Documentary (TV/Streaming) and Best Director (TV/Streaming).
Across the pond, the British Independent Film Awards listed a completely different set of films with their 2016 nominees for Best Documentary – THE CONFESSION: LIVING THE WAR ON TERROR, DANCER, THE HARD STOP, NOTES ON BLINDNESS and VERSUS: THE LIFE AND FILMS OF KEN LOACH. The European Film Awards followed suit with another diverse list of nominees for Best European Documentary in 21 X NEW YORK, A FAMILY AFFAIR, MR. GAGA, S IS FOR STANLEY, THE LAND OF THE ENLIGHTENED and of course, FIRE AT SEA.
With DOC NYC on the verge of its inception, its director of programming, Basil Tsiokos, continues to preview the festival's copious offerings at What (not) To Doc. David Morgan of CBS News also began to sift through the immense lineup, noting that "145 documentary features — nearly a record — have qualified for submission for this year's Academy Awards. Audiences at this year's DOC NYC Festival will find no shortage, either, with more than 250 films and events scheduled, including 110 feature-length documentaries, nearly half of which were directed or co-directed by women." Riding that same wave of excitement, the folks over at Cinema Tropical listed the Latino films scheduled to screen at the festival.
The vast majority of this week's doc coverage came from reviews of theatrically released docs, four of which The New York Times named as NYT Critics' Picks. Most notable among these releases was Brett Story's THE PRISON IN TWELVE LANDSCAPES, which Jeannette Catsoulis dubbed an "unexpectedly moving" "unsettling mural of systemic damage," while Alan Scherstuhl of Village Voice clarifies its relationship with Ava DuVernay's prison film, "13TH indicted America as a machine built to dispense with black men — and to generate profit from this. THE PRISON IN TWELVE LANDSCAPES examines the pain that is that machine's other chief output." Another positive review came in from Chuck Bowen of Slate, as Tim Grierson interviewed Story for MEL Magazine.
Another much covered film this past week was Otto Bell's Sundance heartwarmer THE EAGLE HUNTRESS, having received lavish praise from A.O. Scott for its use of drones – "The military and commercial uses of drone technology may be controversial, but it's hard to deny the cinematic benefits that these hovering, buzzing robots bestow, especially in the hands of a skilled cinematographer like Simon Niblett. In form and content, then, this is a movie that expands your sense of what is possible. A girl can hunt with an eagle. A camera can fly." Similarly commendations were found in pieces by Kenneth Turan in the Los Angeles Times, Kate Erbland of IndieWire, Christopher Llewellyn Reed of Hammer To Nail, and Susan Wloszczyna of RogerEbert.com.
After a solid festival run, Tony Stone's PETER AND THE FARM hit theaters on Friday, gleaning a feature from Tom Roston at Doc Soup in which he proclaimed that the film "finds profound harmony between visuals and storytelling, while IndieWire's David Ehrlich called it an "intimate, unvarnished, and occasionally transcendent micro-portrait may seldom leave Dunning's property, but it takes stock of the whole world." Tapped as a NYT Critics' Pick by Stephen Holden, the doc also received positive press from Matthew Eng at Little White Lies and RogerEbert.com's Glenn Kenny.
Other warmly reviewed docs this past week include Rokhsareh Ghaem Maghami's SONITA (via Christopher Llewellyn Reed of Hammer To Nail), Stephen Kijak's WE ARE X (via Andy Webster of The New York Times), Adam Irving's OFF THE RAILS (thanks to Los Angeles Times critic Kenneth Turan and occasional RogerEbert.com contributor Scott Jordan Harris), and Jim Jarmusch's tribute to The Stooges in GIMME DANGER (via Sheri Linden in the Los Angeles Times and a live Q&A at FilmLinc). Gianfranco Rosi also turned up in a Q&A at FilmLinc in conversation on his FIRE AT SEA, as well as at RogerEbert.com in where Matt Zoller Seitz turned his attention to his previous film SACRO GRA.
Turning to home entertainment, WNYC has selected the new Netflix doc THE IVORY GAME as its Documentary of the Week. The film garnered a four star review from Peter Bradshaw in The Guardian and comparable praise from Christy Lemire of RogerEbert.com and Thomas Page at CNN. Werner Herzog turned up on Pure Nonfiction to talk about his own Netflix project, INTO THE INFERNO. Having received a sort of resurrection at this past True/False Fest as part of their Neither/Nor series, Leonard Schrader and Sheldon Renan's THE KILLING OF AMERICA from 1982 has finally made its way to DVD and The Guardian's Charlie Lyne has taken another look. Influence Film Club and Mubi has teamed up for a series of documentary streaming picks, beginning with THE INVISIBLE WAR and an interview with director Kirby Dick. Lastly, National Geographic launched a press release that stated its unprecedented ultra wide free release BEFORE THE FLOOD has reached a nearly unheard of 30 million unique viewers worldwide in just a week.
On the development end of things, the Sundance Institute announced that it has awarded over $1 million to documentary projects and artists this year. Those listed among the many grantees is Frederick Wiseman, Cynthia Wade, Rebecca Cammisa, David France, and Matthew Heineman. Filmmaker Magazine's Paula Bernstein is in the midst of making her doc short debut with SOLE DOCTOR and reached out to a handful of grade-A doc filmmakers for advice. And at No Film School, Oakley Anderson-Moore published a super helpful piece for production entitled "What Are Your Rights as a Documentary Filmmaker? A Primer on Permission."
I'll leave you this week with a pair of new online shorts in the Op-Docs published THE PRICE OF CERTAINTY by Daniele Anastasion and Elizabeth Lo's THE DISCLOSURE PRESIDENT, posted by Field of Vision. Until next week, if you have any tips or recommendations for the Memo, please contact me via email here, or on Twitter, @Rectangular_Eye.