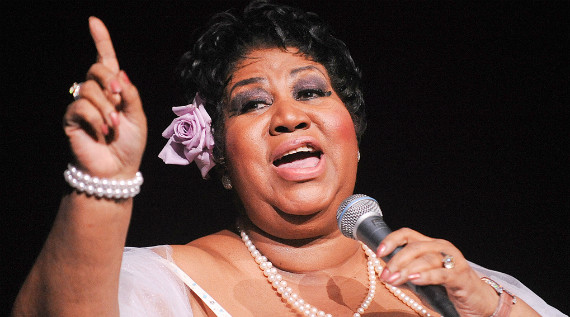 Out of what appears to be strictly a matter of greed, soul singing legend Aretha Franklin has filed suit and successfully received an emergency court injunction barring the Telluride Film Festival from world premiering Sydney Pollack's long gestating posthumous documentary AMAZING GRACE, "which shows the making of Ms. Franklin's album of the same name more than four decades ago," reports Brooks Barnes and Michael Cieply of The New York Times. Reacting to the news Franklin issued a statement saying, "Justice, respect and what is right prevailed and one's right to own their own self-image," despite "a recently discovered 1968 contract that Franklin signed allowed the use of the footage," according to The New York Times. Catherine Shoard of The Guardian covered the story as well, noting "that four years ago Franklin sued Elliott over the same issue, and 'the lawsuit was resolved after Elliott agreed not to release the film'." Steven Zeitchik and Rebecca Keegan of The Los Angeles Times and Tambay A. Obenson of indieWIRE also covered the news, while Chris Willman featured the film in question for The Hollywood Reporter. Looking to the Toronto Film Festival where the film is set to screen later this week, our own Thom Powers has assured the show will go on, stating, "We're proceeding with plans to screen AMAZING GRACE at TIFF. We haven't heard of any legal procedures regarding the film in Toronto."
Before all this legal hub-bub went down, at What (not) To Doc Basil Tsiokos gave an overview of the non-fiction offerings screening at both Telluride and Venice, which kicked off last Wednesday. Coverage from Venice has been slowly coming in, including Kaleem Aftab's positive review of Rinku Kalsy's FOR THE LOVE OF MAN for indieWIRE, Guy Lodge's glowing review of Amy Berg's JANIS: LITTLE GIRL BLUE at Variety, and a pair of supportive reviews of Evgeny Afineevsky's WINTER ON FIRE: UKRAINE'S FIGHT FOR FREEDOM from The Hollywood Reporter's Stephen Farber and Variety's Jay Weissberg. Weissberg also reviewed Frederick Wiseman's latest, IN JACKSON HEIGHTS, while Manori Ravindran spoke with the institution-obsessed documentarian Realscreen about his first (and likely last) foray into crowdfunding and why he prefers long-form to television friendly films.
While Venice and Telluride were just gearing up, the BFI London Film Festival announced their own Documentary Competition lineup, which includes IN JACKSON HEIGHTS, as well as Alexander Sokurov's FRANCOFONIA, Walter Salles' JIA ZHANGKE, A GUY FROM FENYANG, and Patricio Guzmán's highly regarded THE PEARL BUTTON, among others. Naman Ramachandran of Cineuropa and Variety's Robert Mitchell both reported on the announcement. Most interestingly, IDFA had their own exciting announcement covered by Realscreen's Daniele Alcinii that revealed a new set of Special Jury Awards "aimed at acknowledging other outstanding achievements in documentary" will reshape the awards structure at the festival this coming fall. And while on the subject of awards, indieWIRE's Anne Thompson weighed in on how awards season is beginning to take shape as the fall festivals finally kick off.
Having just been released in theaters, Stanley Nelson's THE BLACK PANTHERS: VANGUARD OF THE REVOLUTION has gotten a solid critical response, having been selected by A.O. Scott as a New York Times Critics' Pick and having gleaned a feature in The Guardian from Ashley Clark and a glowing review from Odie Henderson at RogerEbert.com. Additionally, producer Laurens Grant also wrote a piece for indieWIRE outlining the difficulties behind researching and funding the film. But while Nelson's film survey's the struggles of the Black Panther Party, Ken Burns' newly remastered monumental series THE CIVIL WAR, which looks further back at the racial struggles of our country, is set to re-premiere on primetime television tonight on PBS. In The Guardian, Jordan Hoffman called the 11-and-a-half hour film "America's greatest documentary", while Alyssa Rosenberg at the Washington Post detailed the arduous, but pivotal process of remastering the film, complete with an interactive image comparison, highlighting the differences in visual quality from its previous release.
Probably the most written about theatrical doc release this week was Alex Gibney's STEVE JOBS: THE MAN IN THE MACHINE, which was generally thought of as a well engineered attack on Jobs' character by the likes of Nicolas Rapold of The New York Times, Mario Aguilar of Gizmodo, and director Benny Safdie at The Talkhouse. Godfrey Cheshire defended Gibney and his film at RogerEbert.com, while Nick Lucchesi discussed STEVE JOBS on The Village Voice's Film Podcast and Carly Mallenbaum listed six things she learned from the film for USA Today.
Other theatrical releases reviewed this week include Alex Winter's DEEP WEB, which was written about with a technical perspective by Alexander George in Popular Mechanics, as well as Sam Slovick's RADICALIZED, which received a lengthy feature in The Los Angeles Times thanks to Jeffrey Fleishman. Additionally, RogerEbert.com's Matt Fagerholm lauded ROSENWALD, while The Playlist's Nicholas Laskin praised MERU.
A few week's back there was much debate about the actual impact documentaries like BLACKFISH and various others have been making on their intended targets. This week Reuters published a revealing report by Richard Valdmanis showing that Josh Fox's GASLAND has been "pivotal to anti-fracking movement". According to studies, "The documentary helped shift fracking 'from a place of almost complete novelty' to 'an established and contentious position.'" Writing in the same vein at POV's Documentary Blog, Heather McIntosh ruminated on three docs that center around ice and dabble in issues surrounding climate change – Dena Seidel's ANTARCTIC EDGE: 70 DEGREES SOUTH, Jeff Orlowski's CHASING ICE, and Werner Herzog's ENCOUNTERS AT THE END OF THE WORLD.
Next week, I'll be making my bi-annual pilgrimage to Toronto for TIFF (the other being for Hot Docs), thus I'll be skipping next week's memo in favor of a cinematic feast like no other. While I'm away, if you have any tips or recommendations for the Memo, please contact me via email here, or on Twitter, @Rectangular_Eye. If you'll be in Toronto for the fest, drop me a line!