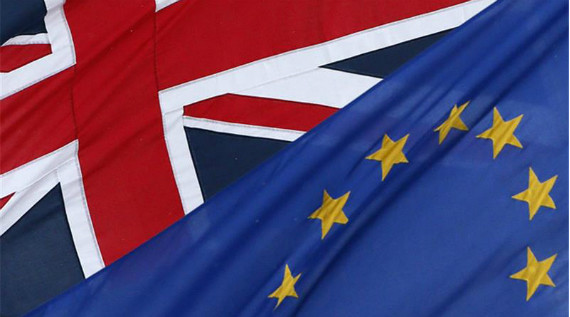 Anyone without their head buried in the sand is well aware of the shocking news that the people of the United Kingdom have voted to leave the European Union, causing mass confusion and panic among the filmmaking community. In a shower of stories listing the potential consequences for the financing and development of future films (see European Documentary Network's recent survey on the "Current Cost of Making Documentaries in Today's Audiovisual Market" for a look at that situation before the Brexit)
and the overall distribution processes currently in place, amongst others. Variety's Leo Barraclough published the first, followed by similarly alarming pieces from The Guardian's Andrew Pulver, The Hollywood Reporter's Scott Roxborough, The Verge's Sam Byford, and the Los Angeles Times' Rebecca Keegan and Ryan Faughnder. Essentially, it's not looking pretty. Perfectly timed, Artsy posted a beautiful feature by Tess Thackara on the Ghana-born, British filmmaker John Akomfrah and his new doc-based, migrant focused show at the Lisson Gallery in Manhattan that directly comments on the current Brexit situation.
Days before all of that went down, the Cinema Eye Honors revealed their 2017 Television Nonfiction Shortlist, including obvious choices like Laura Ricciardi and Moira Demos' MAKING A MURDERER and some pleasant surprises such as Steven Okazaki's HBO doc HEROIN, CAPE COD, USA and the Netflix release MY BEAUTIFUL BROKEN BRAIN by Lotje Sodderland and Sophie Robinson. Paula Bernstein reported on the announcement for Filmmaker Magazine.
This past weekend saw the conclusion both NYC's Human Rights Watch Film Festival and AFI Docs kicked off and finished in a matter of four short days. Daniel Walber listed his top five favorites seen at Human Rights Watch over at Nonfics, while Basil Tsiokos previewed the AFI Docs offerings and the Washingtonian staff recommended 14 films to see at the festival, including Dana Flor and Toby Oppenheimer's LGBT-gang doc CHECK IT and the BEST IN SHOW-flavored film CHICKEN PEOPLE by Nicole Lucas Haimes.
A few interesting lists cropped up this past week in The Playlist's top "20 Best Documentaries Of 2016 So Far" by Jessica Kiang and Katie Walsh, checking off must see films like CAMERAPERSON, LO AND BEHOLD and RISK, among other deserving titles like KATE PLAYS CHRISTINE and THE WITNESS. IndieWire's Eric Kohn and David Ehrlich also published their personal top ten films of the 21st Century, noting towering works of nonfiction in THE ACT OF KILLING and LEVIATHAN. And over at Sundance, Casey De La Rosa listed "Seven Docs To Watch If You're Mad As Hell About Th Orlando Shootings," with topics ranging from gun control to violence against the LGBT community and beyond.
Following the critical fervor caused by O.J.: MADE IN AMERICA's release, passionate new pieces from Thomas Ricker of The Verge, Jacob Paul at MUBI's Notebook, and Richard Brody of The New Yorker have surfaced. Another doc about an African American sports phenom hit screens this week in Ryan White's SERENA. The Serena Williams bio-doc was shown on Epix this past week, while an interview with the filmmaker by Nick McCarvel showed up at ESPN and a brief little feature by Sophie Gilbert appeared in The Atlantic. Meanwhile, James Luxford investigated "the curious rise of the authorised football biography" with the release of BECOMING ZLATAN in Little White Lies.
Another small screen release this week was the HBO premiered SUITED by Jason Benjamin, which features the Brooklyn-based tailoring company Bindle & Keep whose specialty is making beautiful clothes for gender nonconforming and transgender clients. Christine Champagne composed a loving piece on the film for Vanity Fair, Neil Genzlinger wrote a positive review in The New York Times, and Christopher Barnard interview Benjamin about the film for Paper.
Theatrically, this past week was busy. Penny Lane's wild, Sundance premiered doc NUTS! received the most attention, gleaning favorable pieces from Glenn Kenny in The New York Times, Eric Kohn at IndieWire, Sheila O'Malley of RogerEbert.com, and Don R. Lewis at Hammer to Nail. A pair of interviews with Lane herself also appeared via John Fink at The Film Stage and Elise Nakhnikian of Slant.  Thorsten Schütte's archival film EAT THAT QUESTION: FRANK ZAPPA IN HIS OWN WORDS also popped up in the press quite a bit with reviews from Glenn Kenny at RogerEbert.com, Tom Cole of NPR, The Los Angeles Times' Kenneth Turan and Neil Genzlinger in The New York Times. Across the pond, Chantal Akerman's final final NO HOME MOVIE finally reached theaters and was warmly received by The Guardian's Peter Bradshaw, Little White Lies's Phil Concannon and Nick Pinkerton in Sight & Sound. In tribute, Michael Ewins of the BFI listed 10 essential films by the late-filmmaker.
Other reviews included Robert Abele's take on UNLOCKING THE CAGE in The Los Angeles Times, Owen Gleiberman's piece on ART BASTARD in Variety, Louise Burton's review of THE MUSIC OF STRANGERS in The Chicago Tribune, Andy Webster's rumination on FROM THIS DAY FORWARD in The New York Times, Kiva Reardon's lengthy examination of THE LEAGUE OF EXOTIC DANCERS in POV Magazine and Marc Glassman's take on WEINER for the same outlet. Roberto Minervini also appeared in conversation with Luke Meyer at The Talkhouse discussing THE OTHER SIDE, Tomris Laffly spoke with TRAPPED director Dawn Porter at Film School Rejects and Jonathan Kiefer outlined the films of Michael Glawogger at Fandor's Keyframe.
I'll conclude this week with a set of pieces continuing the Kartemquin 50th anniversary celebration with a pair of interviews with Gordon Quinn by Hollywood Chicago's Patrick McDonald and IndieWire's Chris O'Falt, as well as a loving piece by Hillary Weston in which filmmaker Steve James speaks about his experiences working with Kartemquin and the art of documentary filmmaking. Until next week, if you have any tips or recommendations for next week's Memo, please contact me via email here, or on Twitter, @Rectangular_Eye.