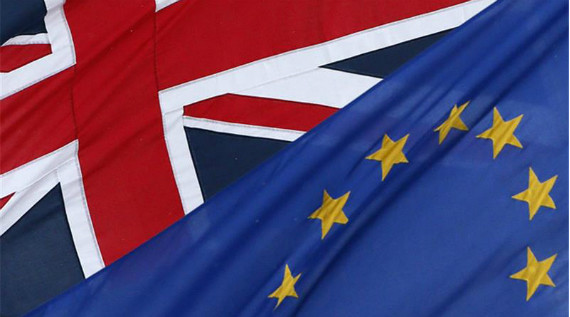 Anyone without their head buried in the sand is well aware of the shocking news that the people of the United Kingdom have voted to leave the European Union, causing mass confusion and panic among the filmmaking community. In a shower of stories listing the potential consequences for the financing and development of future films (see European Documentary Network's recent survey on the "Current Cost of Making Documentaries in Today's Audiovisual Market" for a look at that situation before the Brexit)
and the overall distribution processes currently in place, amongst others. Variety's Leo Barraclough published the first, followed by similarly alarming pieces from The Guardian's Andrew Pulver, The Hollywood Reporter's Scott Roxborough, The Verge's Sam Byford, and the Los Angeles Times' Rebecca Keegan and Ryan Faughnder. Essentially, it's not looking pretty. Perfectly timed, Artsy posted a beautiful feature by Tess Thackara on the Ghana-born, British filmmaker John Akomfrah and his new doc-based, migrant focused show at the Lisson Gallery in Manhattan that directly comments on the current Brexit situation.
Days before all of that went down, the Cinema Eye Honors revealed their 2017 Television Nonfiction Shortlist, including obvious choices like Laura Ricciardi and Moira Demos' MAKING A MURDERER and some pleasant surprises such as Steven Okazaki's HBO doc HEROIN, CAPE COD, USA and the Netflix release MY BEAUTIFUL BROKEN BRAIN by Lotje Sodderland and Sophie Robinson. Paula Bernstein reported on the announcement for Filmmaker Magazine.
This past weekend saw the conclusion both NYC's Human Rights Watch Film Festival and AFI Docs kicked off and finished in a matter of four short days. Daniel Walber listed his top five favorites seen at Human Rights Watch over at Nonfics, while Basil Tsiokos previewed the AFI Docs offerings and the Washingtonian staff recommended 14 films to see at the festival, including Dana Flor and Toby Oppenheimer's LGBT-gang doc CHECK IT and the BEST IN SHOW-flavored film CHICKEN PEOPLE by Nicole Lucas Haimes.
---