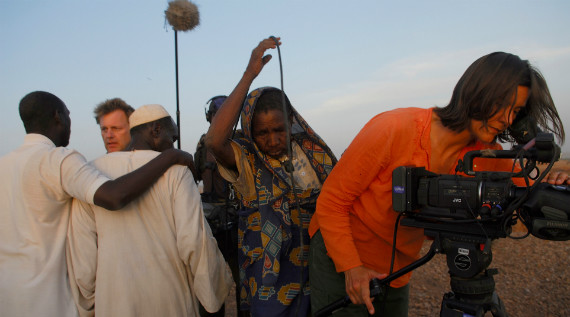 Being that this past week we wrapped up another successful season here at Stranger Than Fiction, there was much less doc news than last week's jam packed agenda, and it just so happens to be my birthday, I'm going to attempt to keep this week's memo brief. That said, the most reported on event this past week was the Sheffield Doc/Fest, which wrapped up Wednesday evening, unsurprisingly awarded Kirsten Johnson's CAMERAPERSON with the Grand Jury Award, and gave HBO's Sheila Nevins the Creative Leadership Award for making "an essential contribution to the international documentary industry." Alongside Nick Fraser, commissioner for BBC's Storyville, Nevins also took part in an 'In Conversation' event at the festival, which Realscreen's Manori Ravindran dutifully covered. At IndieWire, Chris O'Falt spoke with six doc filmmakers who have successfully pitched projects at the Sheffield Doc/Fest MeetMarket in the past about what worked and what didn't. Taking a broader look at the fest, Ros Cranston reflected on the formal and technical aspects of filmmaking that were on display in Sheffield for the BFI.
Just as Doc/Fest wrapped, Brooklyn's BAMcinemaFest was gearing up. Touching on the festival's offerings, including the various high profile docs lining the program, A.O. Scott wrote a preview feature of the fest in The New York Times, as did Calum Marsh in Village Voice, Matt Prigge for Metro, the staff at IndieWire and Basil Tsiokos at What (not) To Doc. Tsiokos also previewed the Edinburgh International Film Festival, which began the same day as BAMcinemaFest, and San Francisco's Frameline, which concludes Sunday, June 26th.
A few weeks back, Robert S. Boynton of The New York Times reported that The Museum of Modern Art had "wrongly canceled the New York debut of UNDER THE SUN, a documentary about North Korea that has been criticized by that country and Russia," which was previously scheduled to screen as part of the Doc Fortnight festival back in February. According to reports from Graham Winfrey at IndieWire and Artforum, in seemingly reactionary fashion MoMA has fired Assistant Film Curator Sally Berger, who has been with the museum for 30 years and made the decision to pull the film. In Filmmaker Magazine, Howard Feinstein has lionized Berger, lovingly stating that "nothing can take away from Berger's record of nonconforming achievements, ahead of their time in an environment hardly known for its artistic courage, especially before MoMA's acquisition of P.S. 1.," while reminding that she was a driving force in the development of Doc Fortnight and the promotion of postmodern and avant-garde non-fiction.
Now that Ezra Edelman's sprawling O.J.:MADE IN AMERICA can finally be seen in its entirety, our own Thom Powers and Raphaela Neihausen selected the ESPN series as WNYC's Documentary of the Week. Following the airing of the series' final episode, Scott Tobias reflected on its remarkable political impact over at Vulture, while David Sims did the same in The Atlantic. And while on the topic of sprawling, episodic non-fiction, Margy Rochlin of The Los Angeles Times spoke with Moira Demos and Laura Ricciardi about how the cultural response to MAKING A MURDERER has impacted their lives.
As anyone who's been paying attention to the doc industry this year probably knows, Kartemquin Films has been celebrating their 50th Anniversary this year (you can currently stream Steve James' STEVIE this week in honor of the occasion). This coming Friday in Chicago, Kartemquin will host their 50th Anniversary Gala, so IDA "asked founder/artistic director Gordon Quinn to share his thoughts on the ethical challenges he has faced over his rich and illustrious career," while Matt Fagerholm of RogerEbert.com spoke with Quinn about the lasting legacy of Kartemquin.
Doc filmmakers in search of development help should take note that the Carey Institute's Nonfiction Program is now taking Applications for its Fall 2016 Class of Fellows, and according to Emily Buder of No Film School, the Tribeca Film Institute has announced its filmmaker grant deadlines for the coming months. Meanwhile, Vida Weisblum of Observer outlined a new collaborative 'summer camp' in Maine for doc makers, put together by Tribeca Film Institute, Camden International Film Festival and CNN Films. And later this week, Union Docs will be hosting a very special six-part Documentary Fundamentals program, presented by (T)ERROR's co-director David Felix Sutcliffe and producer Christopher St. John, and "covering business basics, fundraising and financing, production and post-production strategies, transmedia campaigns, sales and distribution models.
Tonight, Dawn Porter's pivotal documentary centering on the legal battle behind abortion clinics in TRAPPED premieres on PBS. To help promote the film, Porter produced a short Op-Doc project titled THE CHOSEN LIFE, which is currently streaming. A few week's back, Porter appeared on Pure Nonfiction, discussing her latest feature with Thom Powers, while the latest episode of the podcast features Yo-Yo Ma and Morgan Neville talking about their inspiring collaborative project, THE MUSIC OF STRANGERS.
I'll leave you with a piece by Matt Zoller Seitz in which he highlights eight films, several of which are docs, that Roger Ebert's voice made a big critical and financial difference. As always, if you have any tips or recommendations for next week's Memo, please contact me via email here, or on Twitter, @Rectangular_Eye.