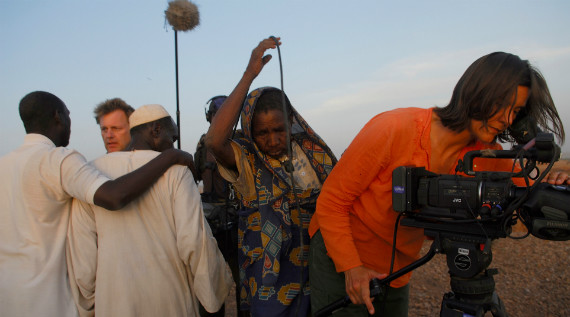 Being that this past week we wrapped up another successful season here at Stranger Than Fiction, there was much less doc news than last week's jam packed agenda, and it just so happens to be my birthday, I'm going to attempt to keep this week's memo brief. That said, the most reported on event this past week was the Sheffield Doc/Fest, which wrapped up Wednesday evening, unsurprisingly awarded Kirsten Johnson's CAMERAPERSON with the Grand Jury Award, and gave HBO's Sheila Nevins the Creative Leadership Award for making "an essential contribution to the international documentary industry." Alongside Nick Fraser, commissioner for BBC's Storyville, Nevins also took part in an 'In Conversation' event at the festival, which Realscreen's Manori Ravindran dutifully covered. At IndieWire, Chris O'Falt spoke with six doc filmmakers who have successfully pitched projects at the Sheffield Doc/Fest MeetMarket in the past about what worked and what didn't. Taking a broader look at the fest, Ros Cranston reflected on the formal and technical aspects of filmmaking that were on display in Sheffield for the BFI.
Just as Doc/Fest wrapped, Brooklyn's BAMcinemaFest was gearing up. Touching on the festival's offerings, including the various high profile docs lining the program, A.O. Scott wrote a preview feature of the fest in The New York Times, as did Calum Marsh in Village Voice, Matt Prigge for Metro, the staff at IndieWire and Basil Tsiokos at What (not) To Doc. Tsiokos also previewed the Edinburgh International Film Festival, which began the same day as BAMcinemaFest, and San Francisco's Frameline, which concludes Sunday, June 26th.
A few weeks back, Robert S. Boynton of The New York Times reported that The Museum of Modern Art had "wrongly canceled the New York debut of UNDER THE SUN, a documentary about North Korea that has been criticized by that country and Russia," which was previously scheduled to screen as part of the Doc Fortnight festival back in February. According to reports from Graham Winfrey at IndieWire and Artforum, in seemingly reactionary fashion MoMA has fired Assistant Film Curator Sally Berger, who has been with the museum for 30 years and made the decision to pull the film. In Filmmaker Magazine, Howard Feinstein has lionized Berger, lovingly stating that "nothing can take away from Berger's record of nonconforming achievements, ahead of their time in an environment hardly known for its artistic courage, especially before MoMA's acquisition of P.S. 1.," while reminding that she was a driving force in the development of Doc Fortnight and the promotion of postmodern and avant-garde non-fiction.
---