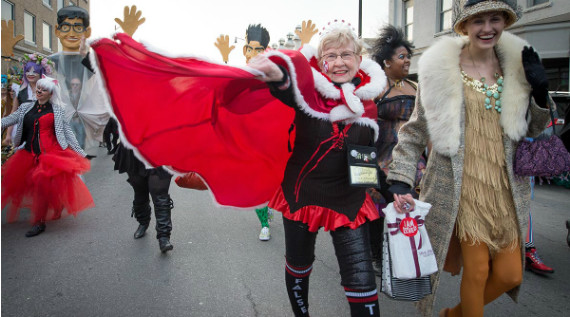 As you may have noticed, there was no Monday Memo last week thanks to the remarkable celebration of non-fiction cinema that is True/False Film Festival in Columbia, Missouri, which I had the pleasure of attending for the second year in a row. My thoughts on this year's edition can be found over at IONCINEMA, as well as a trio of interviews that will follow shortly. Despite the festival's rather small line-up, with each passing year it seems to garner more international attention thanks to its intelligent curation, community focused outlook and baseline fun factor. Steven Zeitchik of The Los Angeles Times wrote no less than four dispatches from the fest, outlining what sets it apart from other festivals, noting formal trends and thematic through-lines, as well as the game-shows and other carnivalesque happenings that only happen at True/False.
A whole host of other True/False round-ups were logged by indieWIRE's Sam Adams, Hammer to Nail's Jim Brunzell, AV Club's Noel Murray, Alissa Wilkinson at RogerEbert.com, and Vadim Rizov, who posted a pair of dispatches at Filmmaker Magazine that focus "on the thorny subject of what happens when documentaries do — or antagonistically don't — try to serve as compassionate ambassadors to the world on behalf of their subjects." More specifically, indieWIRE's Chris O'Falt reported on the emotionally charged premiere of CONCERNED STUDENT 1950, as well as exactly why a handful of filmmakers choose to have their films shown as a one of True/False's fabled secret screenings before their world premiere at a festival geared more toward sales and distribution deals.
Here at Stranger Than Fiction, our winter season continues this week with a pair of screenings in Gabriel London's THE MIND OF MARK DEFRIEST, about the legendary escape artist on Tuesday, and on Thursday, a special 10 Year Anniversary screening of the cult-hit documentary DARKON, by Luke Meyer & Andrew Neel, about American LARPers. The filmmakers of both films will be present for post-screening Q&As at each of their respective screenings. Tickets to both screenings are still available and can be purchased here.
---