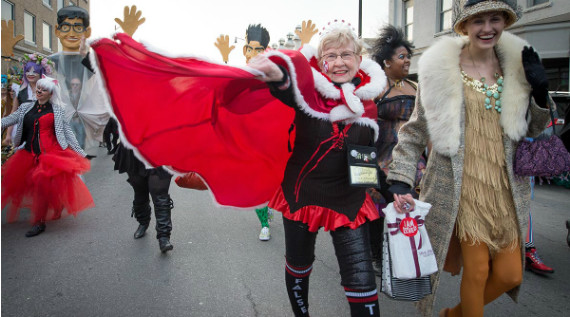 As you may have noticed, there was no Monday Memo last week thanks to the remarkable celebration of non-fiction cinema that is True/False Film Festival in Columbia, Missouri, which I had the pleasure of attending for the second year in a row. My thoughts on this year's edition can be found over at IONCINEMA, as well as a trio of interviews that will follow shortly. Despite the festival's rather small line-up, with each passing year it seems to garner more international attention thanks to its intelligent curation, community focused outlook and baseline fun factor. Steven Zeitchik of The Los Angeles Times wrote no less than four dispatches from the fest, outlining what sets it apart from other festivals, noting formal trends and thematic through-lines, as well as the game-shows and other carnivalesque happenings that only happen at True/False.
A whole host of other True/False round-ups were logged by indieWIRE's Sam Adams, Hammer to Nail's Jim Brunzell, AV Club's Noel Murray, Alissa Wilkinson at RogerEbert.com, and Vadim Rizov, who posted a pair of dispatches at Filmmaker Magazine that focus "on the thorny subject of what happens when documentaries do — or antagonistically don't — try to serve as compassionate ambassadors to the world on behalf of their subjects." More specifically, indieWIRE's Chris O'Falt reported on the emotionally charged premiere of CONCERNED STUDENT 1950, as well as exactly why a handful of filmmakers choose to have their films shown as a one of True/False's fabled secret screenings before their world premiere at a festival geared more toward sales and distribution deals.
Here at Stranger Than Fiction, our winter season continues this week with a pair of screenings in Gabriel London's THE MIND OF MARK DEFRIEST, about the legendary escape artist on Tuesday, and on Thursday, a special 10 Year Anniversary screening of the cult-hit documentary DARKON, by Luke Meyer & Andrew Neel, about American LARPers. The filmmakers of both films will be present for post-screening Q&As at each of their respective screenings. Tickets to both screenings are still available and can be purchased here.
While True/False was the talk of the online town this past week, a slew of other festivals dropped line-up announcements, including Hot Docs, Full Frame, Tribeca, and Art of the Real. Fresh off of True/False himself, Basil Tsiokos wrote up overviews of the Tribeca offerings, as well their second wave of revealed titles. He also previewed the films to make their debut at this week at SXSW and the Thessaloniki Documentary Festival. In the same vein, Realscreen's Daniele Alcinii reported on the projects selected by the European Documentary Network to take part in Thessaloniki's forum, as well as the films announced as part of the upcoming Hot Docs Forum. Alcinii also outlined the various doc related talks and panels taking place at SXSW, while Tom Roston listed his top ten docs to catch at the fest over at Doc Soup. The London Human Rights Watch Film Festival also popped up in the press this week via Sophie Monks Kaufman at Little White Lies, as she singled out PS JERUSALEM and questioned why we engage with films about such marginalized suffering.
In theatrically screened docs, Laura Gabbert's marvelous food critic doc CITY OF GOLD was named a NYT Critics' Pick by A.O. Scott, Variety's Justin Chang warmly regarded Robert Cannan and Ross Adam's THE LOVERS AND THE DESPOT, and Daniel Walber raved about Jon Nealon and Jenny Raskin's HERE COME THE VIDEOFREEX over at Nonfics. Dawn Porter's abortion advocacy film TRAPPED received a pair of positive reviews from The Guardian's Nigel M. Smith and RogerEbert.com's Nick Allen. Huck Magazine's Alex King wrote a feature on the women depicted in Amber Fares' SPEED SISTERS, Truthout's Mike Ludwig spoke with Filmmaker Josh Fox about his latest film HOW TO LET GO OF THE WORLD: AND LOVE ALL THE THINGS CLIMATE CAN'T CHANGE, and Hillel Italie of The Washington Post highlighted Poet-activist Sonia Sanchez and the new film in which she is the central subject, BADDDDD SONIA SANCHEZ.
And hot of the festival trails of True/False, Robert Greene's KATE PLAYS CHRISTINE was previewed by Jordan Cronk at Sight & Sound, while Adam Cook interviewed the filmmaker about his follow-up to ACTRESS over at Fandor's Keyframe. Meanwhile, The Guardian's Nigel M. Smith reviewed SONITA by director Rokhsareh Ghaemmaghami, Scott Tobias reviewed Tony Stone's PETER AND THE FARM for Variety, as well as the world premiere of Brett Story's THE PRISON IN TWELVE LANDSCAPES, as did Sheri Linden for The Hollywood Reporter.
On the doc development front, the National Film Board of Canada's newly announced commitment to allocate 50% of its production budget to films by women is huge news, while the International Documentary Association's Lauren Cardillo, in covering the Realscreen Summit, reports that docs are now a content priority for cable networks. Also at IDA, Lisa Hasko has put together a comprehensive list of grants and development opportunities for filmmakers this spring and summer.
After a crazed week of travel and moving, I'll leave you a great little list by Michael Gonchar of 8 Op-Docs that teach close reading and critical thinking skills. Until next week, if you have any tips or recommendations for the Memo, please contact me via email here, or on Twitter, @Rectangular_Eye.