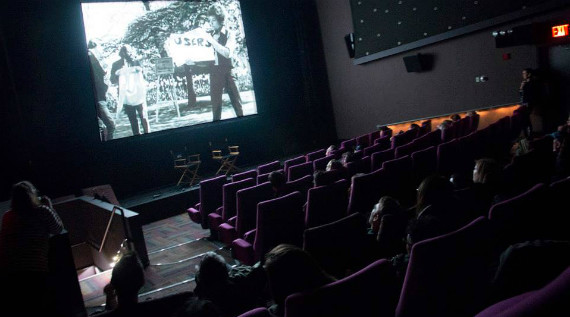 The winter season of Stranger Than Fiction, our weekly documentary film series hosted by Thom Powers and Raphaela Neihausen and presented by IFC Center, has been announced! Each screening features a conversation with the filmmaker or other special guests, followed by a gathering at a nearby bar. The winter slate opens with OXD: ONE EXTRAORDINARY DAY, focusing on Elizabeth Streb's Extreme Action Company with director Craig Lowy and Streb in person. Other highlights include a sneak preview of Dawn Porter's TRAPPED, about abortion providers struggling to stay in business, soon after its Sundance Film Festival premiere; and the 15th anniversary screening of Kate Davis' SOUTHERN COMFORT, about a transgender couple in the American south, that's being staged this winter as a new musical at the Public Theater.
"This season's stories are truly stranger than fiction with death-defying acrobats, mysterious disappearances, and utopian inventors," said Artistic Director Thom Powers. "We invite newcomers to join our community of documentary lovers for special guests, lively conversations and receptions." The eclectic range of characters on screen include a visionary battling the government in NEWMAN; a prisoner determined to escape in THE MIND OF MARK DEFRIEST; media pioneers in HERE COMES THE VIDEOFREEX; and Pakistani madrasa students in AMONG THE BELIEVERS. Two screenings honor films on their 10th anniversaries: ABDUCTION: THE MEGUMI YOKOTA STORY about North Korea's kidnapping program and DARKON about live action role-players.
The STF winter season takes place at the IFC Center every Tuesday night at 7:30 for eight weeks (plus an added special screening on Thurs, Mar 17). The winter season closes on March 22. The full season schedule appears below. For more information, visit ifccenter.com.
Stranger Than Fiction: Winter 2016 Season 7:30pm Tuesdays at IFC Center, Feb 2 – Mar 22
Each show features a Q&A with the director or other special guests
Feb 2: Opening Night – OXD: ONE EXTRAORDINARY DAY (2015,Q&A w/ dir Craig Lowy & choreographer Elizabeth Streb)
Feb 9: ABDUCTION: THE MEGUMI YOKOTA STORY (2006, Q&A w/ Robert Boynton, author of "The Invitation-Only Zone")
Feb 16: TRAPPED (2016, Q&A TBA)
Feb 23: HERE COME THE VIDEOFREEX (2015, Q&A w/ dirs. Jon Nealon & Jenny Raskin)
Mar 1: SOUTHERN COMFORT (2001, Q&A w/ dir Kate Davis)
Mar 8: NEWMAN (2015, Q&A w/ dir Jon Fox)
Mar 15:  THE MIND OF MARK DEFRIEST (2014, Q&A w/ dir Gabriel London)
Mar 17: Thursday Special – DARKON (2006, Q&A w/ dirs Luke Meyer & Andrew Neel)
Mar 22: Closing Night – AMONG THE BELIEVERS (2015, Q&A w/ dirs. Hemal Trivedi, Mohammed Ali Naqvi, & writer Jonathan Goodman Levitt)
Tickets for Stranger Than Fiction screenings are $16 for the general public and $13 for IFC Center members. A Season Pass, good for admission to all 9 evenings in the winter season, is available for $99 ($80 for IFC members).