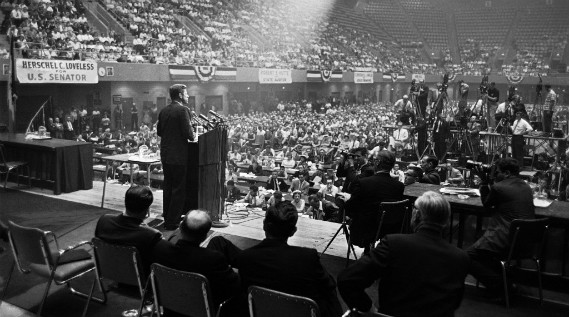 It was a busy weekend, with the '16 Berlinale kicking off with Gianfranco Rosi's FIRE AT SEA, the True/False Film Fest announcing this year's lineup along with their '16 True Vision Award Recipient, Mehrdad Oskouei, and the British Academy Film Award for Best Documentary being awarded to Asif Kapadia's AMY! Looking further back in the week, writing at What (not) To Doc, Basil Tsiokos gave an overview of the non-fiction offerings in Berlin, as well as the latest additions to this year's SXSW lineup, which included a handful of features and the whole of the doc shorts program. Daniele Alcinii also reported on the SXSW announcements at Realscreen, while the full lineup can be found here.
Tomorrow, Dawn Porter, the award-winning filmmaker of GIDEON'S ARMY, will make her first appearance at Stranger Than Fiction with her new film TRAPPED, fresh from winning a Special Jury Prize at the Sundance Film Festival. She'll be joined at this screening by David Brown, staff attorney at the Center for Reproductive Rights, who is one of the lead litigators in the Supreme Court case on abortion access. We here at Stranger Than Fiction also announced that we've added a special one night event, THE MAKING OF 'MAKING A MURDERER', to our 2016 Winter Season, a live 90-minute conversation between Thom Powers and MAKING A MURDERER directors Laura Ricciardi and Moira Demos, accompanied by clips, focusing on how the project came into being. On Thursday, February 25th, they'll discuss the ten year process of reporting, editing and releasing the series. Tickets for this event are now on sale and going quick!
While this past weekend has been filled with doc news, the weekdays prior were a bit slow, with just a handful of theatrical release reviews and festival holdovers trickling in. Following a semi-serious stint in an ICU with pneumonia, Michael Moore continues to promote his latest film WHERE TO INVADE NEXT. In what may be a first for the publication, The Intercept has posted a piece on the subversive nature of Moore's latest film by one of the filmmaker's frequent collaborators, Jon Schwarz. In tandem, the Film Society of Lincoln Center published a live conversation between Moore and Kent Jones, as they discuss his latest film.
Our own Raphaela Neihausen and Thom Powers noted the reemergence of the late filmmaker Henry Hampton's 14-hour history of civil rights EYES ON THE PRIZE, naming it WNYC's Documentary of the Week, as its scheduled to be rebroadcast on public television's World Channel at month's end. Another film that resurfaced this week, courtesy of MUBI, was L.M. Kit Carson and Lawrence Schiler's newly restored cult doc on Dennis Hopper, THE AMERICAN DREAMER. Mike Opal unpacked the wild doc as part of MUBI's Notebook, while filmmaker Alex Ross Perry gave his impressions on the film over at The Talkhouse.
Other doc related pieces included Scott Shane's review of Greg Barker's HOMEGROWN in The New York Times, Michael O'Sullivan's piece on STF alum WINTER ON FIRE: UKRAINE'S FIGHT FOR FREEDOM in The Washington Post, and Tambay A. Obenson's first look at Jessica Edwards' MAVIS! at indieWIRE. The Los Angeles Times published a pair of reviews, Steven Zeitchik's thoughts on the Sundance prize-winner KATE PLAYS CHRISTINE and Mary McNamara's warmly regarding piece on A BALLERINA'S TALE.Christopher K. Walker and Michael Beach Nicholas' WELCOME TO LEITH received a rave from Luke Channell at Little White Lies, while Mark Kermode of The Guardian reviewed JANIS: LITTLE GIRL BLUE, Variety's Geoff Berkshire reviewed UNDER THE GUN and Ben Kenigsberg published a piece on THE SETTLERS. In addition, Adam White of Huck Magazine spoke with the filmmakers of MERU about their death defying doc project.
Looking toward the upcoming release of her book and back at the recent opening of her gallery show, both titled ASTRO NOISE, Laura Poitras spoke with Nicolas Rapold in Film Comment, while Clare Foran of The Atlantic wrote a feature on her immersive exhibition at the Whitney.
Doc filmmakers should note that the Toronto International Film Festival is now taking submissions for this year's edition. Also Toronto based, Hot Docs is also taking submissions for their BravoFACT Short Film Pitch. Writing for Forbes, Devin Thorpe highlighted the socially conscious cinema project UPTOGOOD.org, which Thorpe calls "part crowdfunding, part petition platform and partly a platform for committing people to change their behavior, all driven by video stories. Founded by sisters Mika and Emi Onishi, the site is focused on causes."
If you've been trying to catch up with all the Oscar nominees, Todd VanDerWerff wrote a piece for Vox outlining the noms and directing you to where you can watch each of them. The New York Times, in collaboration with Frontline, have published a doc online about fantasy sports and online gambling titled THE FANTASY SPORTS GAMBLE, while Op-Docs published Paulina Skibińska's new short OBJECT: BELOW THE ICE. And Kartemquin Films continues their 50th Anniversary celebrations this week by streaming the 1974 doc TRICK BAG for free.
I'll sign off this week with Film Comment's announcement that they've added three new regular online columns by female film critics Farran Smith Nehme, Margaret Barton-Fumo, and Violet Lucca. Until next week, if you have any tips or recommendations for the Memo, please contact me via email here, or on Twitter, @Rectangular_Eye.