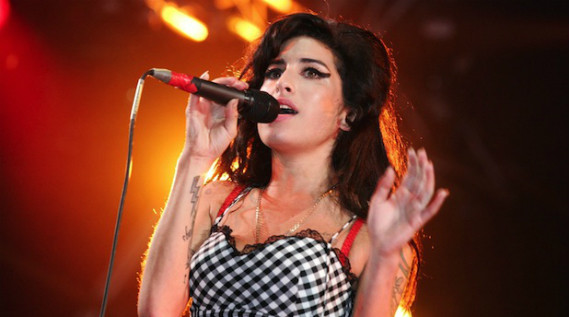 Anyone with an interest in cinema and an internet connection surely is aware that the Cannes Film Festival is currently in full swing with a full week of auteurist-driven cinephelia left to go. Swirling around in that first wave whirlwind of festival news is word that SENNA filmmaker Asif Kapadia's latest archival driven docu-portrait AMY is apparently quite the masterwork. In his review for The Guardian, Peter Bradshaw calls the film "a tragic masterpiece", meanwhile Variety's Guy Lodge writes that it is a "reserved yet profoundly felt film". Stephen Dalton of The Hollywood Reporter, The Independent's Geoffrey Macnab, Indiewire's Kaleem Aftab and The Wrap's Steve Pond all gushed about Kapadia's raw portrait of the late singer Amy Winehouse. Only Sophie Monks Kaufman of Little White Lies, who called the film "melodramatic" and "opportunistic", and the singer's much blamed father Mitch Winehouse, who spoke with Emine Saner at The Guardian about his disdain for the film, had anything truly negative to report.
Nancy Buirski's autobiographical BY SIDNEY LUMET, which grew out of a never-before-seen interview shot in 2008 produced by the late filmmaker Daniel Anker, also premiered at Cannes over the weekend, alongside Gabriel Clarke and John McKenna's STEVE MCQUEEN: THE MAN AND LE MANS, which ruminates on McQueen's involvement with the troubled Lee H. Katzin picture from 1971. At RogerEbert.com, Ben Kenigsberg concludes that Buirski's film is a bit loose, but remains insightful. David Rooney of The Hollywood Reporter also favored the film, dubbing it "illuminating". On Clarke and McKenna's film, Todd McCarthy of The Hollywood Reporter thought their picture "fascinating", but lacked the punchiness of its decisive star. An in-depth preview of the film was also published at The Independent prior to its premiere.
Most interestingly for the doc community, for the first time in the festival's history, a new documentary prize dubbed the Oeil d'Or (Golden Eye) that comes with a prize of 5,000 euro will be handed out at the festival's closing ceremony. The prize will be awarded by a jury presided over by Cambodian filmmaker Rithy Panh, whose own THE MISSING PICTURE premiered at the festival two years ago. Richard Mowe detailed the prize over at Eye For Film. At the same time, Daniel Walber speculated on the inaugural prize winner, debating the potential of the 14 features eligible for the award at Nonfics.
While the cinematic deluge abroad continues, here at Stranger Than Fiction we will be forging ahead with our Spring Season tomorrow with director Marah Strauch's spectacular debut SUNSHINE SUPERMAN. Rich with stunning 16mm archive footage, well-crafted re-enactments and state-of-the-art aerial photography, the TIFF premiered film tells the story of BASE jumping pioneer Carl Boenish. Both Strauch and producer Eric Bruggeman will be on hand for a post-screening Q&A at tomorrow's showing at the IFC Center.
Last week at DocumentaMadrid 2015, Alfonso Rivera reported for Cineuropa that the jury prize for best documentary went to British filmmakers Saeed Taji Farouky and Michael McEvoy for their film TELL SPRING NOT TO COME THIS YEAR. Second prize went to Hanna Polak's IDFA preemed-but-since-reworked SOMETHING BETTER TO COME and the Audience Award went, unsurprisingly, to Joshua Oppenheimer for THE LOOK OF SILENCE. The full list of awards can be found here. It was also announced this week that AFI Docs will open with Robert Gordon and Morgan Neville's BEST OF ENEMIES and close with Jessica Edwards' MAVIS. Manori Ravindran reported the news for Realscreen. And to top off the festival related docu-goodies, I posted a review at IONCINEMA.com of Nicolas Steiner's gorgeous sci-fi tinged portrait of societal derelects in ABOVE AND BELOW which recently screened as part of Hot Docs.
The most written about theatrical release of the week was Belinda Sallin's illuminating portrait of a wholly original artist in DARK STAR: H.R. GIGER'S WORLD. Reviews of the film popped up from The Dissolve's Keith Phipps, CutPrintFilm's Carlyle Edmundson, RogerEbert.com's Simon Abrams, and the Criterion Cast's Joshua Brunsting, each in varying degrees of positive. Accenting the critical commentary, Alison Nastasi spoke with the film's director over at Flavorwire.
Samantha Fuller's doc about her famed father A FULLER LIFE also garnered some attention with a review from Forrest Cardamenis at Little White Lies, as well as a web exclusive feature interview with Neil McGlone in Sight & Sound. Drew Taylor and Larry Weinstein's OUR MAN IN TEHRAN was also received a review by Joshua Brunsting at the Criterion Cast, as did Felix Moeller's FORBIDDEN FILMS by The Dissolve's Andrew Lapin.
On the small screen, Gillian Laub's SOUTHERN RITES receives its public premiere via HBO tonight at 9 pm. The film was reviewed in both the New York Times, by Alessandra Stanley, and the Huffington Post, by Lilly Workneh. Laub was also featured this past week in a pair of interviews, one by Vanessa Grigoriadis at The Cut, the other by Ted Johnson in Variety's PopPolitics.
John Koblin of the New York Times as also reported that "the founding executive producer [of FRONTLINE], David Fanning, is stepping down at the end of the month, and Raney Aronson, the colleague he has been grooming for several years, will take over." After 32 years of working on the award winning PBS documentary series, he "said that he wanted to start making documentary films again, and that he needed to step aside for the show to continue to thrive."
With the news rolling out last weekend that Agnès Varda would receive the Honorary Palme d'Or at this year's 68th Cannes Festival, its no surprise then that the beloved filmmaker has gotten a bit of attention this past week. Violet Lucca published a lengthy interview with Varda over at Film Comment, and in the same cinematic wheelhouse, she also appeared in recent episode of the Film Society of Lincoln Center's The Close-Up.
This past week Indiewire published a massive swath of documentary filmmaking advice, chief amongst it their annual Ultimate Guide To Documentary Filmmaking, which outlines in a series of articles the ins and outs of the biz, from start to finish. Shipra Harbola Gupta also wrote a piece on nine deadlines doc filmmakers should not miss, while Anthony Kaufman wrote a substantial piece on the emotional backbone of the nonfiction fundraising project Good Pitch. Continuing the non-fiction development discussion outside of Indiewire, Manori Ravindran reported on a Hot Docs industry session with Netflix exec Marjon Javadi, who heads acquisitions and production for documentaries with the Originals team, in which she discusses her "pitching requirements and what she's looking for in both features and docuseries". And while on the topic of streaming services, it should be noted that SundanceNow Doc Club has joined the original content game with their first acquisition, Sophie Deraspe's THE AMINA PROFILE, reports David Canfield for Indiewire. Lastly, female filmmakers should mark their calendars, as Chicken & Egg Pictures applications for the 2015 Accelerator Lab are now being accepted and the deadline for submission is Tuesday, June 10th at 5:00 pm.
A pair of newly streaming shorts can be found streaming this week in Ann Shin new Op-Doc short MY ENEMY, MY BROTHER, while Vdrome is playing host to Ben Russell's ATLANTIS (but only until tomorrow, so watch it now!)
I'll leave you this week with a docu-mixtape of sorts – a list of six docs recommended by CALL ME LUCKY director Bobcat Goldthwait, posted by Jason Gorber over at Nonfics.
As usual, until next week, if you have any tips or recommendations for the Memo, please contact me via email here, or on Twitter, @Rectangular_Eye. I look forward to hearing from you!