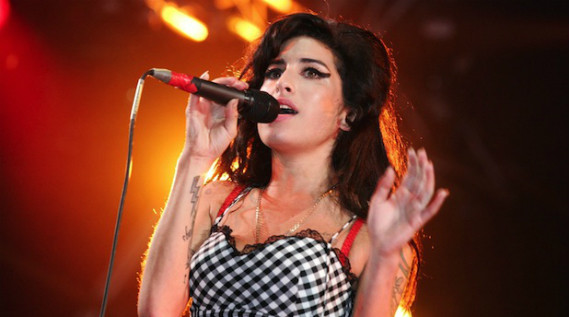 Anyone with an interest in cinema and an internet connection surely is aware that the Cannes Film Festival is currently in full swing with a full week of auteurist-driven cinephelia left to go. Swirling around in that first wave whirlwind of festival news is word that SENNA filmmaker Asif Kapadia's latest archival driven docu-portrait AMY is apparently quite the masterwork. In his review for The Guardian, Peter Bradshaw calls the film "a tragic masterpiece", meanwhile Variety's Guy Lodge writes that it is a "reserved yet profoundly felt film". Stephen Dalton of The Hollywood Reporter, The Independent's Geoffrey Macnab, Indiewire's Kaleem Aftab and The Wrap's Steve Pond all gushed about Kapadia's raw portrait of the late singer Amy Winehouse. Only Sophie Monks Kaufman of Little White Lies, who called the film "melodramatic" and "opportunistic", and the singer's much blamed father Mitch Winehouse, who spoke with Emine Saner at The Guardian about his disdain for the film, had anything truly negative to report.
Nancy Buirski's autobiographical BY SIDNEY LUMET, which grew out of a never-before-seen interview shot in 2008 produced by the late filmmaker Daniel Anker, also premiered at Cannes over the weekend, alongside Gabriel Clarke and John McKenna's STEVE MCQUEEN: THE MAN AND LE MANS, which ruminates on McQueen's involvement with the troubled Lee H. Katzin picture from 1971. At RogerEbert.com, Ben Kenigsberg concludes that Buirski's film is a bit loose, but remains insightful. David Rooney of The Hollywood Reporter also favored the film, dubbing it "illuminating". On Clarke and McKenna's film, Todd McCarthy of The Hollywood Reporter thought their picture "fascinating", but lacked the punchiness of its decisive star. An in-depth preview of the film was also published at The Independent prior to its premiere.
Most interestingly for the doc community, for the first time in the festival's history, a new documentary prize dubbed the Oeil d'Or (Golden Eye) that comes with a prize of 5,000 euro will be handed out at the festival's closing ceremony. The prize will be awarded by a jury presided over by Cambodian filmmaker Rithy Panh, whose own THE MISSING PICTURE premiered at the festival two years ago. Richard Mowe detailed the prize over at Eye For Film. At the same time, Daniel Walber speculated on the inaugural prize winner, debating the potential of the 14 features eligible for the award at Nonfics.
While the cinematic deluge abroad continues, here at Stranger Than Fiction we will be forging ahead with our Spring Season tomorrow with director Marah Strauch's spectacular debut SUNSHINE SUPERMAN. Rich with stunning 16mm archive footage, well-crafted re-enactments and state-of-the-art aerial photography, the TIFF premiered film tells the story of BASE jumping pioneer Carl Boenish. Both Strauch and producer Eric Bruggeman will be on hand for a post-screening Q&A at tomorrow's showing at the IFC Center.
---