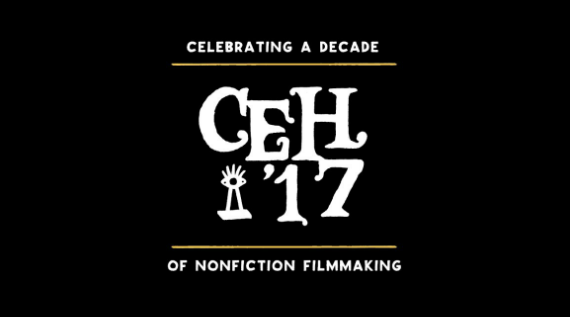 First off, I apologize for missing the memo last week. I had prepped one celebrating both my wife's birthday, as well as the release of DOC NYC's and IDFA's full lineups, but a family emergency reared its head and everything else got sidelined for a few days. The good news is that all is ok for the time being and I'm back for another week of exciting doc news! Settling at the top was Cinema Eye Honors announcement of the 2016 Unforgettables, the 15 best doc subjects of the year, including Huma Abedin and Anthony Weiner of WEINER, Laura Albert of AUTHOR: THE JT LEROY STORY and Kate Lyn Shiel from KATE PLAYS CHRISTINE. Additionally, they revealed that the Museum of the Moving Image will host "a 10-week series highlighting films from the first #CEHDecade: "Pushing the Envelope: A Decade of Documentary's Cinema Eye Honors". The series will kick off Friday, November 4, 2016 with the first winner of Cinema Eye's Outstanding Nonfiction Feature award, Jason Kohn's MANDA BALA (SEND A BULLET)."
In the same vein, the Gotham Independent Film Awards released their full list of nominees, including the documentary category. Oddly, their website still lists last year's info, but the trades all picked up the press release, with CAMERAPERSON, I AM NOT YOUR NEGRO, O.J.: MADE IN AMERICA, TOWER and WEINER listed as the doc nominees. And while the festival circuit was fairly quiet this week, Portugal's Doclisboa did kick off on Thursday evening and Basil Tsiokos wrote an overview of the new features on offer over at What (not) To Doc, noting new work by João Monteiro and several world premiering competition titles in Kimi Takesue's 95 AND 6 TO GO, Yuki Kawamura's A FRIEND FROM SIBERIA, Ludovica Tortora de Falco's DO NOT TOUCH ME!, and Maximiliano Schonfeld's THE SLEEPING TIGER.
Here at Stranger Than Fiction, our Jonathan Demme documentary retrospective continues tomorrow at the IFC Center with his New Orleans set I'M CAROLYN PARKER: THE GOOD, THE MAD, AND THE BEAUTIFUL from 2011. Director Demme and Demme and producer Daniel Wolff will be on hand for a post-screening Q&A. Tickets for the screening can still be purchased here.
As we near the final showdown of this rather calamitous election cycle, we probably shouldn't be surprised to hear that not one, but two films about Donald Trump are on their way to the masses, ASAP. Michael Moore made a surprise announcement that his latest project, MICHAEL MOORE IN TRUMPLAND, would have its free world premiere at the IFC Center on the 19th. Just about everyone reported on the announcement itself, but only a handful of critics managed to actually see the film prior to its forthcoming theatrical and iTunes releases, which Moore is self distributing, reports Tatiana Siegel of The Hollywood Reporter. Salon's Sophia A. McClennen was among the lucky few, concluding that "Moore's new film seeks to humanize Trump supporters and Hillary Clinton and mend our divisions — and it succeeds." Neil Genzlinger of The New York Times was less impressed, calling it a "stand-up comedy routine…(that) gives way to a stretch that sounds like a commencement address," and Kenneth Turan of the Los Angeles Times and Adi Robertson of The Verge seem to generally agree. Jason Newman of Rolling Stones however embraces the film, interviewing the filmmaker about his latest project and the election itself.
While Michael Moore may have stolen the spotlight, Anthony Baxter has apparently been quietly making a sequel to his enraging 2011 doc YOU'VE BEEN TRUMPED, cheekily titled YOU'VE BEEN TRUMPED TOO. According to reports from Maya Parthasarathy at Bustle and Sam Barsanti of A.V. Club, the film is already in the can and Baxter is now trying to raise last minute funding to get the film out to the public before the election via Kickstarter. Currently, the film is scheduled to have its world premiere Friday, October 28 at AMC Loews on 34th Street in New York City. Most interestingly, Tom Roston wrote a brilliant piece to accompany these Trump-centric docs, outlining how documentarians have covered Trump throughout the years at Doc Soup.
Though Moore's film has certainly been the hottest ticket in town, it was Gianfranco Rosi's FIRE AT SEA that laid claim as the most well regarded theatrical release of the week. The Golden Bear winner was named a NYT Critics' Pick by A.O. Scott, while Tony Pipolo warmly summerized in Artforum, "If any single trait defines Rosi's approach to his work, it might well be trust: trust in human nature to reveal itself without adornment, trust in his camera to observe the world without artificial technique, and trust in the viewer to see, reflect, and learn without the prodding of well-meaning sermonizing. FIRE AT SEA is nothing less than a work of moral character." Similarly positive pieces were logged by Daniel Walber at Movie Mezzanine and Glenn Kenny at RogerEbert.com, as Liz Nord spoke with the filmmaker himself for No Film School.
A couple weeks back, I noticed that streaming docs had attracted more attention that theatrical releases for a brief moment. This week, the same can be said about a pair of docs making their primetime premieres on the good old boob-tube. Morgan Spurlock & Jeremy Chilnick's riotously schlocky horror doc RATS overtook the Discovery Channel over the weekend, gleaning reviews from Emily Zemler at Esquire and Luke Y. Thompson of Nerdist, as well as a handful of interview spots with Jeff Haden of Inc, Ken W. Hanley of Fangoria, Michael Dunaway of Paste, and our own Thom Powers in the latest episode of Pure Nonfiction. Fisher Stevens' Leonardo DiCaprio starred climate change doc BEFORE THE FLOOD hit National Geographic Friday night, finding critical attention from Robert Abele of The Los Angeles Times and Neil Genzlinger of The New York Times, and a pair of interviews with Eleanor Halls of GQ Magazine and Eileen G'Sell in Salon. And at Wired, Logan Hill wrote an extensive preview of the upcoming National Geographic doc mini-series MARS, directed by Everardo Gout.
I'm signing off this week with a link to the latest episode of the Film Comment podcast featuring a conversation with Errol Morris on the current election cycle, and heads-up that HOOLIGAN SPARROW, which features Cinema Eye Honor Unforgettable Ye Haiyan, is currently free to stream via POV. Until next week, if you have any tips or recommendations for the Memo in the meantime, please contact me via email here, or on Twitter, @Rectangular_Eye.