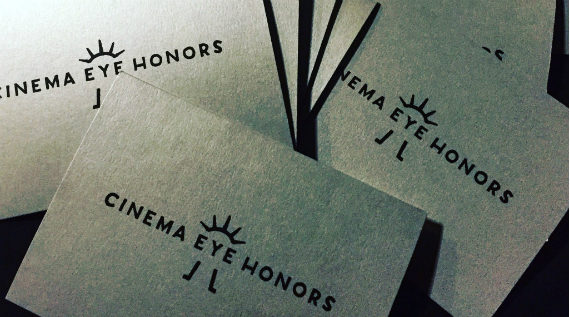 Last Wednesday marked the end of a week of a celebratory filmmaker outings for those nominated for this year's Cinema Eye Honors, which is now in its tenth year of existence. IndieWire's Eric Kohn documented the pre-award show outings, which included a private visit to the Whitney, live band karaoke featuring the likes of Steve James, the Ross brothers and Robert Greene, and much more. At the Cinema Eye Honors awards ceremony, "Kirsten Johnson's CAMERAPERSON took home three awards, Outstanding Cinematography for Johnson, Outstanding Editing for Nels Bangerter and Outstanding Nonfiction Feature for Johnson and producer Marilyn Ness," while "O.J.: MADE IN AMERICA received two awards: Outstanding Direction for Ezra Edelman and Outstanding Production for Edelman and Caroline Waterlow." This year's Audience Award went to Clay Tweel's GLEASON. The full list of honorees can be found here.
In other awards news, the British Academy Film Awards (BAFTAs) revealed their nominees this past week, putting 13TH, THE EAGLE HUNTRESS, WEINER, NOTES ON BLINDNESS and THE BEATLES: EIGHT DAYS A WEEK – THE TOURING YEARS up for Best Documentary. And while Cara Buckley debated whether O.J.: MADE IN AMERICA was a mini-series or a just a really long feature film in The New York Times, Glenn Whipp wondered aloud in The Los Angeles Times whether the film will be upset at this year's Oscars. A pair of must read end of year rundowns also appeared this week, one from Robert Greene in Sight & Sound and a whole host of cinephilic lists over at Senses of Cinema's World Poll 2016.
Sundance begins in just four days. To celebrate the occasion, the IndieWire staffers listed 20 films to see at this year's edition, including Bryan Fogel's ICARUS, which attempts "to explore infamous stories of doping in sports, at which he point he ventures down a rabbit hole of conspiracies and unexpected developments that leads straight to the Olympic Gold," Brian Knappenberger's new techno-savvy doc NOBODY SPEAK: HULK HOGAN, GAWKER AND TRIALS OF A FREE PRESS, and Yance Ford's long in the works STRONG ISLAND, an investigation into the death of the filmmaker's brother and the racism and grief that welled up in the process. They also published a list of 13 talents poised to break out at Sundance, including Kitty Green, director of CASTING JONBENET, amongst those noted.
Ready to run February 17th-26th in its hometown of Missoula, Montana, the 14th annual Big Sky Documentary Film Festival announced its full lineup. As Paula Bernstein noted in Filmmaker Magazine, "The festival will screen over 200 films from 50 nations as well as retrospectives of Academy Award-winning filmmaker Daniel Junge and Montreal-based film collective EyeSteelFilm."
Early last week, NBC Universal revealed the six documentary projects receiving support from the 2016 AFI DOCS/NBCUniversal Impact Grants – Ben Lear's THEY CALL US MONSTERS, Margaret Byrne's RAISING BERTIE, Kim A. Snyder's NEWTOWN, Toby Oppenheimer and Dana Flor's CHECK IT, Deirdre Fishel's CARE, and Michael Collins's ALMOST SUNRISE.
Variety's Debra Birnbaum broke the news that "National Geographic Networks is stepping up its efforts to produce feature-length documentaries, unveiling a new banner titled National Geographic Documentary Films." Following the success of BEFORE THE FLOOD, "Future documentaries will get both theatrical and television releases, and a similar digital strategy is on the table."
Cinema Eye Honors Outstanding Debut Feature winner HOOLIGAN SPARROW turned up in a feature by Hugh Hart in The Los Angeles Times, as well as in an interview with director Nanfu Wang on IndieWire's Filmmaker's Toolkit Podcast. Likewise, Elsa Keslassy interviewed Kirsten Johnson about CAMERAPERSON in Variety, while Laura Poitras and Henrik Moltke turned up in conversation with Thom Powers, about their Field of Vision collaboration PROJECT X, in the first episode of the third season of Pure Nonfiction podcast.
In theatrical coverage, Taryn Brumfitt's EMBRACE received a pair of warm reviews from Lena Hanafy of Little White Lies and The Guardian's Leslie Felperin, while Brumfitt herself was interviewed by Kat Brown for Glamour. Susan Wloszczyna reviewed Kristi Zea's EVERYBODY KNOWS…ELIZABETH MURRAY at RogerEbert.com, Anna Moore wrote at length about Anthony and Ian Whitington's FIXING DAD in The Guardian, and Annie Zaleski celebrated Dale Heslip's RUSH: TIME STANDS STILL in Salon. RESET by Thierry Demaizière and Alban Teurlai was named a NYT Critics' Pick by Gia Kourlas, while Kenneth Turan raved about the film in The Los Angeles Times. Dave Davidson and Amber Edwards's VINCE GIORDANO: THERE'S A FUTURE IN THE PAST was also named a NYT Critics' Pick by Stephen Holden. Lastly, Steve Dollar highlighted a pair of docs centering around killings – TOWER and THE IVORY GAME – in The Los Angeles Times.
I'd like to sign off this week with a trio of excellent features published by Nonfics in the last seven days: Sinéad McCausland's piece on "Documenting the Public and Private Lives of Public and Private Artists," Siân Melton's rundown of "Four Essential Films to Watch While Reproductive Rights Are Under Threat," and Christopher Campbell's list of "46 Promised Remakes of Documentaries That Still Haven't Happened." As always, if you have any tips or recommendations for the Memo, please contact me via email here, or on Twitter, @Rectangular_Eye.