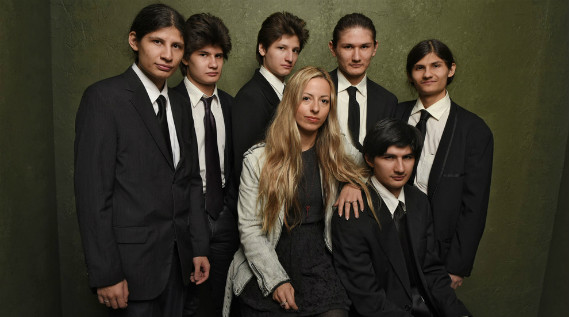 Crystal Moselle's unbelievable Sundance Grand Jury Prize winner THE WOLFPACK is undeniably the most talked about doc of the year thus far. Hitting theaters this past weekend, the film was not only selected by our own Thom Powers and Raphaela Neihausen as WNYC's Documentary of the Week, but featured in the LA Times by Steven Zeitchik, Huffington Post by Matthew Jacobs, the Wall Street Journal by Caryn James, Salon thanks to Lauren Wissot and The New York Times by Cara Buckley. Manohla Dargis also reviewed Moselle's film for The Times, as did NPR's Ella Taylor, NY Daily News' Joe Neumaier, RogerEbert.com's Brian Tallerico, The Dissolve's Tasha Robinson and Ned Benson at The Talkhouse. At Indiewire, Anne Thompson and Ryan Lattanzio posted a new video of the film's subjects, the Angulo Brothers, remaking classic DeNiro scenes, while Simon Houpt spoke with two of the boys for The Globe and Mail. With all the attention, it's unsurprising to find Moselle has been doing interviews with everyone, including Jenelle Riley of Variety, Jamie Maleszka at Nonfics, The Dissolve's Tasha Robinson and Vice.
This last week also saw two substantial new entries into the doc world. The Wrap's Itay Hod and Bent's Jamie Gates both reported that Logo TV is launching an LGBT documentary division with a slate films that include Michele Josue's MATT SHEPARD IS A FRIEND OF MINE and Deborah Riley Draper's VERSAILLES '73: AN AMERICAN REVOLUTION. Likewise, Economist Magazine has kicked off a new documentary unit, Economist Films, according to Variety's David S. Cohen. Starting big, they've already posted a pair of films for viewing in DRONE RANGERS and DRUGS: WAR OR STORE?.
Reflecting on their experiences at this year's Sheffield Doc/Fest which wrapped up last Wednesday, Ros Cranston at the BFI and Little White Lies' Matt Thrift both wrote rundowns of the best of the fest, while Elle Leonsis published a pair of informative pieces for Indiewire, one listing six tips from Brett Morgen, the other listing 8 things to know before making a music documentary. This past weekend also saw the Human Rights Watch Film Festival begin, garnering the attention of Stephen Holden in The New York Times and Violet Lucca in Film Comment. Joshua Brunsting also covered the festival for Criterion Cast, as did Monty Majeed for Mubi's Notebook and Basil Tsiokos at What (not) To Doc. Indiewire's Ryan Lattanzio noted that SundanceNow Doc Club has partnered with the festival "to present eight acclaimed documentaries, all focused on worldwide human issues, that subscribers can stream" beginning June 10th.
The Human Rights Watch Film Festival's centerpiece, Joshua Oppenheimer's THE LOOK OF SILENCE, was also recently released in the UK. The film received some love and attention from Nick Pinkerton and was Sight & Sound's film of the week, while Sophie Monks Kaufman both reviewed the film for Little White Lies and spoke with Oppenheimer about the dangers inherent in piecing together this story. Henry Barnes and Tom Silverstone also published an interview with the filmmaker in The Guardian.
"Navigating Dangerous Storytelling" became another much talked about topic this week, popping up in Doc/Fest panels covered by Realscreen's Manori Ravindran, as well as in a substantial study published by Patricia Aufderheide and Angelica Das via the Center for Media & Social Impact of the School of Communication at American University titled "Dangerous Documentaries: Reducing Risk when Telling Truth to Power".
While the bulk of critical attention this week went to THE WOLFPACK, Andy Bichlbaum, Mike Bonanno and Laura Nix's THE YES MEN ARE REVOLTING was reviewed by Stephen Holden in The New York Times, Nonfics' Daniel Walber and RogerEbert.com's Nick Allen. Joshua Brunsting of Criterion Cast wrote a piece on Rodney Ascher's THE NIGHTMARE, while Ascher himself appeared on this week's episode of The Close-up. After last week's controversy, Amy Berg's AN OPEN SECRET was reviewed by Ken Jaworowski in The New York Times. And lastly, David Bordwell wrote at length about Kent Jones' Cannes premiered doc HITCHCOCK/TRUFFAUT at his blog.
In the latest issue of Senses of Cinema, Tom Ryan published an unreleased interview with the late, great filmmaker Albert Maysles, while Tim O'Farrell revisited Maysles' early celebrity portrait films. Within the digital pages of the journal, Wheeler Winston Dixon also contributed an in depth interview with Denis Côté about his latest film JOY OF MAN'S DESIRING.
Other interviews found around the next this week include a pair of rare conversations with THE JINX creators Andrew Jarecki and Marc Smerling, one by Michael O'Connell published in Time, the other by Variety's Debra Birnbaum. Cineuropa's Giorgia Del Don spoke with Belinda Sallin about her film DARK STAR: H.R. GIGER'S WORLD. And though not an interview, Mitch Winehouse's response to Melinda Newman's review of AMY was published at Forbes.
In addition to the pair of new shorts posted by Economist Films, several great new shorts were released online. Op-Docs are currently hosting Laura Poitras latest piece, THE ART OF DISSENT, as well as Emma Cott, John Woo and Abby Goodnough's TAKE CARE, MR. ELSON, which was also written about by Emma Dessau at the POV Docs blog.
Given the attention given to THE WOLFPACK and THE LOOK OF SILENCE this week, it only seems fitting to end with a pair of lists reflecting on and ruminating about the inspiration behind such films. Indiewire posted a list of 16 documentaries rivaling the unbelievably of THE WOLFPACK. In contrast, Joshua Oppenheimer wrote a piece for the BFI expressng his love for Werner Herzog's films and listing his favorites.
As usual, if you have any tips or recommendations for the Memo in the meantime, please contact me via email here, or on Twitter, @Rectangular_Eye. I look forward to hearing from you!