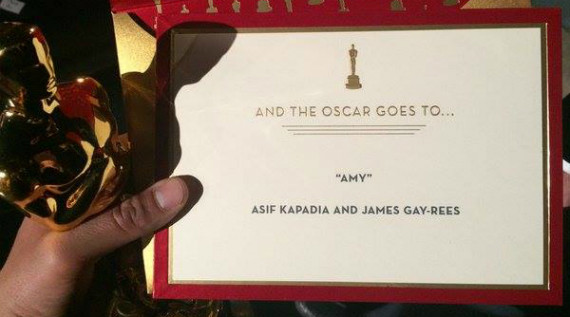 Finally, the glitz and glam of award season has settled and despite the avalanche of awards thrown at the feet of Joshua Oppenheimer for his second monolithic work of non-fiction in two years – Cinema Eye Awards, IDA Awards, Gotham Awards, and a long list of other awards from just about every major festival on the circuit – not to mention Best Documentary at the Independent Spirit Awards on Saturday afternoon, the Academy predictably cast their vote for Asif Kapadia's AMY, which managed to beat out THE LOOK OF SILENCE to win the Oscar for Best Documentary.
Though Oppenheimer lost, he appeared at the center of Eric Kohn's post-Oscar rundown at indieWIRE and in the media quite a lot leading up to Oscar night, having spoken with Errol Morris about the recent interest in true crime docs, also at indieWIRE, while his friend and subject Adi Rukun spoke out for the first time about why he risked his own life for the good of the film. Tom Roston wrote about Adi's involvement and collaboration with Oppenheimer at Doc Soup, while both indieWIRE's Chris O'Falt and the Washington Post's Adam Taylor outlined how the film has brought social change abroad and right here in the US.
Just a few days prior to Oscar night, the Doc Impact Awards named CHASING ICE, CITIZENFOUR, FOOD CHAINS, MINERS SHOT DOWN, and VIRUNGA as the 2016 winners, having made the biggest social impact on the world since their release. But as we know, awards aren't everything. A whole host of critics meditated this past week on their experiences at this year's Berlinale and the non-fiction films they found on offer, from Artforum's Travis Jeppesen, BFI's Geoff Andrew, and The Guardian's Andrew Pulver, to Ruben Demasure in MUBI's Notebook and Kevin B. Lee at Fandor's Keyframe. Also at Notebook, Locarno's Artistic Director Carlo Chatrian praised Werner Herzog and his latest doc Lo and Behold, Reveries of the Connected World, while Samuel Wigley of the BFI listed 10 films to see at this year's Borderlines Film Festival at 25 venues across Herefordshire, Shropshire and the Marches in the UK, including a handful of docs. And speaking of the UK,
A new three day documentary film festival named DOC10, presented by the Chicago Media Project and headed by Paula Froehle, Steve Cohen, Sarah Nobles, and programmed by Anthony Kaufman, will have its inaugural edition at the Music Box Theatre in Chicago from April 1st through the 3rd. Featuring just 10 films over 3 days, the festival aims to "present the full spectrum of current nonfiction filmmaking, from important social issue films and captivating music docs to engaging vérité and experimental work."
After our successful Stranger Than Fiction dual screenings of last week, we return to our normal schedule tomorrow with a special 15th Anniversary screening of Kate Davis' 2001 Sundance Film Festival Grand Jury Prize winner SOUTHERN COMFORT at the IFC Center. Tickets for this screening are still available here.
---